Secret Room Events luxury celebrity gift suite took place at InterContinental Century City leading up to the 2018 MTV Movie & TV Awards. Celebrities and VIP media were privy to some of today's most unique, fashionable and luxurious companies, products and services. From exotic trips, to Bali resort vacations and high end jewelry, to hip and trendy baby and pet products and luxurious skin and hair care products, the Secret Room was a total pampering experience.
Secret Room Events sponsored this year's event with 23 and me, Inc. and Welch's. VIP guests were pampered with luxurious services ranging from massages, eye lash applications, teeth whitening, Botox, fillers & nails.
Avani Hotel & Resorts & The Mulia, Mulia Resort & Villas Nusa Dua Bali gifted 5 night stays to one of their many exotic locations to nominees and VIP media.
These great sponsors we're on side and gifted their amazing brands:
23&Me Inc.,  DNA testing is a way to find out your true ancestral identity. It is an at-home kit that you insert your saliva into a test tube and mail it to them. They then decipher your genetic ancestors. Most people are shocked to discover their genetics they never knew they were comprised of! 23andme.com
Welch's presented their lovely sparkling non-alcoholic Rose. Check out some great Sparking Mocktail recipes from Welsh's .
Gjemeni displayed their cool new sofas that celebrities all signed for charity. These great looking trendy leather and stainless steel sofas are able to take on different configurations to fit your individual needs. They feature Dynamic Support cushion design that conforms to your body, delivering individualized ergonomic support and incredible comfort and eases the pressure on your muscles and joints. They also feature ports to keep your electronics charged! Choose from  four colors. Fabulous. Learn more at gjemeni.com
Think Alkaline! AYRO Corporation presented their A2O Water Filter, a free-standing, easy to use countertop filtration system. It is compact and easily attaches to most standard faucets. The advanced multi-stage filtration technology generates alkaline antioxidant water pH ranging up to 9.5 & ORP ranging up to -500 mV*. Save money on water and make the tastiest and best water right from your own faucet with confidence that you're protecting you and your family from contamenents and toxins! (Even bottled water can contain toxins, and plastic bottles contain BPA which causes cancer! Check out their exclusive line of compact countertop alkaline water filtration systems here: a2owater.com thinkalkaline.com
Pro tennis table champion Kim Gilbert, CEO of Pongstarz was on hand to spread the word. She has raised more than 15 million dollars for Charities since its Inception in 2012. Pongstarz is available for media and advertising events, corporate and business networking, celebrity fundraisers, charitable benefits, themed ping pong parties, community outreach, school education programs and more. Pongstarz.com Gilbert Table Tennis Center had their beautiful ping pong tables on display. Gilbertpingpong.com
Beverly Hills Tennis Academy gifted free tennis gift certificates to the nominees and media .
Parfaire Medical Aesthetics is an oasis for beauty in Pasadena, Calif. Dr. Winnie Moses has made it possible for anyone to benefit from the wonders of nature and science. Whether you want Botox, Juvederm, Kybella, Voluma, IPL photo-facial, melasma and age spot correction, non-surgical face and neck lifts, acne scar removal, cellulite reduction, collagen stimulation or body sculpting, your needs are in good hands with Parfaire in Pasadena, California. Dr. Winnie gifted Botox and gift certificates. Parfaire.com
Bao Foot Spa's employs LA's top reflexologists with years of experience and certified by the State of California. They were on site giving neck and back massages and gifted a foot & body massage at their Spa in Beverly Hills or Santa Monica. www.baofootspa.com
PortoVino Wine Purse "Bring the party along" with their great looking bags that contain a a there's a pouch inside and a hidden spout outside to pour yourself a glass of wine to enjoy anywhere you go! The gifted gorgeous beach bags with rope handles and also offer messenger bags that doubles as an incognito wine holder  end  contains  all the essentials you need to carry with you This one is not only very sophisticated in appearance, but, in addition to holding your wine, but carries all your Essentials as well. Clever and handy!  www.porto-vino.com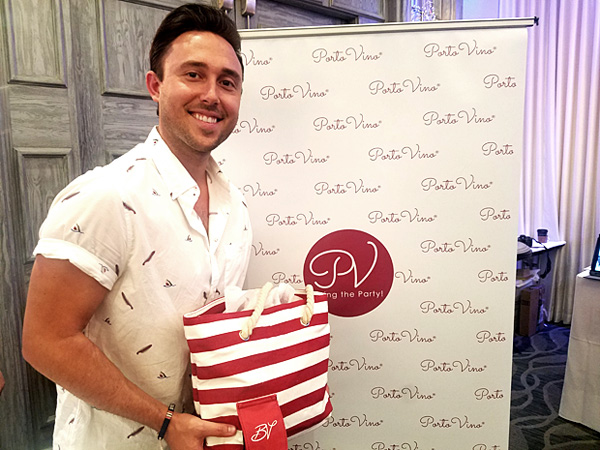 Rock Wall Wine Company was giving tastings. They produce "Premium Wines Without Pretense" and represent a new chapter in the East Bay (California) wine-making scene. Rock Wall Wine is "founded on the philosophy of the right grape in the right place" which results in many long-term relationships with acclaimed vineyards. Grapes are sourced from all over California. Because of this, it creates a diverse winemaking environment, which enables them to complete with different grape varieties, styles and regional flavor profiles. rockwallwines.com
Ccilu Footware provides casual comfortable stylish shoes for both men's and women. CCILUCELL'S advanced molecular makeup effectively absorbs impact. www.ccilu.com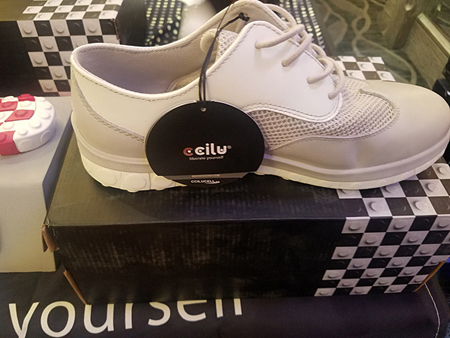 Sabre Red SABRE-Security Equipment Corp provides personal protection  that you never know when you will need. They've even created a  practice sprayer that you fill with water, so when the time comes that you ever need to use it to protect yourself you'll be effective. Besides pepper spray, they have a 'Drink Test Kit' which will let you determine if anyone have tampered with your drinks. Now that's caring!  www.sabrered.com
Botox Labb powered by Joey New York delivered vitamin B12 shots and gift cards to their locations in Malibu or Santa Monica for Botox or injections.
Enso Rings – colorful silicone rings, an inventive combination of style, safety and comfort to the way you express commitment. www.ensorings.com
Exotics by Cedrick is new luxury shoe brand debuted at the Secret Room Events 2018 MTV Movie & TV Awards gift suite. The Tampa-based brand, known for its U.S. design patent for high heel outsoles swathed in leather snakeskin and encrusted with Swarovski crystals, was on full display at the exclusive luxury event. Media, celebrities, stylists swooned over his styles! In honor of national Pride month, Cedrick announced his ongoing philanthropic campaign and will donate a percentage of sales to support HIV/AIDS research and prevention awareness. Visit his new website and enter to receive a 20% discount on future purchases: exoticsbycedrick.com.
Sizzix for creative people and those that want to be. Guests were gifted received a kit with everything you need to be crafty for home décor to papercrafting, scrapbooking  scrapbookers, quilters or jewelry-makers. www.sizzix.com
Tikkun Spa in Santa Monica featuring Secrets of Korean Beauty gifted spa certificates, one of Secret Room Events favorite spas in LA.
Maglite flashlights are an American icon. They have been the go-to flashlight since 1979 are known for the best makers of flashlights, that are carried by thousands of law enforcement officers, emergency responders, military service members and ordinary people around the world. Now with the latest LED technology. www.maglite.com
Franciscan Wine featured their winery's favorites collection such as their 2015 Cabernet Sauvignon and the 2017 Sauvignon Blanc. Beautiful labels and great wines. www.franciscan.com
MakeLab 3D Printing Modeling showcased their 3D printers and were gifting desk  flowerpots and vase pendants with real plants made from their 3D printed silicon mold.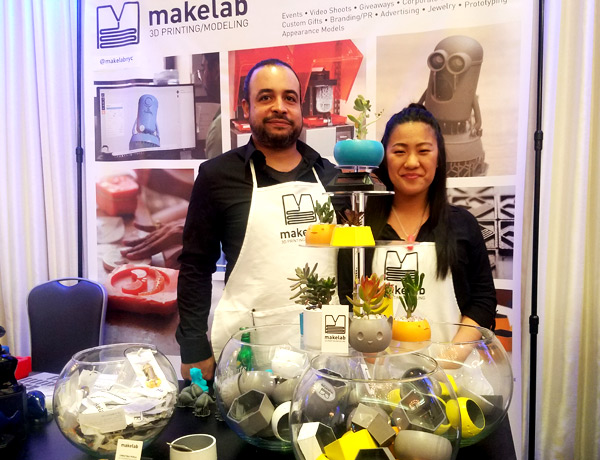 Behmor Inc. Coffee Machine  -barista quality coffee with the push of a button. Use the app to program soak time, the amount of coffee you want to brew and even the temperature right from your connected device. The custom designed carafe keeps coffee hot for hours.
The Nutramilk allows you to make alternative milk in minute combining your favorite nuts and milk alternatives, such as Toasted Coconut and Marshmallow Macadamia Butter or Walnut Almond Raisin Milk! thenutramilk.com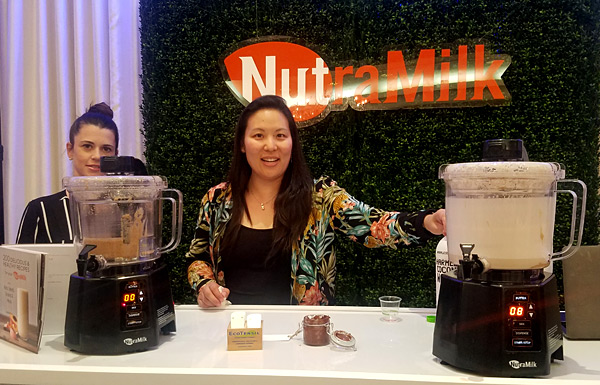 Hedlux
presented
CopperHed
, the first liquid and appliance hair care system using Copper Technology. The copper element is full of regenerative, healing properties. CopperHed is the first to implement the use of copper right into hair care. It also delays grey hair! The line is comprised of a copper activating liquid leave-in treatment, hairdryer, and styler.
hedlux.com
Mama Taylor's "The Best Fudge You've Ever Tasted" gifted a 4 pack of her best-selling fudge. She uses only the best quality ingredients available: pure chocolate, butter and natural flavors.
Now & Later more than earns its name. The tiny bits of taffy can be enjoyed the second you pop one into your mouth and savored for a long time afterward. Since 1962 kids of all ages have enjoyed these satisfying little treats that pack a big, fruity taste. These bite-sized treats come in an array of vivid flavors including Apple, Blue Raspberry, Cherry, Grape, Strawberry, and Watermelon.
Nicosticks provides nicotine toothpicks for those who find themselves jonsing for a cigarette but can't smoke one because of restrictions.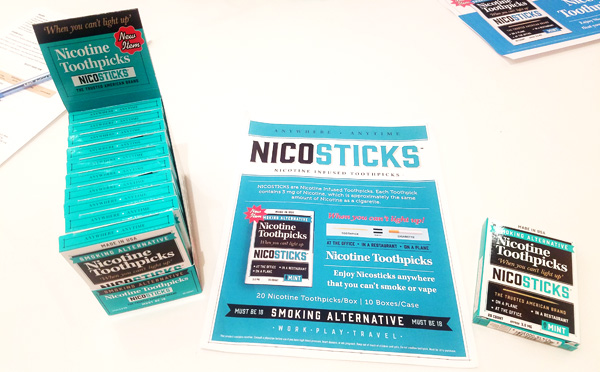 All guest will leave Secret Room Events Style Lounge with a huge gift bag provided by large Welch's canvas bag filled to the top with the following items:
Curasano: A safe, sun-kissed glow is possible without the negative effects of the sun or tanning booths. Belgian beauty brand Curasano has developed self-tanning and anti-aging products that are made from natural active ingredients. Men and women alike can enjoy the benefits of this skincare line.
Canadel
Customize your own furniture! Canadel is a family-owned company who is the leaders in custom dining furniture offering six unique collectons that you can personalize every aspect of every piece. How great is that? Check them out: canadel.com
DropMix is a mashup of old school and electronic gaming. NFC-equipped cards allow players to sample individual instruments from a song using a mobile device. The resulting mixes can be saved and shared.
Bea and Izzy
Tereza and Filipa Fino developed an early passion for clothing design and became Seventh Avenue veterans with extensive careers in fashion power-houses such as Calvin Klein, Ralph Lauren, Harper's Bazaar and Vogue who went on to create beautifully-crafted yet contemporary designs for children kids realizing that luxury fashion called for innovation. Rare quality and style you don't find often! Impressive. beaandizzy.com
Bubblelingo : Have you been looking for a chat app that is both family-friendly and functional? Bubblelingo allows you to chat from anywhere in the world, free of charge. You can express yourself through a vibrant selection of emoticons, clipart, animation, and photos. Best of all, parents never have to worry that children will be exposed to inappropriate content or suggestive images.
Sit Stay Go gifted their brilliant Compleach.. this complete leash is an all-in-one water- flask, two-bowls and a leash so you can hydrate and feed your dog on the go. Owner Michelle Glasser of Puerto Rico dogs. SitStayGo.com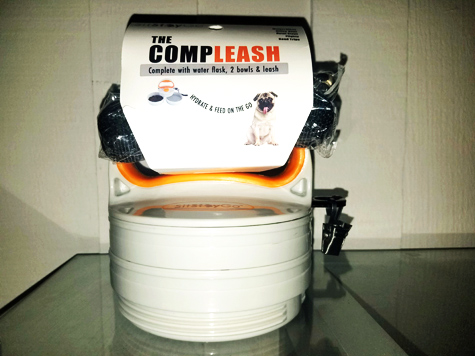 Giggy Bites Bakery and Marketplace are next level dog treats are the passion of GiggyBite.com. Their canine edibles are all-natural and made fresh. Dog lovers can find everything from jerky to beer for their four-legged friends.GiggyBites.com
Banz offers UV protection that is fashionable and child-friendly. A full selection of sun hats, sunglasses and swimwear promote safe summertime fun.
Randi Brill AuthorRandi Brill is a creativity guru that gifted a celebrity creativity kit expressly created for the 2018 MTV Movie Awards, which included her book, "99 Creative WOWs – Words of Wisdom for Business. Her company, QUAD-CORE specializes in helping business people and celebrities use there creativity to become even more dynamic and effective.
Dr. Steven Rosenblatt's Los Angeles Laser Skincare gifted lucky guests laser hair removal skin Rejuvenation laser and weight loss treatments. LosAngelesLaserSkincare.com
DR 25 is CBD multi-purpose rub and salve. Dr25dubrub.com
Moon Cheese snacks are 100% natural cheese using the NutraDRIED technique that requires no refrigeration and makes it a perfect on the go healthy snack. High in protein and an excellent source of calcium, go to mooncheese.com for more information.
Bubbies Mochi frozen  ice cream dessert
Kettle brand delicious healthy popcorn
Justin's peanut butter and almond butter
Kind Snacks – healthy bars with nuts and fruit with drizzles of deliciousness
Roses Ever After: gifted their beautiful long lasting roses in a personalized lucite box. Keep the memory alive! And they smell beautiful too. RosesEverAfter.com
Woven Pear Socks – great designs, comfy socks  "with high-quality combed cotton and fresh designs." Insta: @wovenpear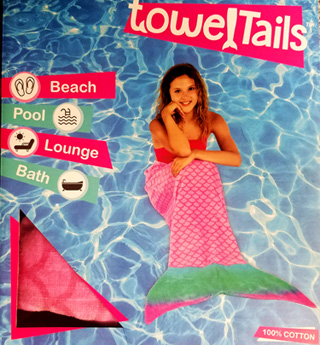 Towel Tails
100% cotton, washable cute mermaid towels for girls.  "Embrace your inner mermaid or mystic creature because "Mermaids Are Cooler Than Unicorns" ™ 30% off the month of June! TowelTails.com
Sound socks headphone protective covers
For people who are serious about there headphones, Soundsocks is an intuitive way to extend the life of valuable accessories. Operating on the same principle as real socks, Soundsocks work as a barrier between your skin and the headphone pads.
4Ever Magic Cosmetics gifted their double shade eyebrow – I found it to be one of the best eyebrow cosmetics I've yet to try, I love it. Glides on perfectly, with an all-in-one tool. A "unique cream-like, high quality eyebrow product that out performs all others in the market today into one simple magical container—a singular sensual glass ampule." And the shade of colors is perfect and natural. Plus it's made with Castor oil…which stimulates hair growth to keep your eyebrows healthy and full.
Iconic Pawswh
Green Womb productions Skooter Girl Book
Chuties tote bags by Crapchute bags
Nicole Kelly ,MD
Mahi fine foods
Ceisius
Patio Pet Life
Banz
Townleygirl
AMOREPACIFIC
Candy Dynamics
Comfort Zone
Dr. Mercola Premium products
Southern recipe small batch pork rinds
Thorlo socks
Qure water
The festive frolics of Panda and Owl by Frank Lewis
Punch Gunk
Crane Humidifiers
Curasano
Farm Fresh Pet Foods gifted their wholesome dog treats.
One Condoms – making condoms cool.
Darquette black netted sport bra by Coquette International
Rhythm Superfood
Pin Twins press
Dr. HESS PRODUCTS
Anastasia Beverly Hills
To find out how you can get your brand included in the next Secret Room award show gift lounge, go to secretroomevents.com/sponsorship