If you are looking for a luxury hotel in Oslo, Norway, city center, the Grand Hotel Oslo is the perfect choice. With a fantastic location close to the royal palace, well-appointed luxurious rooms, a beautiful and historic building, fine dining options, rooftop bar, fitness center and spa, the Grand Hotel is an experience in itself.
Built in 1874 and rich in history, the Grand Hotel Oslo has had Nobel Peace Prize winners, celebrities, and world leaders walk through their stately doors.
The prestigious hotel is gorgeous inside and out, classy and welcoming. The renovated building keeps its historic charm while adding modern touches. You feel its history as you walk through the lobby and hallways, in the fabulous guest rooms and suites. There is nothing bland about this hotel.
The Rooms
The Grand Hotel is located in the center of Oslo, right on Karl Johans Gate, one of Oslo's most famous streets. Each of the the 283 luxury rooms (including the 54 spacious suites) are elegant, large and tranquil, superbly quiet considering the hotel's central location in the city.
Each room has everything you need and more: a comfortable bed, soft lights and convenient plugs, a workstation, large bathroom, TV with Chromecast, wifi, slippers and robes, Nespresso machine, good selection of teas, and private dressing area. Even the smaller rooms are spacious with huge bathrooms, his and her sinks and rain showers (with an easy switch to a standard shower head).
There are plenty areas to sit in the rooms, with comfortable furniture and cozy touches. These are the types of room where you can stay for longer time, without feeling cramped or uncomfortable.
Good Morning: Breakfast is Served
Breakfast is my favorite meal of the day and the breakfast at the Grand Hotel Oslo did not disappoint. They offer a huge spread, with anything and everything you want or need: delicious breads, rolls and pastries; warm foods like eggs and bacon; yogurts, berries, fruits, cheeses, deli meats, spreads, cereals, porridge, and vegetables. Breakfast is held in the iconic Grand Cafe, with great views of the street and a serene and gorgeous setting.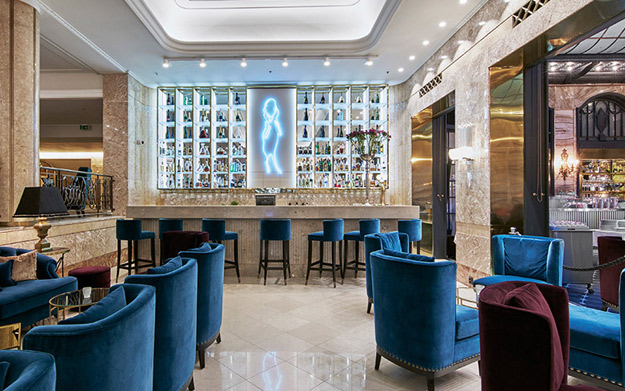 Lunch, Dinner, and Drinks
The lobby bar, Othilia, is an modern place to hang out, meet with colleagues and friends or just lounge. The focal point is a neon version of Edvard Munch's famous "The Scream," made even more interesting by the fact that the artist himself used to regularly visit the Grand Hotel.
Neighboring Palmen Restaurant is a stunning mix of classic and modern, and features a new lunch menu every week. The restaurant also offers an 'afternoon tea,' an enjoyable way to spend an afternoon whether you are staying as a guest at the hotel or just stopping by.
Up, up, and away with a great view you will find Eight, the hotel's rooftop bar serving great cocktails, Nordic-inspired drinks, and small tastings.
Last but certainly not least, is the Grand Cafe and Wine Cellar.
Originally making its debut in 1874, the Grand Café was known for its atmosphere and famous guests, including Norwegian playwright and poet Henrik Ibsen, who ate lunch there daily. Serving Nordic food with an  international twist, the restaurant is run by Norway's National Culinary Team Captain Alexander Østli Berg and Head Chef Christofer Bengtsson. The wine cellar is located below the Grand Café and boasts over 16,000 bottles and more than 1,500 wines from round the world. If you're a wine lover, the wine cellar is definitely worth your time for a visit.
Fitness and Spa
Artesia Spa Grand Hotel pampers you from head to toe, with massages, facials and body treatments. The spa facilities include a heated tranquility pool, sauna and steam bath – right in the hotel for easy access.
The fitness center is bright and airy, with a variety of both strength training and cardio equipment. There is no lack of equipment, and has something for everyone. Now, there's no reason not to work out (and work off that delicious breakfast).
Business, Meetings and Banquets
The Grand Hotel's central location in Oslo is perfect for business meetings, events, product launches, banquets, and seminars. The newly renovated banquet area can accommodate more than 300 people, and the stunning Queen, Champagne and King lounges are great alternatives for smaller events and meetings. The many transport options to the Grand Hotel from all areas of Oslo (including the airport) make this a convenient spot for meetings and presentations.
Location, Location
Much of what Oslo has to offer is walkable from the Grand Hotel. The royal palace, parliament, museums, art galleries, restaurants, shopping, and Akershus fort are all easily within walking distance. Just a few minutes away you will find the subway, trams and bus lines ready to take you pretty much wherever you want to go in greater Oslo. You can hop on a boat to go see the Viking ships, or catch a train back to the airport…no sweat.
The Best Spot on Norway's Independence Day
The 17th of May (17. mai) is Norway's independence day, and no one celebrates quite like the Norwegians. The parade featuring school kids, marching bands, and graduates of higher education all march right past the Grand Hotel, which offers you a spectacular view of the festivities from above. It is possibly the best spot to view the parade in all of Oslo. If you find yourself in Oslo on any 17th of May, you owe yourself a stay at the Grand Hotel to experience this wonderful day up close and personal.
We were fortunate to spend the 17th of May at the Grand Hotel Oslo. The view from the balcony was fantastic. We could see the parade pass below us and had a view all the way up to the royal palace, avoiding the crush of people on the street. It was an incredible experience.
To stay at the Grand Hotel Oslo, or to pay a visit to one of their cafes, restaurants, or bars, contact them below.
Contact:
The Grand Hotel Oslo
Karl Johans gate 31, NO-0159 Oslo, Norway
Telephone: +47 23 21 20 00
Email: grand@grand.no
Web: www.grand.no
Booking: booking@grand.no