McCoy Co., Ltd. Non F Monster Slimming System
McCoy Co., Ltd., the world-renown Japanese-founded skincare and slimming body cream company, known for their technologically-advanced and innovative luxury products, has officially announced their salon-exclusive landmark slimming product Non F Monster, that is clinically proven to melt fat, will now be available for home use in combination with the same technology used in Japanese spas.
McCoy Co., Ltd. currently has over 4,000 salons across Japan offering professional treatments using Non F Monster in conjunction with fascia release massage. The fascia is a structure of thin connective tissue that covers all the muscles in the body. When the fascia is tight from injuries, or overuse, etc., the muscles don't function properly and this causes the muscle to shrink. Stubborn cellulite is then generated and is difficult to lose., no matter how much one exercises.
Fascia release is treatment that corrects the fascia tightness, allowing the muscle to go back to its natural form. Used in conjunction with the application of the permeation mineral technology in Non F Monster, nano minerals are absorbed into human cells and directly softens stubborn cellulite and melts it away, resulting in a sculpted, beautiful body. The chemistry rights itself and the results are stunning and dramatic.
The McCoy Home Slimming System
For the first time ever, McCoy has made it possible to attain these results in the privacy of your own home by using a system of combining Non F Monster in combination with EMS (Electromagnetic Stimulation Therapy) technology, a hand-held device that acts upon tight fascia, which can now be purchased through their website at McCoyNonF.com
Distinctions
The company is widely popular in Japan today, having received a plethora of awards for their innovations, such as the winner for 'Best Beauty Company' and 'Best Product' by Biyoukeizaishinbun, a Japan-based industry magazine for professional therapists. Non F Monster has also been selected by Esthetic Wired as "Best Beauty Item Slimming Division 2016 & 2017." Non F Monster was also selected as the Official Cosmetic for Miss World Japan 2014 – 2015.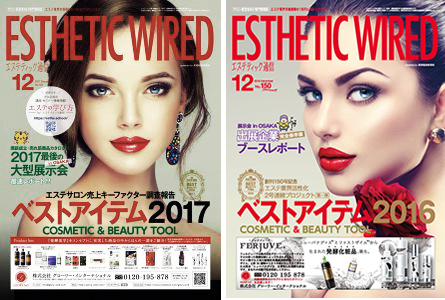 Scientific Proof
McCoy Co., Ltd. products work to provide excellent results, based on proven medical theory. They have clinical data to prove that Non F Monster decreases body fat percentage and improves basal metabolism. Non F Monster stops fat cell production and stops fat cell differentiation. It is different than anything else on the market.
The results-oriented product is derived from understanding a cell's structure thoroughly. Non F Monster is electrically-charged.  So electrical potential of EMS and electrical potential of Non F Monster reacts mutually for quick results.
Hollywood celebrities like actress, singer, dancer Chachi Gonzales and actress Carolyn Hennesy have been introduced to Non F Monster. In Hollywood it's important for celebrities to look their best, and they love Non F Monster because it works.
Non F Monster for Athletes
Non F Monster has become hugely popular with celebrities, famous athletes and beauty contestants around the world. In recent years it has gained popularity among the sports and healthcare industry. Penetrating nano mineral can soften hard fascia overlying the muscle, so that movement of muscle can be smooth. When muscle is locked down and does not move smoothly, it results in the athlete being injured easily. Non F Monster's penetrating nano mineral can increase a range of motion.
Boxing champ Kousuke Saka has been taking care of his body utilizing Non F Monster along with massage technique for years leading up to his success. He became a champion in Featherweight class in 2017.
Clinical Data
"As we age, our electric potential decreases, causing oxidation," said CEO of McCoy Co. Ltd., Rie Arai. "Our unique technology improves permeability so that active ingredients can be delivered inside the cell without using a needle. The results speak for themselves, and we're proud to stand behind our clinical data."
The released data proved that metabolic rates increased 1.5%, BMR improved 2.3%, immunity improved 1.75%, and quality of sleep improved 7.6% from the product's unique composition.
Nano Technology
Normally, mineral cannot melt into water, but McCoy's technology has succeeded to melt into water and the size down into 0.2-0.7 nanometer low molecular. Minerals have a very important role to deliver necessary ingredients to human cells and promote the elimination of waste. The permeation mineral is absorbed into skin rapidly and effectively.
Results
Data has proven that Non F Monster decreases body fat percentage, improves basal metabolisms, improves quality of sleep, and boosts immunity. The brand is doing it all with an EMS machine that inserts this kind of metabolic breakdown without invasive needles and other typical painful procedures.
Non F Monster by McCoy Co., Ltd. delivers results not seen before with the use of a cream.
To find out how you can acquire the Non F Monster and EMS technology system for home use, visit their website: McCoyNonF.com
About McCoy Co. Ltd.
Established in 2005, McCoy Co., Ltd. of Japan is a successful skin care company known for their advanced technological and innovative luxury skincare products that keep your face and body looking young, slim, healthy and balanced. They began as a highly-popular spa, and out of a desire to give their clients the best results, they created their landmark product, slimming body gel Non F Monster among other notable products such as tightening face cream, breast enhancing gel, and ingestible health drinks. McCoy Co., Ltd. company's mission is "Pursue real quality, produce real quality, present real quality" to society and to produce products based on evidence.
"We will strive to not be bound by a fixed ideology and continue to create a culture that purses the 'real' for our valuable partners and customers."
To order the McCoy Home System, click here : McCoyNonf.com
To contact McCoy Co., Ltd. directly, email Mari Niina at: intl@mccoy-nonf.com
Tel:+81-6-493-8428   Fax:+81-6-4963-8429
Facebook: facebook.com/mccoy.nonf
Instagram : mccoy_nonfat
CEO of McCoy Co. Ltd., Rie Arai's Blog