Big Ben. Tower of London. London Bridge…all the places you associate with a vacation in London. But does the thought of visiting these packed tourist attractions leave you feeling less than amused? Do you want something different than plain old London? Perhaps a more hip and less crowded one? Or are you afraid you'll blow your entire vacation budget halfway through your London city stay?
Well, an East End London visit won't cost quite as much as a west side jaunt, and it can be twice the fun. Enter the Shoreditch/Hackney areas of London, England. This might just be your London vacation answer.
Where To Stay In Shoreditch or Hackney
As in the rest of London there are hotels, AirBNBs and even hostels in the revamped Shoreditch and Hackney areas. In order to find the best location for you, check out both, and then look on a map to see what's close by to each.
The key questions to ask yourself are:
How far are you willing to walk?
How close is your accommodation to public transportation?
How far is it from the important areas like restaurants, sights you want to visit, clubs, and attractions?
Will the cost of transportation to where you want to go outweigh any cost savings?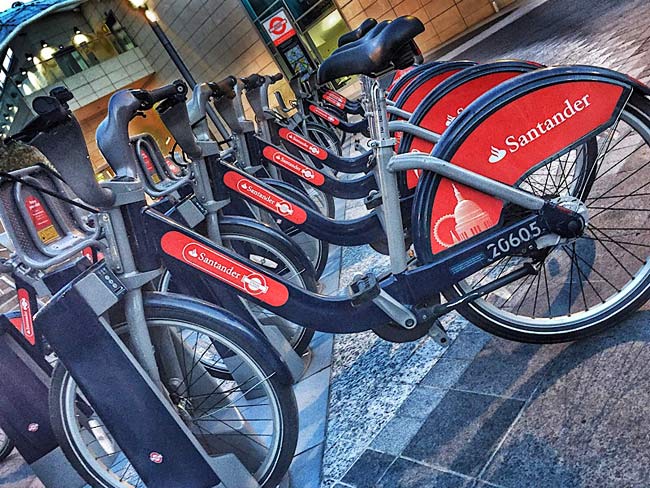 It's a little harder to figure out an exact location when looking at an AirBNB, but you can always ask the host before booking, or look closely at the listing – sometimes the host provides clues in the photos, or guests reveal what it's near. The Shoreditch/Hackney area is served by several public transportation options:  underground (the tube), overground (the train), and of course the bus, which also gives you a nice view of the scenery as you pass. Don't forget car services like Uber also (though Uber's status in London is under review at the moment).
The Amazing Hackney Saturday Broadway Market
Broadway Market is love. It's not as well-known as some of the other area markets, but definitely worth a stop. Even if you're staying in other parts of London, you owe yourself a trip to this multicultural, vibrant area.
Broadway Market is a street in the Hackney area of London. Cafés, pubs and small unique shops line both sides of the road on any given day, but the Saturday market…oh the Saturday market!
It's been around for ages, but now this market is a paradise for hipsters looking for great international food choices, spices, baked goods, vintage clothing, flowers, artwork, jewelry—you name it.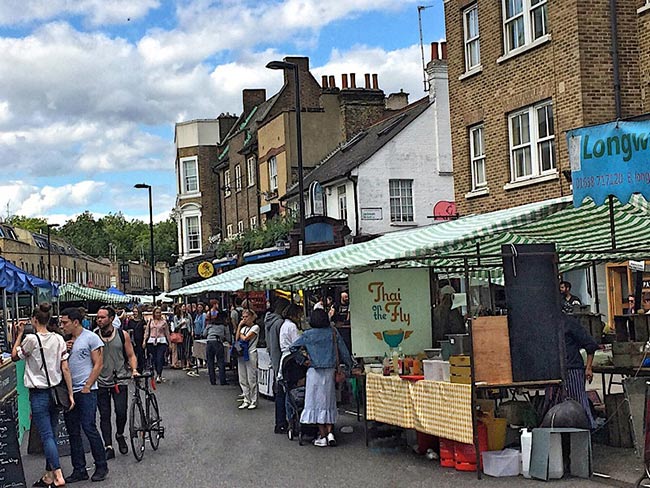 Are you in London and craving exotic foods? Burgers? Wraps? How about some rare spices, fresh breads, hard-to-find cheeses, pastries, or specialty meats? Or do you want  to just sit and relax and people-watch while enjoying a cup of fantastic Vietnamese coffee with a side of gelato? Hello Broadway Market.
LA's the Place tip: If you go (or return) close to closing time, you can often get food products and snacks at a steep discount since the vendors are closing up for the day and don't want to discard their fresh goods. Learn more about the Broadway Market on Twitter: @broadway_mkt
Other Area Markets
There are so many markets to visit in the Hackney area, from multi-use markets to others specializing in just one or a select few things. Some markets are weekly; some are monthly. This site will help you get started finding the right market for you. Destinationhackney.co.uk/shopping/Markets
Other Things To do In The Shoreditch Area
With so much to do, and constantly changing offerings, it's almost impossible to lay them out in one article. Search engines and forums are your friends here. When you search for something to do, make sure you set the date of the search for within a year (or even six months), then check the establishments' social media accounts (like Twitter, Facebook and Instagram) to make sure they are still in business, or still offering what you are looking for. Things change fast everywhere, so don't be left disappointed. You've come this far…
Getting There
Overground, underground, busses, or ridesharing. There are many ways to get to the Shoreditch/Hackney area. Make sure you know how far your destination is from any stations and be prepared to walk if you need to. There are a myriad of transport options, but if you're carrying a lot of luggage, plan in advance how you are going to get there. The weather makes a difference, too. If it's a nice day you can walk farther. Rainy and cold? Choose the option that gets you the closest.
The Transport for London https://tfl.gov.uk/  website and app are fantastic at helping you get where you need to be. Ride services can sometimes be cheaper than public transportation, so don't overlook that option just because you think it might be more expensive. I once spent 59 pounds for four people to go one stop on the London underground. Uber would have been a lot cheaper.
Get in Your 10,000 Steps A Day
Don't head to the gym—just lace up your walking shoes. Walking is a great way to get free exercise while on vacation. On foot is really the best way to see most areas and burn extra calories. You want those 10,000 steps a day, right? Walk from place-to-place. Plan your route or not. Wander. Explore. This is your trip—make it how you want it.
If you're tired of the hustle, bustle and high cost of a vacation in central or west London, give the east end of London a try. Shoreditch and Hackney both have something for just about everyone.
Follow LA's the Place writer Helen M. Ryan on Instagram at @aspinchick.