This year, the 2018 Mitsubishi Outlander GT presents a new sleek-yet-rugged look. But don't let the good looks fool you. It's rugged enough for any off-road driving.
The 2018 Mitsubishi Outlander GT is built on a simple proposition: It is extremely well-priced for a vehicle that can transport up to seven people in three rows of seats. It also offers an alternative to drivers who need the room, but don't want a minivan. Instead, you can expect a sporty-looking exterior, all-weather capabilities, solid safety performance, and a modern electronics package. Together, they make for an enjoyable drive, whether you're heading out on local errands or a longer trip out of town.
On first glance, you may think the 2018 Mitsubishi Outlander GT looks like an SUV, but that isn't quite right. Instead, it's a crossover, which is built on the body of a car, whereas an SUV is built on the body of a truck, and the sleek design feels like a sedan, but with much more room inside. This helps explain some of the differences in the feel of your ride, the vehicle's handling, and more. This is also important when considering who will be riding in the car. If you plan to transport younger children, a crossover could be a better choice than an SUV.
When going out to dinner with friends, they will appreciate the comfortable seating and a smooth drive. The SUV sits at a perfect height, so you can easily get in and out of the vehicle, even in a skirt and heels.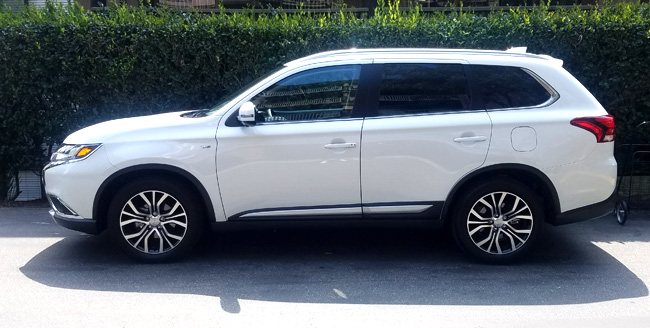 Every 2018 Mitsubishi Outlander GT comes with a 7.0-inch touchscreen with both Apple CarPlay and Android Auto, LED daytime running lights, heated sideview mirrors, 18-inch wheels, seven-passenger seating, dual-zone climate control, and a leather-wrapped steering wheel and shift lever as standard features.
Depending on the trim you choose, you may also get Multiview cameras, adaptive cruise control, warning systems for lane departure and blind spots, a heated steering wheel, a power glass moonroof, a power remote liftgate, and automatic high beams, LED headlights and fog lights. Granted, this may significantly increase that low starting price, so consider your options carefully.
Since the 2018 Mitsubishi Outlander is specifically intended to carry passengers and cargo, you might be interested in what it can hold. Passengers can expect good-sized door pockets to hold bottles, supplies, and miscellany, and of course, cupholders can be found throughout the vehicle.
As mentioned above, you'll find three rows of seats in the Outlander, though the third row is probably best suited for children. You can fold down both the second and third rows to free up more than 60 cubic feet of space. The trunk on its own offers 10 cubic feet of cargo space.
Whether you're going grocery shopping for the week with four bags of groceries, to picking up a new barbecue and boxes at Home Depot, it's a breeze when you have so much room in the back to put it in and bring it all home. If you opt for the V6-powered Outlander GT, you can tow another 3,500 pounds of equipment or goods – great for camping trips and outdoor adventures!
The all-wheel-drive Outlander received the top five-star rating and the four-wheel-drive model earned four stars from NHTSA in overall safety. The Outlander did equally well in IIHS tests, earning itself a Top Safety Pick+ designation, a Good rating in crash tests, and a Superior rating for front crashes – all the highest honors possible.
Official website: MitsubishiCars.com
Follow Mitsubishi on social media to keep up with the latest:
Twitter: @MitsuCars
Facebook: @Mitsubishi
Instagram: @MitsubishiMotors