The brands and businesses that took part in the GBK Luxury Gifing Lounge celebrating the 2017 American Awards included:
Nominees and presenters were given the opportunity to win a generous gift package from Custom Comfort Mattress which included an 8 x 8 all natural mattress custom crafted at the company's factory in Southern California. The full value of the package which included custom fitting, personalization, onsite consultation, delivery, and installation was over $35k. customcomfortmattress.com
People may think wine when they think of California but LA also appreciates its beer. HOPii makes homebrewing simple; with the push of a button, you can have fresh tasting craft beer without having to leave home. It's perfect for expert homebrewers and beginners. Hopii gifted one of the homebrewing devices, a $599 value, for the event. bestbeer.us
PLUS – One of the hot new companies is Oakland's Plus Products. As one the leaders in the cannabis-infused products market, Plus Products has a patent-pending process which blends cannabis with exotic flavors such as blackberry lemon indica, pineapple coconut, and sour watermelon Sativa-hybrid. Everything they offer is healthy and locally sourced. The company's appealing branding made it a favorite among attendees. madebyplus.com
Body Systems Wellness gave guests free 20 minute IV Vitamin Sessions which consisted of an invigorating combination of electrolytes, minerals, and vitamins. The integrative medicine clinic promotes increased energy and hydration. BodySystemsLA.com
LMK Art's Wear Your Music bracelets were a big hit, thanks to their unique design and rock star cred. One of a kind bracelets which utilized guitar strings from the likes of Adam Levine, Jack Johnson, Ben Harper and the Grateful Dead's Bob Weir could be purchased at a discount with all proceeds benefiting a charity of the artist's choice. WearYourMusic.com
Lissa M. Kivisto also gifted original artwork valued at $500. In addition to creating captivating art, Kivisto is also the owner and curator of LMK Art. Kivisto's studio specializes in artwork that transforms rooms while remaining true to the style and personality of the client. LMKArt.com
In addition to wearable artwork, Erik the Artist auctioned off an original painting on plexiglass to raise money for hurricane relief. Erik the Artist aka Erik Wahl is a San Diego based artist, author, and entrepreneur. Wahl no longer sells his art choosing instead to exclusively auction them off for charity.  eriktheartist.com
Moraga Vineyards gave guests the chance to sample white and red wine from the estate in Bel Air. Founded in 1989, the vineyard is located in the Santa Monica Mountains at elevations that contribute to the distinct personality of its wines. Moraga Vineyards gave guests the chance to experience a complimentary four-person wine and cheese tasting. moragavineyards.com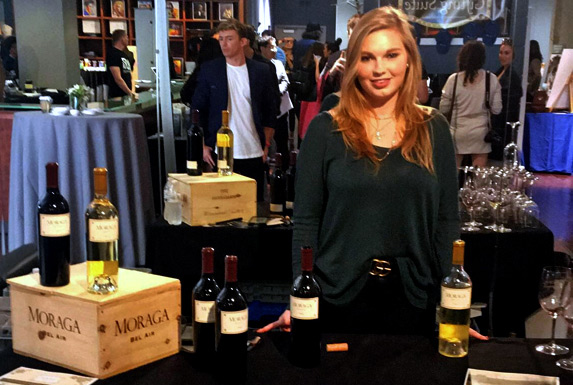 Caribbean Magazine shows readers there's more to paradise than white sandy beaches. Moon Palace Jamaica accomplishes the almost impossible task of improving on the natural beauty of one of the world's most popular tourist destinations. The publication and the Palace teamed up to gift an all-inclusive getaway at the Moon Palace Jamaica valued at $1500. For more info: CaribbeanLivingMagazine.com and PalaceResorts.com
International Tours Alliance assists travelers who are interested in visiting one of the hottest destinations in Central America:  Nicaragua. Known as NicaTravel, the company also offers service to Belize, Cuba, and Panama. Talent received the "Flavors of Nicaragua Gift Bag" which featured fine aged rum, cigars, and gift certificates for Nicaraguan cuisine in the Los Angeles area. NicaTravel.com
Since 1962, Audio–Tecnica has established itself as one of the preeminent manufacturers and distributors of audio equipment, including microphones, headphones, and turntables. Their products are designed for use in the home, studio, and club. Audio-Technica gifted its ATH – SR5BT wireless on-ear headphones, which offer unbelievable sound which is compatible with Bluetooth wireless technology. audio-technica.com
With over 25,000 rugs, eSalerugs has something for every room in your home. Designs range from contemporary and cutting edge to traditional and vintage. eSalerugs has all designs colors and sizes in stock. Most orders are shipped the same business day. esalerugs.com
For those who preferred caffeine to alcohol, Intelligent Blend served cups of its gourmet coffee. The factory direct store offers it's coffee and tea in recyclable pods at prices that are far below what you might expect. Those who attended were treated to a brewer, a selection of Mauds Coffee and gift cards. ShopBlends.com
FHI Heat has created one of the most effective beauty accessories on the market. The Stylus Thermal Styling Brush can work wonders with your hair, from curls and flips to smoothing and volumizing. The tool is designed to eliminate tangles and lock in your hair's moisture. Talent received a Dual Styling Tool to keep them looking their best for fans and photographers. More info: fhibrands.com
3DCheeze brings flair to any event with 3-D photo favors which serve as unique mementos that are far beyond the standard photograph. These fun souvenirs are more like a personalized miniature movie. One lucky attendee left with a 3D luggage tag made at the event and a $600 voucher for 3D photo booth services. 3DCheeze.com
Handmade jewelry brand Bopulent prides itself on offering accessories that accentuate any look. Its custom fit jewelry is much prized by celebrities and trendsetters. Attendees had the chance to take a first-hand look at Bopulent's exciting necklaces, bracelets, and rings which feature exotic power beads from around the world.
Attendees had the opportunity to sample premium food and drink provided by some of the West Coast's hottest eateries and brands. Good Greek Grill brings authentic Mediterranean flavors to LA. It's gyro's are a favorite of foodies and street cart dining aficionados. goodgreekgrill.com
Joyce Giraud had products from her luxurious exotic hair and skin collection onsite. joycegiraud.com
Riviera Imports is a producer and importer of fine liquors, wines, and beers, including Tres Papalote Mezcal. This premium mezcal is distilled from Wild Cupreata agave grown in Guerrero, Mexico. Another of Riviera Imports favorites Kind of Blue Whisky, inspired by jazz legend Miles Davis and crafted in Scotland, has developed a reputation for decadent fruit flavors and a smooth finish. Cocktails made from both spirits quenched the thirst of attendees. riveriaimprts.com
If you like your alcohol on the sweet side, Sugar and Spyked may be more to your liking. The West Coast's premier alcohol-infused dessert company gifted cupcakes and a pipette of the cocktail flavor used in the confections. Sugar and Spyked offers a variety of catered dessert bar packages to fit any occasion.
A renowned 80's brand is still going strong. B.U.M Equipment came from humble beginnings to become one of California's most popular sportswear brands. The brand's clothing has been featured in everything from movies and work-out videos to Dancing with the Stars. B.U.M Equipment's gifted t-shirts, hoodies, and hats were much in demand from talent and presenters. bumequipment.com
Along with food, drink, and goodies, ADM Entertainment provided a mix of today's hottest sounds in GBK's Pre-AMA's Celebrity Gifting Lounge. DJ and founder Adam Goldberg is available for special events including weddings and parties. Goldberg is also an accomplished singer-songwriter who can provide the right playlist for any gathering. Instagram: @adm_entertainment
Goldberg performed in front of a wall that married the beats to explosions of light and color. The visual display was the work of Nanoleaf, whose portable sound module, the Rhythm, creates a show far out of proportion to its compact size. The Rhythm's audio sensors translate sound into arresting visual displays. It is compatible with any Nanoleaf Light Panel. nanoleaf.me
About GBK
GBK is a leader in entertainment marketing integration. Founded in 2000 by Gavin Keilly, GBK creates a Luxury Lounge experience that enhances any event. For more information visit gbkproductions.com