GBK Productions hosted a gift suite at the soon-to-be-open Kress Event Center in Hollywood, Calif., on Friday, to honor the nominees and presenters of this year's MTV Movie Awards.

As always, Gavin Keilly made sure that various charities were able to profit. Twenty percent of the p
roceeds from the suites were dedicated to the Lamp Community, which helps those that are homeless and living with a mental illness here in Los Angeles.
The GBK Gift Suite was the hottest happening spot in Hollywood. Housed in the magnificent five-story Kress Event enter, restaurant, and nightclub. Formally the original "Fredericks of Hollywood", the building has been restored to its original 1934 architectural grandeur and style reminiscent of the Hollywood of yesteryear, to the tune of a $12.5 million renovation.
Guests were treated to more than $20,000 in designer clothing, lavish gifts and products; as well as food, cocktails and hip music by DJ Asha.
One of the biggest give-aways to the lucky attendees was $5,000 of dental work was given away by highly acclaimed cosmetic dentist Dr. Catrise Austin, CEO of VIP Smiles. Whether a celebrity or a student, everyone seems to be heading to Manhattan, NY to receive one of the treatments Dr. Austin specializes in such as Da Vinci veneers, one hour teeth whitening, snap-on smiles, Invisalign invisible braces, porcelain fillings and more. She has been the secret behind so many of the celebrities pearly white smiles on camera including American Idol's Paula Abdul, Actor Kevin Sorbo, NY Jets Player Leon Washington, Singer Toni Braxton, Rapper and Actor Common, music legend Isaac Hayes, America's Next Top Model Eva Pigford, Omarosa, High School Musical's Ryne Sanborn, and BET's host of 106 and Park Terrance and Rocsi. More information is available on their website www.vipsmiles.com
Global Healing Center offered guests health kits to cleanse and heal the body. They also offer a wide variety of home health equipment, to help you in all aspects of your life. They research all their products thoroughly and with the highest of standards. With this great customer service they are able to offer the absolute best available healthcare inventory. Their main goal is to ensure that their customers know that they can trust them when it comes to choosing the right product or service. They continually search for products that work, not products that are fads.
Dr. Edward Group has studied natural healing methods for over 20 years and now teaches individuals and practitioners all around the world. He no longer sees patients but solely concentrates on spreading the word of health and wellness to the global community. Under his leadership, Global Healing Center, Inc. has earned recognition as one of the largest alternative, natural and organic health resources on the Internet.www.ghchealth.com 
Zorbitz by Marian and Robin Sydney Heymsfield also charmed guests with their miracle charm necklaces and bracelets. They believe that everyone needs Zorbitz whether it be for love, health, wealth, or a miracle. This mother and daughter team wanted to give back the world the feeling of the exact moment they started receiving theirs. Marian and Robin set out to make a difference in the world, and they have with Zorbitz by contributing over $60,000 to charities worldwide.www.zorbitz.com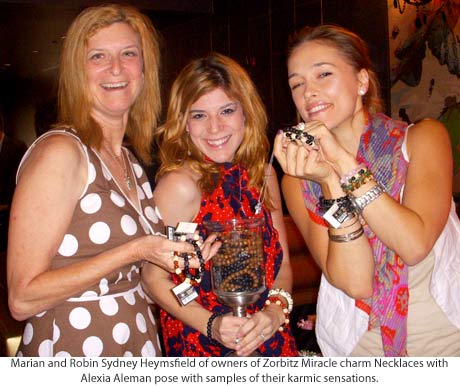 Flowlab offered guests the Flowboard, which is their unique take on the skateboard. This popular item is sure to be on every skater's wish list as it boasts their patented 14 wheel deep carve system, which riders experience the same feeling and muscle work out that you get snowboarding, surfing and wakeboarding. With 7 wheels on both ends of the board, riding the Flowboard is the closing you can get to the feel of carving the snow or riding a wave while on ground! On a Flowboard you can carve thru 45° turns with smooth, fluid transitions from edge to edge, as opposed to the limited 25° on typical skateboards. The traditional skateboard has not changed it's basic design in close to 50 years, the Flowboard takes a little bit of all of the gravity sports and combines them into the ideal crosstraining devise that you can train, workout and just enjoy gravity everyday, everywhere. Video clips plus various Flowlab products are available at www.flowboard.com.
Cream by Crystal presented guests with their latest custom cream cheese confections. PhotoWow offered gift certificates for specialize in custom print canvases that are customized with the client's favorite photographs.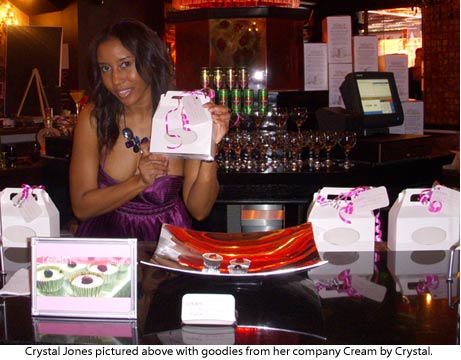 The Rescue Beverage Co. was there with 'The Cure', their after-drinking drink. This handy little packet of powder is mixed with 20 ounces of water to form a tropical flavored drink that gets to the bottom of what causes hangovers instead of just covering them up. Not only does Cure help to restore vitamins, minerals and nutrients; it also hydrates the body and supports the natural metabolism of alcohol.

To up the entertainment at the event, Platinum Stages was there with their portable dancer stages and poles. Guests were able give a try at poledancing and in case they needed some help, Platinum Stages also offered instructional exotic dance and aerobic strip tease classes on DVD and VHS. Platinum Stages offer stationary, portable, removable, spinning and glow poles, as well as different types of lighting, plus other fun adn flirty accessories. Used in strip dance and aerobic strip tease classes around the world, you can also have one in the comfort and privacy of your own home. The poles do not permanently attach to floors and cielings, and they can easily be assembled with guaranteed fastened security, and dissembled within minutes. Their products can be ordered from their website www.platinumstages.com.
Icerok Jewelry was also one of the stand out vendors featuring their unique and stylish jewelry. Icerok boasts their products' slick athleticism and customer-oriented assessibility.  As a new high-end jewelry line targeting a young, trendy crowd their prices range of $100 to $5,000, offering a fashionable items that are also affordable. Whether silver, gold, or diamonds, Icerok uses the purest of metals and the extensive care they put into every detail in its creating process is what makes the jewelry special. Icerok are always coming out with new hip products that can be found at any one of their stores nationwide, and are also available at thier website www.icerok.com.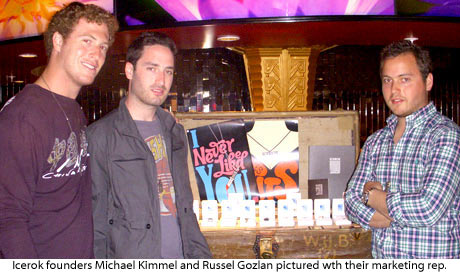 Guests weren't the only ones taking home some nice swag from the event. House of Dog was there featuring their ultimate stylish, contemporary couture for canines. House of Dog's products go beyond one of a kind collars and leashes. They offer luxurious beds, apparel, hip carrier bags, toys, bowls, and much more. They have everything a pooch and its owner can need, including complete wedding sets! These unique pieces have a limited availability of 10,000 pieces per collar style worldwide.
 

FP Jeans Brand also gifted celebs with their denim line full of custom elements and superior design by owner and designer Elliot Tommy. FP Jeans is ahead of many trends and is positioned to be one of the most fashion-forward and unique lines on the market. FP Jeans is an international brand and made their debu in the U.S. Marketplace at the Las Vegas MAGIC Show in 2006. Elliot Tommy himself was at the GBK Gifting suite providing high-profile denim for high-profile clients.www.fpjeans.com

Vemma offered their healthy spin on energy drinks, Verve, which has more vitamins and nutrients than other drinks of its kind.
Other gifts that were available were: unique art glass chandeliers valued at $4,500 from Robert Kaindl, framed photography by Frank Hack, designer clothing from 555 Soul; hair products from Barbar, diamond embedded toy cars from Mattel and much more.
The Kress Event Center: 6608 Hollywood Boulevard, L.A., on the famed Walk of Stars. Call (323) 785-5000.
Celebrities that attended were:
Friday
Olivia Munn – Slammin' Salmon, Kellan Lutz – Twilight, Brandon Barash – General Hospital, James Kyson Lee – Heroes, Paul Soter – Broken Lizard, Vanessa Williams – Soul Food, Anna Kendrick – Twilight, Beverley Mitchell – 7th Heaven, Jimmy Jean-louis – Heroes, Eva Marcille – Top Model, Lance Gross – Meet The Browns/House of Payne, Rob Buckley – Lipstick Jungle, Rex Lee – Entourage, Jasmine Dustin – Tropic Thunder, April Scott – Dukes Of Hazzard, Pheobee Price – Star Cover/ socialite, Tammie Shefield – Maxim Hot 100 Host, Kevin Sorbo – Herculese, Princess Anne Claire – love is in the heir, Jason Priestley – 90210, Christine McCarthy, Annalynn McCord – 90210/nip tuck, DJ Qualls – All About Steve, Nikki Reed – Twilight, Adrianne Frantz – Young and the Restless, Allen Naboris – Big Bang Theory, Ernie Hudson – Ghost Busters, Jake Busey – Lady Killers, Gunner Wright – GI Joe, Tracy Bingham, Tequan Richmond – Everybody Hates Chris, Mike O'hearn – American Gladiators, Brandon Molale – Meet Dave, Sean Faris – Never Back Down/Nominee, Jodi Sweetin – Full House, David Hernandez – American Idol, Clay Adler – Newport Harbor, Jan-Michael Gambill – Tennis Player, Andy Newton Lee – Holly Oaks (UK), Katerina Graham – Seventeen Again 
Saturday
Christine Lakin – The Hottie and the Nottie, Kunal  Nayer – Big Bang Theory, Shar Jackson – MTV, Texas Battle – Dragonball, Antonio Sabato Jr. – Gardel, Steve Lemme – Broken Lizard, Trishelle Cannatella – Real World, Scott Michael Foster – Greek, Rolonda Watts – Jai's Friend, Horatio Sanz – SNL, Grace Park – Battlestar Galctica, Shantel Van Santen – You and I/Final Destination 4, Emily Nelson – Maid of Honor