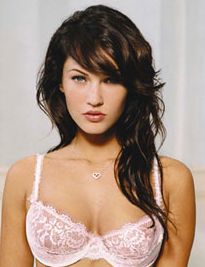 Out of all the prestigious woman, Megan Fox was picked as FHM's 2008's Sexiest Woman in the World. On April 23, 2008 FHM Online posted their eagerly expected poll of the 100 Sexiest Women in the World. For 14 years now, FHM and its readers chose the top 100 most thriving women in film, television (including reality shows for the first time ever), fashion, music, and sports from around the globe. "FHM's 100 Sexiest Women in the World delivers the definitive list of the most beautiful women in the world. We've had more votes than ever this year so it seems everyone around the world has cast their votes," said FHM Online U.S. Editor JR Futrell. Nearly nine million readers worldwide cast their votes, the largest poll in FHM history. The sexiest woman last year, Jessica Alba, steps down to #3 while passing the crown over to Megan Fox.
Fox has become a prominent name and more celebrated person these last couple of years. "Megan Fox is the deserving winner of this year's FHM title. She's young, she's hot, she's a rising star and her sex appeal has definitely transformed this year's list. She's got a great future ahead of her." Megan has climbed up from #68 in 2006 and #65 in 2007 to #1 in 2008 on FHM's top 100 Sexiest Woman Poll. She is most likely recognized from her blockbuster film last year, Transformers. Fox's next project, an impending film "How to Lose Friends & Alienate People", co-starring Kirsten Dunst, Jeff Bridges, Gillian Anderson, and Simon Pegg is scheduled to be released in the Fall of this year.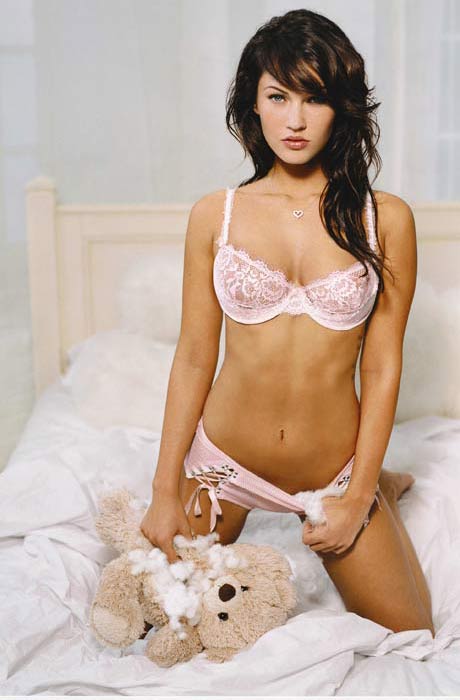 Joining her on the U.S. list in the top 10 is: Jessica Biel, Jessica Alba, Elisha Cuthbert, Scarlett Johansson, Emmanuelle Chriqui, Hilary Duff, Tricia Helfer, Blake Lively, and Kate Beckinsale.
The new addition of reality stars shows off the increasingly popular genre in the United States. "The Hills is one of the most popular shows on MTV and Dancing with the Stars is the #2 reality show in America after American Idol. It's no surprise to us that so many reality stars made this year's list," Futrell added. Three girls from The Hills came aboard this year. Heidi Montag rose above the rest at #44 while Audrina Patridge is voted at #80 and Lauren Conrad is #95. Dancing with the Stars, actress Shannon Elizabeth made another appearance on the list after her absence last year, ranking at #46. Joining her were fellow DWTS members Cheryl Burke at #40 and Karina Smirnoff at #78. These debuts are just the beginning of reality stars stepping into the spotlight, even more are expected to me added next year.
Other notable selections on the U.S 100 Sexiest Women in the World include Angelina Jolie at #12, Rihanna at #14, Lindsay Lohan at #16, Cameron Diaz at #18, Beyoncé Knowles at #20, Jennifer Aniston at #42, Eva Longoria Parker at #59, Fergie at #60, Katie Holmes at #65, Paris Hilton at #77, Modonna at #87, Victoria Beckham at #99, and Britney Spears at #100.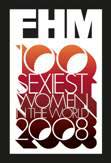 The U.S. version of the 100 Sexiest Women in the World for 2008 is available at FHM Online at www.FHMonline.com/100sexiest. See below for the complete list. FHM is now being published in print and digital form in 30 countries worldwide. FHM Online (www.FHMonline.com) is FHM's premiere digital property in the United States and is one of eight sites in the FHM International digital network. Following today's publication of the US results, FHM's international network will be revealing their local top 100 in the next few weeks.
FHM's 100 Sexiest Woman in the World of 2008 is:
1. Megan Fox
2. Jessica Biel
3. Jessica Alba
4. Elisha Cuthbert
5. Scarlett Johansson
6. Emmanuelle Chriqui
7. Hilary Duff
8. Tricia Helfer
9. Blake Lively
10. Kate Beckinsale
11. Hayden Panettiere
12. Angelina Jolie
13. Eva Mendes
14. Rihanna
15. Erica Durance
16. Lindsay Lohan
17. Kim Kardashian
18. Cameron Diaz
19. Ali Larter
20. Beyoncé Knowles
21. Kaley Cuoco
22. Heidi Klum
23. Sienna Miller
24. Kristen Bell
25. Natalie Portman
26. Vanessa Hudgens
27. Selita Ebanks
28. Keira Knightley
29. Maria Sharapova
30. Rachel Bilson
31. Gisele Bundchen
32. Kate Bosworth
33. Halle Berry
34. Carmen Electra
35. Jessica Simpson
36. Adriana Lima
37. Evangeline Lilly
38. Katherine McPhee
39. Christina Aguilera
40. Cheryl Burke
41. Kristin Kreuk
42. Jennifer Aniston
43. Charlize Theron
44. Heidi Montag
45. Anna Faris
46. Shannon Elizabeth
47. Alessandra Ambrosio
48. Mayra Veronica
49. Katherine Heigl
50. Keeley Hazell
51. Anne Hathaway
52. Jenny McCarthy
53. Marisa Miller
54. Kate Hudson
55. Shakira
56. Tara Reid
57. Jennifer Love-Hewitt
58. Cassie Ventura
59. Eva Longoria Parker
60. Fergie
61. Ellen Page
62. Nicole Scherzinger
63. Grace Park
64. Stacy Kiebler
65. Katie Holmes
66. Leeann Tweeden
67. Liv Tyler
68. Kari Byron
69. Christina Ricci
70. Mischa Barton
71. Amanda Beard
72. Elizabeth Banks
73. Carrie Underwood
74. Kelly Hu
75. Pam Anderson
76. Rachelle Leah
77. Paris Hilton
78. Karina Smirnoff
79. Christine Lakin
80. Audrina Patridge
81. Mila Kunis
82. Alyssa Milano
83. Jenna Fischer
84. Maria from WWE
85. Olivia Munn
86. Reese Witherspoon
87. Madonna
88. Shamron Moore
89. Rachel McAdams
90. Summer Glau
91. Ashley Collette
92. Maggie Gyllenhaal
93. Whitney Able
94. Olga Kurylenko
95. Lauren Conrad
96. Carmit Bachar
97. Amber Heard
98. The Olly Girls
99. Victoria Beckham
100. Britney Spears