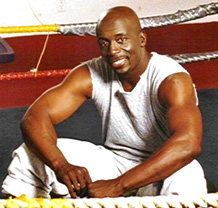 It's generally difficult for us to keep a positive attitude during grueling workouts, but for Tae Bo fitness sensation, Billy Blanks, it's just another day and another opportunity to kick butt in the gym and motivate his followers to do the same. Attitude is everything for Billy, and he credits his success on his ability to face any challenge through discipline and determination.
An Inspiration
But success did not come easy for him. Unlike most fitness experts that offer little more than platitudes and stale encouragement, Billy Blanks inspires through his personal triumphs. His is a story of conquering any obstacle through personal empowerment.
Tough Times
Born the fourth of fifteen children to working parents Isaac and Mabeline Blanks, Billy's early childhood suffered hardships on the tough streets of Erie, PA. Struggling from undiagnosed dyslexia and physical impairment from his hip joints, teachers and coaches all but gave up on him.
A Born Fighter
At age 11, Billy enrolled in his first karate class and by 1975 became the first Amateur Athletic Union Champion, a feat he would go on to earn five times. A seventh-degree black belt in Tae Kwon Do, Billy also gained black belts in five other martial arts. Taking his skills to the mat, Billy became a seven-time world karate champion, captained the U.S. karate team and won 36 gold medals in international competitions. Two years after being Inducted into the Karate Hall of Fame in 1982 as "Athlete of the Year", Billy tried his hand at boxing and became the Massachusetts Golden Gloves Champion and the Tri-State Golden Glove Champion of Champions.
Creating Tae Bo
After building a spectacular career in martial arts, Billy started his own karate studio in Boston. While teaching classes, he combined Tae Kwon Do and elements from boxing and dance to create the innovative, fitness phenomenon, Tae Bo. The name is a fusion of "Tae" from Tae Kwon Do and "Bo" from boxing. Billy had hit on something big.
Word of Mouth
Not long after he had developed Tae Bo, Billy moved to Los Angeles and began training in his garage. Word of mouth about the latest craze in fitness prompted Billy to open the Billy Blanks World Training Center in Sherman Oaks, CA. It wouldn't take long for Tae Bo to be discovered by A-List clients such as Paula Abdul. His roster of celebrity fans include: Pamela Anderson, Sinbad, Justine Bateman, Jessica Alba, Carmen Electra, Valerie Bertinelli, Neve Campbell, Brooke Shields, Rebecca De Mornay, Farrah Fawcett, Ryan O'Neal, Wayne Gretzky, Viveca Fox, Goldie Hawn, Sugar Ray Leonard, Queen Latifah, Shaquille O'Neal, Magic Johnson and many more.
Unleashing Tae Bo
With the meteoric rise of Tae Bo, Billy went even further, releasing several video tapes, infomercials and soon the craze of Tae Bo swept the nation. Billy Blanks appeared on national TV shows like "Oprah" and more recently "The Ellen DeGeneres Show," as a leading fitness expert. His charisma, good looks, and boundless motivation to help others made him an instant household name. There have been imitators of Billy's trademark style, but none have had the endurance or the proven record to eclipse his rising star. Read about his new program, Tae Bo Amped here…
IMDB
His credits in the world of fitness are challenged only by his acting roles which include guest roles on hit TV shows as "Spencer for Hire," "Sabrina: The Teenage Witch," "ER," and more. He has also worked in films such as "The Last Boy Scout," and "Kiss the Girls." Not only is Billy an accredited actor, he is also a stunt/fight coordinator on several films and TV shows.
Giving Back
For Billy, success is nothing compared to the reward of helping others. In 1999, with support from his high school sweetheart and now, wife Gayle, the Blanks family started the Billy Blanks Foundation to help motivate and provide a positive role model for women and children in disadvantaged situations. His quote on the homepage of www.billyblanksfoundation.org captures the essence of his philosophy, "Be a conqueror…Find your power and use it to better yourself and others." And he and his family are using their star influence and power to do just that by providing scholarships through Foundation programs, physical and emotional support for high-risk individuals, and contributing funds to help others lead a successful life.
Children & Obesity
The growing epidemic of childhood obesity is one of Billy Blanks top concerns. A former member of the President's Council on Physical Fitness and Sports, Billy actively campaigns and promotes healthier habits and solutions for children and parents, giving pro bono speeches in schools and low-income neighborhoods across the nation.
A Patriot
For years, Billy has closely worked with the U.S. military, providing additional training in both fitness and combat. Alongside his daughter, Shellie, the duo have been all over the world and most recently spent time in Iraq and Afghanistan. A natural leader and teacher, Billy's motivating and passionate rallies as a headliner in the 2004 U.S. Army's "Spirit and Body" Goodwill Military Tour and the U.S. Navy's "Spirit and Body Tour" in the Persian Gulf and Bahrain boosted morale and lifted the troops spirits.
Spiritual Blessings
Always willing to share the glory, Billy credits his wife, children and God for his many blessings. For Billy, the empowerment of the body and mind is not enough without the spirit or soul. His Christian upbringing gave him a firm foundation in faith during difficult times and Time magazine said of him, "He is a preacher in an athlete's body." Billy believes in putting God first, and no matter what goals Billy sets for himself, he does it with this in mind.
Going Strong
To date, Billy Blanks is one of most influential fitness leaders in the world. His Tae Bo technique is taught in gyms and school programs nationally. With record breaking sales from the evolution of VHS to DVD, Billy Blanks' Tae Bo is still going strong. Always innovating and perfecting his craft, Billy has launched other DVD series such as "Billy's Bootcamp" and his more recent "AMPED." Still waking up at 5:30 am every morning to start his exercise routine, Billy Blanks is living proof that no matter the odds, anyone can achieve anything with the right attitude.
In an LATP exclusive interview, Billy Blanks offers further insight to his success, his personal interests and his new workout program AMPED. Read the interview here…