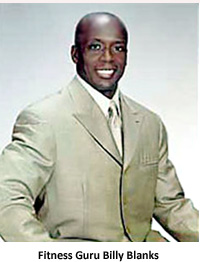 Our own MR Hunter obtained an exclusive interveiws with Billy Blanks. Here he shares his his personal history, passions, insight and wisdom…
MR Hunter for LATP: When did you realize you could help millions of people through Tae Bo?
Billy Blanks: When I started to teach karate, I saw how people wanted to learn a form of self defense. Then I combined dance, boxing and calisthenics, to create Tae Bo (total awareness of excellent body obedience). From there, I knew if I had the opportunity to get it around the world, I would be able to share it with everyone.
LATP: How did you overcome the odds of your childhood struggles and environment?
BB: I didn't allow negativity or negative words influence my life. Having my parents and wife be a positive influence to me was all I needed along with my own spirit and will. We all need that.
LATP: Who was your mentor?
BB: My father, my mother, Bruce Lee, and Martin Luther King were my mentors.
LATP: What inspired you to incorporate dance moves with martial arts?
BB: The flexibility and mobility that I saw ballet dancers have intrigued me. So I studied dance for 12 years to learn all aspects of it.
LATP: Did you have any formal dance training?
BB: I studied ballet for 12 years. I was a street dancer, and my wife and I used to go around disco dancing. We would compete for prize money.
LATP: What other fitness training do you do to keep a healthy and active lifestyle?
BB: I like to do martial arts, Tae Bo, Boxing and I also like to swim. Tae Bo has so many benefits that it works every body part.
LATP: What's your favorite sport?
BB: My favorite sports are football, track, basketball, karate, gymnastics, ice-skating and boxing.
LATP: How did you get into acting?
BB: I would like to thank my Lord and Savior Jesus, my wife and the people that allow me into their households.
LATP: Will we ever see you on "Dancing With the Stars?"
BB: I hope so. I would love to be on Dancing With the Stars. It would be a dream come true.
LATP: Do you offer any self-defense training for women?
BB: Yes, any time a women does Tae Bo she learns self defense. I like to bring attention to the fact that this is a very important benefit of Tae Bo. Because I was a fighter and have studied martial arts about 40 years, I am able to bring important self defense aspects to all of my students.
LATP: You are very involved with helping others, tell us more about your Billy Blanks Foundation and how high-risk individuals can get involved with your organization.
BB: My wife Gayle and I formed The Billy Blanks Foundation to mainly, but not exclusively, help high-risk women and children. We believe in, "one small drop, one act of kindness. A life changed, a world impacted." After school programs, mentoring programs, giving people a helping hand and not a hand out, are some of the important issues that we focus on. We love having the people that have benefited from out Foundation in turn help others. For information, questions or how you can become involved, please go to www.billyblanksfoundation.org.
LATP: You're a devoted husband and father, how can other families incorporate fitness into their routine?
BB: One of the awesome benefits of Tae Bo is that you can be any age to do it. This allows families to be able to workout together, bonding, having fun, communicating and getting in great shape together.
LATP: What are some of your motivation strategies?
BB: I always tell people the truth about physical fitness. It's not easy. However, anything that is good to do in your life isn't easy. Think about, disciplining yourself to stay focused throughout your life or even raising a child is a full time job. However, it's fun because it's a challenge.
LATP: Can anyone learn Tae Bo?
BB: Anyone can learn Tae Bo. It's a simple individual exercise that maximizes your mind, will and body to get you through the performance of the workout. It is a test, if it wasn't most people would get bored and quit. It's a communication tool that gets the mind and body to work as one. That's why it's so awesome and people love it!
LATP: What makes AMPED different from your other workout techniques?
BB: The original Tae Bo series was based on cardio and speed. Tae Bo Amped is designed to get your core to always stay involved with your workout. However, Tae Bo Amped also focuses on strength training, body alignment, resistance, cardio and spot training. That makes the Tae Bo Amped a complete workout for an individual who wants to loose weight, get in shape and have fun while doing it.
LATP: What other health regimens should I include while using AMPED?
BB: Patience, endurance, TTT (trust, truth and time), nutrition and self awareness are all needed in order to get the full benefit of Tae Bo Amped.
LATP: How often should I use AMPED?
BB: I always tell people that they should do Tae Bo Amped 2-3 days a week. However, you don't have to use the amplifier throughout the whole workout. The amplifier is the body aligner for body execution. Then just watch and see the results.
LATP: What roles does attitude play for a healthy lifestyle?
BB: I believe that your attitude is your most important attribute in order to be successful in anything that you do.
Read about Billy Blank's new Tae Bo Amped here…