Wake Up Call, the W Hotel brand's music festival series, launched their intimately lavish international music festival events at three locations: Hollywood, Barcelona, and Bali, starting with their Hollywood location on September 1, 2018. Wake Up Call takes the festival experience off the field and onto fabulous hotel grounds. In contrast to outdoor festivals, Wake Up Call boasts an exclusive, lux environment at the W Hotels with top performing talent and high class patrons.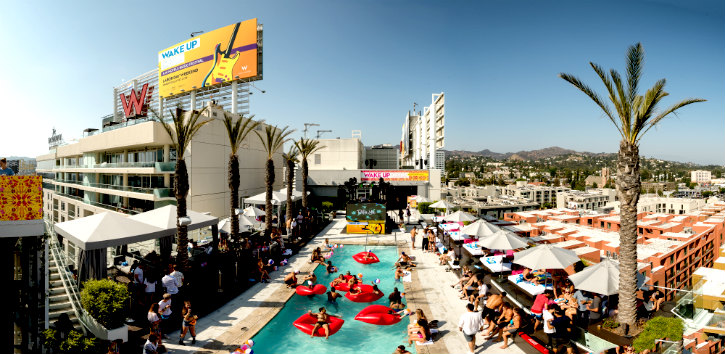 Guests were able to check out performances throughout the hotel – from WET deck rooftop parties to DJ masterclasses and live performances by some of the hottest acts in music today. This intimate event also featured "Living Room Live Sessions" – intimate, stripped-down performances from up and coming artists in the Living Room of W Hollywood in partnership with Billboard.
Wake Up Call first debuted in 2016 at W Scottsdale as the world's first music festival held exclusively at a hotel. Music has been part of W's DNA since the brand's inception. Music is ingrained within the W brand on every level.
All three 2018 WAKE UP CALL locations have W Sound Suites; private music studios and writer's rooms for professional recording artists, studio musicians, producers and hotel guests to record in style while on the road.
The W Hollywood Line Up Included: Phantogram, Charli XCX, Chromeo (DJ Set), Betty Who, Léon and Dancing Pineapple Presents: Codeko, Papa Ya, Christofi and Phil N Good.
Detoxing and replenishment is always super crucial at music festivals; W Hollywood offered everything from workout sessions with top fitness masters to exclusive dishes and cocktails created by W chefs and mixologists only for festival goers.
Wake Up Call featured five classes spread across the weekend. Fitness gurus lead classes including Y7 Yoga, boxing with Ashley Guarassi (former Creative Director of Rumble and Nike Master Trainer), spin and HIIT classes with Jason Wimberly (founder of THE WALL). Additionally guests had the opportunity to book an appointment at Bliss Spa to wind down or gear up before or after the festival's performances all without leaving W Hollywood; they even had brownies, a charcuterie board set up and champagne!
On-site options for bites and sips included delicious Shake Shack burgers and fries, Veuve Cliquot bottles and cocktails served from an all-out pop-up Champagne Garden, oven-fresh pizzas from LA-favorite Stella Barra, bespoke fruit cart, customizable poke bowl station, additions to the hotel's 24-hour in-room menu and access to all the decadent dining W Hollywood is known for year-round (Delphine, Brew Espresso, Living Room Bar, WET Deck Bar, Loft Bar).
Marriott Rewards members had the chance to bid on the Wake Up Call: The Complete Set List VIP package, which includes roundtrip airfare to all festivals, amazing accommodations, and VIP meet and greets. General admission tickets can be found on the festival's website and are also offered for select rooms if you book a stay there during the festival.
The next to music festivals will be held at W Barcelona (Sept 21-23, 2018) and W Bali (Oct 4-6, 2018)
For tickets and to join SPG and Marriott Rewards, visit www.wakeupcallfest.com.