Actors, athletes and VIPs played golf, and had fun as they came together to raise funds and awareness for Matt Barnes' Athletes Vs Cancer in their mission to provide resources for families and survivors affected by the deadly disease.
The Golf Classic, powered by The Glenlivet, Malbon Golf and Talent Resources Sports kicked off ESPY week at Braemar Golf and Country Club in Tarzana, CA.​ July 16, 2018. ​The Golf Classic celebrates the essence of the sport year after year, merging the fun, competitive element of golf with food, drinks, live music and more. Produced by Zev Norotsky's ENTER, this was the inagural first year in Los Angeles after a decade in the Hamptons.
Talent participants included Anthony Anderson, NBA player Matt Barnes, Kendra Wilkinson, Jessica Hall, Esai Morales, James Kennedy (Vanderpump Rules), Shwayze, Ryan Rottman, Paul Johansson, The Fumble sports host Britt Johnson, ​DJ Mr. Best, ​sbe nightlife's Nick Montealegre and Cameron Klippsten, Jon Buscemi, and more.
Ryan Francis, Chris Gialanella,Nick Montealegre,Cameron Klippsten,Shwayze Michael Simon/startraksphoto.com
Upon arrival, guests were treated to signature cocktails from The Glenlivet, and received an exclusive Malbron Golf commemorative hat before heading out to the course where they were guided by activations by GolfBuddy rangefinders, which calculates distance by measuring the time it takes for the laser to reflect off the target and back.
The foursomes had a blast on the golf course, with refreshments such as The Glenlivet, Heineken, High Brew, Pasta Snacks, Candy Pop, Roar Organics, Justin's Organic as well as a pop-up BBQ on the course, serving as little oasis' in a desert, positioned at different holes on the course, keeping the players going in the heat of summer.
​Other brands that participated were Jet Aviation, a business aviation services company, ​Nerve Assist​, a method of achieving wellness in the body that tuned up the players before they took to the course,​ Macanudo Cigars and transport by Tesla which was showcasing their latest model.
Following the tournament, attendees enjoyed a reception featuring an awards presentation and customized ​The ​Glenlivet bottles.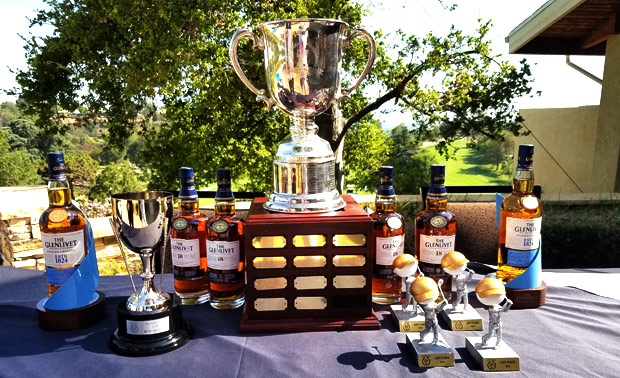 The event raise​d​ much-needed funds and awareness for a great cause Athletes Vs. Cancer founded by ​NBA star ​Matt Barnes whose mission is to provide resources for families and survivors affected by this deadly disease, especially helping with college scholarships to the children of those affected.
#TheGolfClassic #TheGlenlivet #TRSports @TheGlenlivet_US @AthletesVsCancer