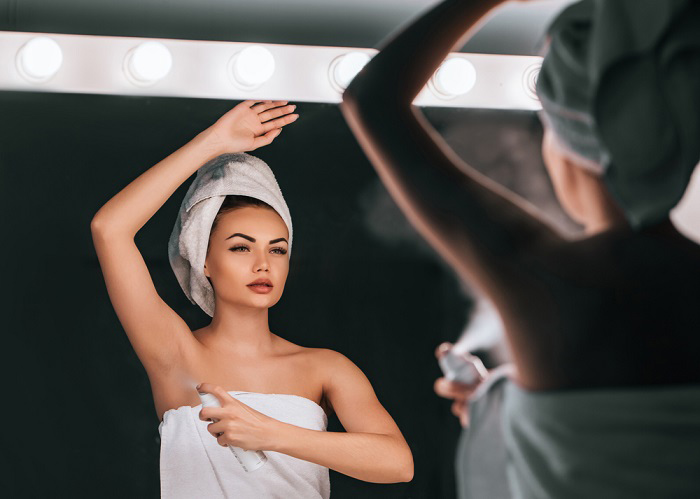 Women need deodorants that they can always rely on and can protect them against sweat and odor. Even one error can change a woman's mood and even her day plans. Deodorants should be suitable for long and agitated work or training days. Moreover, these products shouldn't contain chemicals that harm the skin as they are used daily. Many of us haven't found the best deodorant for women yet.
We have compiled a shortlist of the best deodorants for women, based on ingredients, manufacturer and customer rankings. The below products have gained popularity and the trust of plenty of women who use them.
7. ORGANIC 101 Cedarwood Spice
ORGANIC 101 Cedarwood Spice proves that deodorants can be entirely organic and have an USDA approval. This deodorant is suitable for women with sensitive skin. Meanwhile, it also leaves a fresh smell without staining clothes. According to beauty reviews websites such as BeautyEssential.net one of its strong features is leaving the armpit smooth and calm throughout the day. The product doesn't contain baking soda, aluminum, parabens, gluten, propylene glycol and toxic chemicals.
ORGANIC 101 Cedarwood Spice contains beeswax and coconut oil. These two fight underarm odors while hydrating the armpit skin.

The natural scent is resistant throughout the day.
6. Secret Clinical Strength Soft Solid
Active women who enjoy sports and have a busy lifestyle will be thrilled by this awarded deodorant. The product also has a doctor recommendation as an antiperspirant. Beauty magazines also recommend the deodorant due to its 4x stress sweat and wetness protection.
Secret Clinical Strength Soft Solid contains odor-fighting capsules which are active for over 6 hours.

Capsules use an

Adapt and Respond

technology which monitors your sweat levels during the day and adjusts its intensity.

The antiperspirant comes with specific indications. You should apply it at night, as the technology uses your relaxed body to activate.

This deodorant doesn't contain parabens and a few other toxic chemicals. Its active ingredient is Aluminum Zirconium Tetrachlorohydrex.
5. Crystal Body Deodorant Stick
If you have a family which prefers to save money by buying professional and neutral products, then Crystal Body Deodorant Stick actively responds to your needs. The product was dermatologically tested for men, women and teenagers with skin particularities. The deodorant uses mineral salt which adds an invisible layer of protection to the skin. Also, Crystal Body Deodorant Stick is compact and lightweight.
The deodorant is versatile as it contains hypoallergenic ingredients. Dermatologists recommend it to patients with skin conditions.

Therefore, it doesn't include aluminum chlorohydrate, parabens, phthalates or aluminum zirconium.

Manufacturers recommend gently moisturizing the deodorant before use.
4. The Healthy Deodorant Lavanila
Lavanila is a brand that promotes luxurious fragrances and body care products. It focuses on developing solutions with organic and natural ingredients, instead of toxic chemicals. This also happens with The Healthy Deodorant. It is an award-winning product which was dermatologically and clinically tested. Fragrances are natural and fresh, and they contain no synthetic odors.
The deodorant is free of phthalates, silicone, synthetic dye, sulfate, aluminum and parabens.

It uses essential oils which are activated by beta-glucan technology which fights sweat odors.

Moreover, this deodorant soothes and nourishes the underarm skin area.
3. Schmidt's Rose + Vanilla Deodorant
Manufacturers claim that this product is meant to eliminate the feeling that natural deodorants don't work. It's a chemical-free product which also won an award, according to Schmidt's reps. The product uses plant-based powders which also have a subtle floral scent. It has a soft and solid consistency which leaves a non-sticky feel.
Rose + Vanilla Deodorant only contains shea butter, baking soda, arrowroot powder, cocoa seed butter, vitamin E and natural fragrances.

Over 5,000 reviews gave the product over 4/5 stars.

It is packed in sustainable glass jars which keeps ingredients fresh. However, refrain from storing it in warm or heavy lighted spaces.
2. Bali Secrets Natural Deodorant
The second-best deodorant is available because manufacturers believe in it so much that they use it themselves. The product is preferred by over 4,000 Amazon buyers and is made in Bali. The product is vegan and gluten free and has a floral fresh scent. It fits both men and women. Also, it is approved as safe by BeautyEssential.net.
Bali Secrets Natural Deodorant is free of baking soda, parabens, GMO, phthalates, aluminum clorohydrate, zirconium and others.

It doesn't stain clothing or leave a sticky feel.

You only need to use a bit, so the bottle can last up to three months.
1. Primal Pit Paste Lavender Natural Deodorant
Our favorite deodorant is hand crafted exclusively with natural and organic ingredients. It works to neutralize the bacteria which causes odor on long term. It's fit for working women, housewives or those who enjoy plenty of exercising.
It doesn't contain any chemicals as ingredients.

The deodorant is allergy and irritation-free as ingredients neutralize each other according to your skin.

It's also long lasting as you use two pea-sized amounts of the paste per both armpits.
Wrapping Up
There are so many aspects to consider when purchasing a deodorant. Women's attention to skin health already taught them to avoid products with certain chemicals, even if they're available anywhere. We have selected the above carefully considering skin safety and product experiences. You can purchase these products online or in some skin care stores.
These deodorants are versatile. Therefore, we strongly believe that you can find one with an efficiency-rate, scent or consistency that fit your needs. Once you've found your deodorant, use it to the fullest on each occasion!