Life just got a little easier! The Amped Wireless Smart Plug and Smart Wi-Fi Power Strip allow you to control devices plugged into the Smart Plug or Smart Wi-Fi Power Strip with Alexa voice commands so if you're at home and busy doing something else from anywhere, using a free app. For instance, you can create timers to turn on your slow cooker so it cooks for just the right amount of time while you're at work. These plugs can also help you make other kitchen appliances possible to control via the app, like your coffee maker.
It's so easy and simple to install and use. No need to be intimidated by technology! This strip lets you control up to 5 devices together or individually.
Plug in your devices to create timers and schedules for total automation. You can also add more smart plugs/strips and program them together to create custom "scenes," and pair with Amazon to control it all with the sound of your voice. "Scenes are ways of grouping your devices into categories that you'd normally turn on or off at the same time; lights, etc.
This wireless Smart device from amped wireless is compatible with Amazon Alexa, allowing you to manage your devices through Voice control. It supports Wi-Fi 802.11 B/G and features 2 USB ports for charging mobile phones, notebooks and more.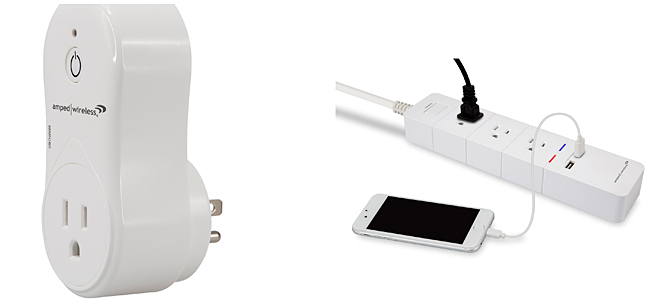 Not to worry! It has you covered if you're worried about surges. It has three standard outlets and a built-in overload protection circuit breaker, and offers surge protection to protect your gear against random power spike damage.
Amped Wireless specializes in providing long range wireless consumer and business communication products for the home and office. The future is here! And it's affordable too.
Read more about the Amped Wireless 3-Outlet/2 USB Ports Wi-Fi Alexa Enabled Power Strip HERE