The Healthy Brand Showcase brought together 10 national brands, spanning eco-fashion, health, wellness and natural beauty brands to present their new products for the spring/summer months; from non-toxic deodorant, all-natural sunscreen and boob balm to recycled wedge heels, swimsuit bags and essential oil perfume kits and more. Check them all out below!
Boody Eco Wear
Organic bamboo Eco-wear that is seam-free, form-fitting clothing that feels great and is eco-conscious. This incredible fabric is up to 95% bamboo yarn with a soft feel and is breathable. Since bamboo is 100% biodegradable it requires no pesticides. It is antibacterial, antifungal, odor resistant and retains these properties even after multiple washings. Boody is even more breathable than cotton! Get 20% off new looks! Use code: NEWBASICS Boodywear.com
The Awesome Company was created by three moms of beautiful autistic children to empower people on the autism spectrum. They design beautiful handmade goods using sustainable and organic material. They also provide jobs for adults with autism. How can you not love them?! TheAwesomeCompany.com
Goddess Garden Organics presented their awesome genuine stone Aromatherapy bracelets, made from porous lava rock and easy to use aromatherapy blends. Gemstones are added for their energetic properties. Known for their high-quality certified organic sunscreens, facial care and aromatherapy, they were onsite introducing their wearable aromatherapy accessories. "Aromatherapy has become mainstream because the benefits of the pure essential oils are undeniable" said Goddess Garden founder and CEO Nova Covington. There a aromatherapy blends included Amber Fire, Lavender Sky, Wildflower, Rainforest, and Citrus Sunrise. goddessgarden.com
Noniko Skin
Breast cancer survivor Sephra Regan created products free of harmful chemicals such as  Magic Deodorant and Boob Balm with all natural ingredients that have a therapeutic history of supporting breast health. Magic deodorant has no aluminum, which most deodorants have. And boom bomb is skin rejuvenating healing and beautifying that stimulates blood and lymphatic flow increasing circulation for healthy tissue. Their MO is to promote body awareness, connection and self-empowerment. NonikoSkin.com
Huel is a nutritionally complete vegetarian protein powder made from six sustainable ingredients. Oats, peas, rice, flaxseed, sunflower and coconut, plus their proprietary vitamin and mineral blend. Make a complete meal in minutes! @huelusa #huel Huel.com
Oka-B shoes combines fashion and comfort– the goal of every shoe wearer! Made in the U.S., each shoe is made with a strong, patented plastic blend of 15-25% recycled material and is machine washable. Many beautiful styles including sandals, flats and wedges. oka-b.com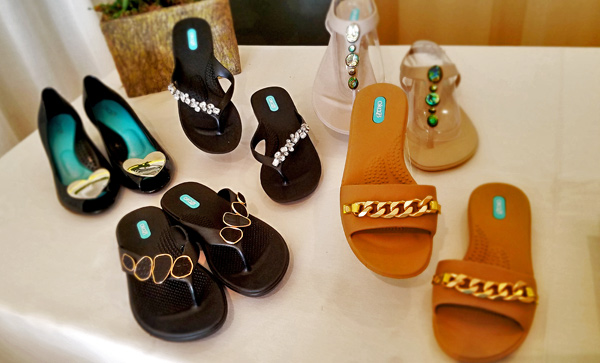 Youtheory Collagen supplements are like no other. Collagen revitalizes skin hair and nails, fights the effects of aging, supports tendons and ligaments and boosts protein intake. Their supplements includes Sleep which promotes deep restorative sleep, Turmeric which supports healthy inflammation response, and of course their original Collagen Advanced Formula with 18 amino acids. Youtheory.com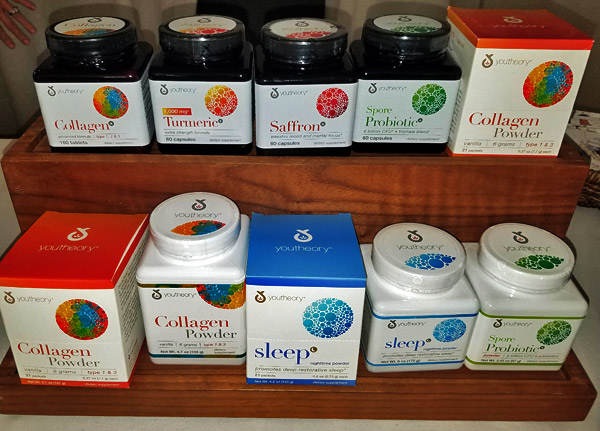 Jade Yoga provides eco-friendly yoga mats, made with natural tree rubber, a rapidly renewable resource. Jade plants a tree for every mat sold. Different sizes and thicknesses. Jadeyoga.com
Mamma Chia share their Chia  drinks and Squeeze Vitality snack, that combines Chia + fruit + vegetables , 1200 mg of Omega-3, 6 and 9s. Chia seeds provide protein and fiber also. Mamma Chia donates 1% of all sales to support healthy local food systems. Mamachia.com
Comrad Socks are not your grandfather's compression socks! Certified True Graduated Compression™ and lab tested 15-25 mmHg compression socks for leg health. Compression socks prevent foot & leg swelling on flights, prevent varicose veins during pregnancy, reduce leg inflammation, swelling & discomfort and so much more. ComradSocks.com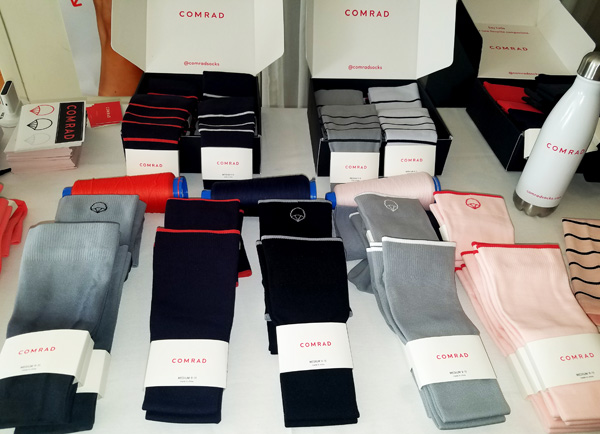 Ocho – the organic candy bar. How nice to feel that when you're indulging candy it's actually good for you! The Ocho coconut covered in dark chocolate is so delicious, with all organic ingredients. They also have a granola bar that is irresistible. If you have to give your kids candy, give them healthy candy! Ochocandy.com
Wander Wet Bags are eco-friendly water resistant wet swimsuit bags. They have a waterproof lining that is breathable to prevent mold and mildew, are machine washable, and made in the USA. WanderWetBags.com
Michele's Toasted Muesli – handmade in small batches. Absolutely delicious with rolled oats apricots, raisins, pecans, coconut and more. One of the best I've ever had. Michelesgranola.Com
From CVS Health: Metipal film skin protectant sterile dressing. Flexible transparent coverings for wound protection and easy viewing. Creates a faster healing environment.
For more info: Meet the Brands – www.healthybrandshowcase.com