In the luxurious Marriott Marquis San Diego Marina, you'll find an equally acclaimed and chic restaurant: Marina Kitchen, headed by award-winning Executive Chef Aron Schwartz. Marina Kitchen lives up to the high standards and expectations of a food-loving city and region, serving a locally-produced and seasonally fresh menu featuring the bounty provided by nearby farmers and fishmongers alike. Artisanal, sustainable, and delicious, the meals at Marina Kitchen offer top-flight cuisine in a gorgeous setting – at an affordable price, to boot.
The chefs at Marina Kitchen put an emphasis on local produce, for good reason. The Southern California region includes acres upon acres of fertile farmland, with mindful caretakers tending to the crops and produce. It comes directly to Marina Kitchen, with little interference in between. From there, Chef Schwartz and crew create modern, visionary comfort food to satisfy your senses. You'll find a range of dishes for all appetites and cravings.
For breakfast, you can expect fruits, yogurts, waffles, muffins, bread, omelets, scrambles, casseroles, and more, including regional specialties such as prime Brandt beef machaca and Eben-Haezer eggs.
At lunch, try the soup, flatbread, salads, sandwiches (including a black bean veggie burger for vegetarians), or the plates (such as seared ahi, rigatoni pasta, Jidori chicken paillard, and more).
Dinner at Marina Kitchen includes a four-course tasting menu, available with an optional wine pairing. A la carte options cover seasonal soups, salads such as Roasted Beet with aged goat cheese, pasta, poke, Roasted Colorado Rack of Lamb, and Kagoshima A-5 Waygu beef, to name a few.
You can't skip dessert, and you won't want to when beignets, crème brulee, and even a Maker's Mark milkshake with maple lacquered pepper bacon are on the menu.
Kids 12 and under can enjoy a special menu, including many of the so-called adult options (arctic char, hangar steak). Everyone can partake of Marina Kitchen's offerings. Of course, you can expect vegetarian and gluten-free dishes for grown-ups and children alike.
Marina Kitchen also boasts an extensive wine selection of award-winning labels. The very knowledgeable sommelier team will guide you toward finding the perfect vintage among the 2,300-bottle wine cellar to complement your meal. 
Chef Aron Schwartz learned his craft at the Culinary Institute of America and sharpened his skills at numerous renowned restaurants, including time as sous chef for French restaurant Lutèce in The Venetian. He now brings his training and instincts to Marina Kitchen.
Marina Kitchen also offers private dining rooms that can host up to 200 guests (or smaller groups) for meetings, receptions, events, or other occasions. The outdoor terrace can accommodate up to 35 guests as well, and an action buffet is available.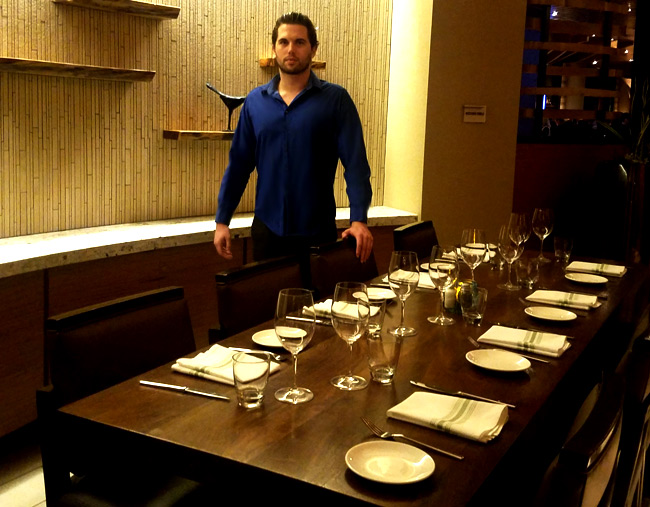 This is not your parents' hotel dining. The natural light streaming in through the expansive windows is as natural as the wholesome ingredients and care that go into your meal. In Southern California, where discerning diners flock toward creative, satisfying meals, Marina Kitchen holds its own. It's definitely worth a visit when you're in San Diego.
Marriott Marquis San Diego Marina
333 West Harbor Drive · San Diego, California 92101 USA
Call: 619-234-1500
Read more about Marina Kitchen here.