Manhattan Beach's sleek luxury boutique Shade Hotel's Zinc Restaurant launched their new coastal cuisine menu which includes exciting new handcrafted cocktails and great new dishes, and we were in to try them all. The cuisine at Zinc has always been among my favorites in all of Los Angeles, and I was curious to try the creations of Zinc's new Chef de Cuisine Johnny Tran.
We relaxed in the beautiful fire pit terrace, a cool and and contemporary atmosphere where we enjoyed the new menu items, which all hit the high notes. Zinc's tradition of great food continues!
A big hit with everyone was the Pork Belly on a Bao Bun. It was the perfect delicious, flavorful bite with Hoisin BBQ and mint Sambal Dressing. Highly recommended, a must-try.
Their scrumptious crispy chicken dish is served with sesame honey and spicy Ranch. The already-popular Spicy Tuna on crispy rice with Wasabi Aioli and sweet soy reduction is a winner. The beef carpaccio has parmesan sauce, watercress, and fried capers and is gluten-free.
Lastly Shade introduced a gluten-free burrata veggie bowl that has quinoa, campari tomato, candied striped beets, garbanzos, herb pesto, broccolini, and aged balsamic.
The new menu is also debuting impressive new craft cocktails including Fire and Ice (Absolute Elyx vodka, fresh muddled lime, lemon, orange, Jalapeno, Agave Nectar).
Shade and Strand House's most seasoned bartenders competed by creating craft cocktails in the hopes of it earning the right to be on the menu. Bartenders who competed include Kevin Hooker from The Strand House, Tim Ahrens from The Strand House, Steven Lee from Zinc at Shade, and Erin Richter from Zinc Shade.
The winner was Steven Lee who created the Harvest Moon. The Harvest Moon uses basil, Hayden bourbon and infused black tea. Lee then topped it with a house made meringue and some lemon zest. His "Iron Chef" ingredient was pumpkin spice to finish the drink off with a torch to brûlée it.
Inside Shade Hotel is Zinc's bar and lounge that includes lounging couches as well as a sleek bar which runs the entire length of the wall.
Shade's elegant rooftop pool and cocktail bar is the perfect place to enjoy watching the sunset over the ocean.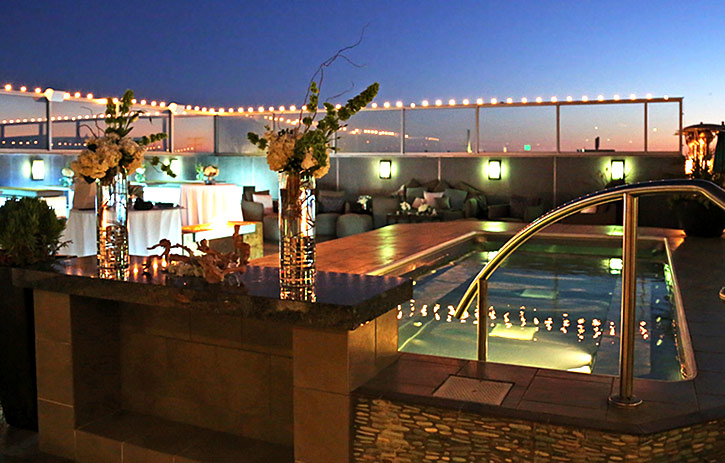 Stemming from owner and restaurateur Michael Zislis' visionary take on personal service, allows Shade's professional staff to ensure their guest's experience is nothing less than stellar.
With upscale dining, shopping, and sightseeing all within a close distance, Shade guarantees guests an unforgettable stay.
Shade Happy Hour is Monday – Friday from 3 PM – 6 PM, which allows guests to enjoy half-priced appetizers, beer, wine, and cocktails.
For more information about Manhattan Beach's only boutique luxury hotel, please visit mb.shadehotel.com