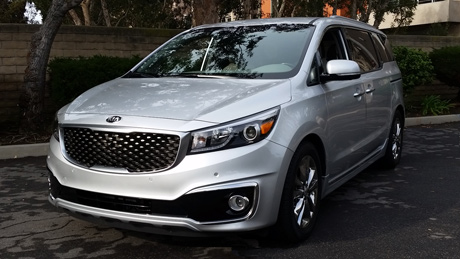 2016 Kia Sedona Minivan Review
Kia works with a successful business model: Build a stylish, reliable vehicle, then offer it at an unbeatable value. The 2016 Kia Sedona honors and applies this plan for the minivan and delivers the latest of the intuitive features, flexibility and comfort.
Kia is well-described as"Aggressive and refined, it's your getaway vehicle and lounge on the go." From the spacious driver cockpit, to the versatile Slide-N-Stow seats, the 2016 Kia Sedona has created premium comfort and a smooth ride for drivers and passengers, with three rows of seats and room for eight, a standard rear-view camera, and options for power sliding doors.
At the high end, the 2016 Kia Sedona SXL even offers Nappa leather upholstery, a heated steering wheel, and a sunroof. The real treat for your passengers are the SXL model's lounge-style second-row seats, with generous slide-and-recline adjustments, extendable leg rests, and lateral sliding ability.
The Kia Sedona introduces a new wrinkle with the entertainment system: It's powered via the UVO smartphone app. From the app, you can control music, GPS directions, traffic, weather, fuel prices, even where you parked your car. The Sedona also includes a USB charging port and an AC outlet to keep your devices powered up.
One more tech bonus: The Sedona offers Geo-fencing, Speed Alert, Curfew Alert, and Driving Score, all of which could be used to take note of your teen driver's road habits, if they deign to borrow the minivan.
The 2016 Kia Sedona KLAs a family vehicle, a minivan has to meet certain criteria, and a few factors stand out over others: safety and value, to name two. But it all starts with space and capacity for your kids, your groceries, your supplies, and whatnot. In this regard, the 2016 Kia Sedona uses a sliding seat system that shifts the middle row to create more free space. As in other vehicles, the third row seat is on the small side, but it folds down completely to open up the back. Feel free to pile in your sports gear, drum kits, or year's supply of paper towels.
In the base-model Kia Sedona, the driver and passengers can enjoy a seven-seat configuration with a fold-away third-row seat; standard power windows, locks, and mirrors; cruise control; air conditioning; tilt/telescoping steering; steering-wheel audio and phone controls; Bluetooth; AM/FM/CD player with USB port; keyless entry; rear parking sensors; and 17-inch alloy wheels. Move up the models, and the Sedona adds power seats, power sliding side doors, power tailgate, heated front sets, and more.
The 2016 Kia Sedona earned five stars from the National Highway Traffic Safety Administration and top "good" scores from the Insurance Institute for Highway Safety (IIHS) in crash tests. However, the IIHS rates it as only "basic" for front-crash prevention. The Sedona comes with six airbags, as well as Bluetooth smartphone connectivity and a rearview camera — important but often overlooked safety measures.
The 2016 Kia Sedona runs on a 6-speed automatic engine from a 3.3-liter V6 engine generating 276 horsepower and 248 lb-ft of torque. You won't have any problems rolling with two or three passengers onboard, but don't count on turning donuts in the parking lot. The Sedona will get you a reasonable 18/24 mpg city/highway.
The 2016 Kia Sedona starts at $27,000 for the L model and up to $46,000 for a fully loaded SXL. It's also worth remembering the Sedona comes standard with a 10-year/100,000-mile powertrain warranty to further stretch your dollar. As this is a Kia, you are probably best off sticking with the low-end to midrange models, which deliver plenty of features for the price. Whichever you choose, you can be confident that you're getting a solid, spacious, and safe set of wheels well suited to transport your brood and entertain them along the way.
It doesn't exactly offer fireworks under the hood, but keep in mind this is a minivan, and you can expect a steady, smooth drive. Let's face it, though — in a minivan all you really need is to get a lot of people from Point A to Point B, and the 2016 Kia Sedona Minivan will do that in comfort and style.
For more information, go to Kia.com.