These days we are constantly on the go, it's important stay healthy and stay on the offensive against getting sick. But sometimes there's barely any time to be conscientious of taking our vitamins every day. Especially if you travel for work, we tend to neglect that!
Healthy Delights® brand of confectionery nutritional products has a delicious answer. They are the creators of high quality supplements that come in variety of fruit-flavored soft chews, as well as chocolate-covered bites of supplements and nutritional snacks to insure you're getting your necessary vitamins and minerals you need to stay energized and your immune system strong. Great way to get your kids to take their vitamins too!
Healthy Delights draws from three generations of confectionery expertise. Creating a candy packed with supplement ingredients is no easy task and requires  a number of formulations.
They have developed their  expertise to be able to balance the various flavors and supplement ingredients to create nutritionally-balanced formulas that are delicious alternative to regular vitamins pills and capsules.
The use all quality ingredients, don't use artificial colors, artificial flavors, preservatives, or animal by-products.  They are Gluten-free as well!
I personally tried 3 different chews they offer. Enjoyed them and felt more energized. I plan on making these chews part of my daily habit.
Multi-Vitamin Chew
With one-a-day delicious Healthy Delights Multi-Vitamin Soft Chews you are getting 16 essential vitamins and minerals including Vitamins A, C, D and E, Biotin, Vitamin B12 and Zinc. Yummy strawberry-watermelon flavor. A multi assures you get the balance you need daily.
Thirty soft chews, one month supply is only $11.99. Available at Walgreens.
Mood Booster Chew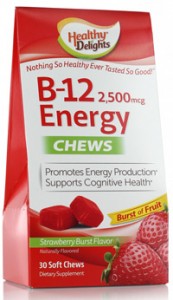 Healthy Delights B-12 Soft Chews are the perfect answer to getting that extremely important vitamin  for energy and brain power! Supports a healthy nervous system too! B-12 chews help keep the mind and body strong and active.
NEW Specially formulated to promote energy production and a healthy nervous system, the B-12 chews  also supports cognitive health. Includes 2,500 mcg per chew.
Thirty soft chews, one month supply is only $11.99. Available at Wagreens. Strawberry Burst flavor.
And last, but NOT least! I loved these and felt they were effective…
Maintaining a Healthy Metabolism Chew
Healthy Delights Raspberry Ketone with Green Coffee Bean Soft Chews promotes body fat reduction as well as supporting an increased metabolism. When consumed, the ketone is released immediately in the mouth and spreads throughout the entire body to support a healthy lifestyle. Paired with Green Coffee Bean to support healthy blood sugar and a delicious raspberry flavor.
It promotes body fat reduction, supports increased metabolism, promotes weight loss, sugar, delicious raspberry flavor, only 15 calories.
Availability: $29.99 at GNC; contains 30 soft chews
That is just the tip of the iceburg! Go to their site to check out the other highly-popular formulations in multiple flavors of delicious chews. healthydelights.com
_______________________________________________________________________________________________