Dr. Forouzanpour, board certified cosmetic surgeon, has been using a teeth whitening formula that dramatically improves the appearance of your smile resulting in verty noticable shade improvements in just 7-12 minutes. This is an exclusively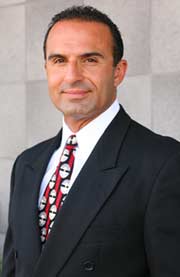 formulated gel created with LED technology to create dramatic results in minimal time and the bonus is no more pain caused by sensitivity. Call for your appointment today, the Infinity Teeth Whitening is being offered at $99.00, for a limited time only.
This gel performs at its optimal level at the initial start of treatment. The most dramatic results are found in this stage. To maintain this result, we apply the gel up to three separate treatments in one session. Your time is optimized and results remain dramatic.
Your presentation in life really does begin with your smile. How often have you found yourself hoping someday you might be complimented on yours, why not call today and get started? Teeth whitening affect everyone differently, on an average most of our patients report a brighter more brilliant smile with a remarkable shade improvement. Food and drink and other factors (i.e medications, tobacco, and age) can affect the longevity of your
results. Results typically can last up to one year. We have for your convenience, between visits, the Infinity maintenance spray.
Our system differs from others the time factor, the no pain factor and our formula contains more than just ingredients for whitening, we actually have a proprietary catalyst which is activated with the LED light for a faster result.
Dr, Forouzanpour and his surgical group, are the first to offer this pain free, seven minute teeth whitening technology in the U.S. They also offer a variety of other services including Botox, breast augmentations, lifts, reductions, chemical peels, Collagen therapy, eyelash transplants, face and neck lifts, Labroplasty, Laser resurfacing as well as Leg vein removal.
Please call today for your free consultation, the professional staff will do everything they can to accommodate your busy schedule. You are a phone call away from the smile of your dreams. Dr. Forouzanpour wants you to start experiencing a more confidant you.
Dr. Forouzanpour, Beverly Hills, cosmetic surgeon has free consultations available. Please call the Beverly Hills Cosmetic Surgical Group at (310) 360-0504. They are located at 8500 Wilshire Blvd. Suite 1020. Watch the video here!