To honor Grammy nominees this year, 'Green With Music' offered the first, all-green gifting retreat. The suite was hosted in the modern eco-luxury of The South Collection. This downtown location can not only boast sustainable design, advanced architecture, and endless views, but it is also the only all green-eco-chic high rise development in LA. Grammy nominees such as Evanescence and Eldar, Broadway star Shoshana Bean "Wicked," Reality TV vixen Omarosa "Celebrity Apprentice" and many others enjoyed Green with Music's spotlight on luxurious eco-friendly products and green rejuvenation.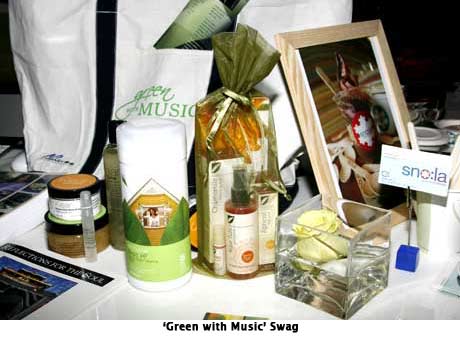 Vernare Designs
The divine, green design of the suite was a 'Living Green Showcase' created by design studio Vernare, which means, "growing green." Founder of Vernare, Daniel Vandenbark, is a residential design innovator and pioneer. Distinguished and elegant, his designs bring fresh perspectives to interior and exterior furniture, textiles, wall coverings, lighting and accessories. Furthermore, all his designs are crafted with a conscious effort to limit impact on the environment. Vernare represents fabricators and artists from around the world – all who support Vernare's mission to promote a green living lifestyle. www.vernare.net
Cru
Chef Rachel Carr of Cru's Vegan restaurant in Silverlake treated guests to a decadent, organic, and raw food bar. Guilt-free food has never been so delicious as these startlingly satisfying creations and artfully presented dishes. Carr weaves Italian, Tunisian, Japanese, Thai and Indian flavors into fresh, vegan interpretations that help diners glow from within! Pay Cru a visit at 1521 Griffith Park Blvd, Los Angeles, CA. Tel: 323-667-1551.
Nature Maker: Steel Art Trees
Gary Hanick, president of Nature Maker: Steel Art Trees, was present showing guests his gorgeous, true-to-life, steel tree sculptures. Gary will custom craft a life-size, steel tree of any variety to help bring the vision and beauty of nature into your own home – or wherever you might need a natural sanctuary. Check out more of his magical work at www.naturemaker.com.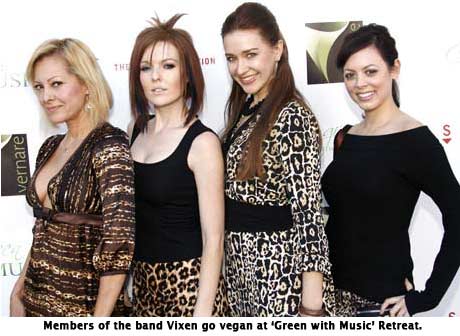 Sno:la
Sno:la was there serving their organic frozen yogurt and cremita and leaving the fat and white sugar behind. Sno:la flavors include: Italian Tart, Pomegranate, Sour Cherry, Chocolate Cremita, Dulce de Leche and Fig and Date as well as over 36 yummy toppings. And, not only does sno:la provide a guilt free treat, but they're committed to cooling you off in a completely "green" environment – all cups and utensils being biodegradable. 244 North Beverly Drive (North of Wilshire) Beverly Hills, CA. www.Snolayogurt.com.
Segway
Segway, a new kind of human transport vehicle, drew crowds by providing fun, non-stop rides throughout the event. As eco-friendly transportation becomes more and more of a concern, Segway introduces a new green way to get around. The Segway Personal Transporter (PT) takes people anywhere they need to go with virtually no environmental impact. Plus the PT helps you avoid daily hassles like traffic, parking, and expensive gas. For more info go to www.segway.com.
Twirls and Twigs
Teach little ones how to be green with Twirls and Twigs sustainable clothing for kids! Creator Shawna Dalton uses sustainable fibers, designer leftovers and recycled cotton to create her playful products. Her soft fabrics and fun designs would make anyone want to twirl! www.twirlsandtwigs.com.
Art of Tea
Art of Tea is a boutique tea importer and wholesaler specializing in the world's finest organic teas and botanicals. The company can introduce you to an immense range of teas – anything from the caffeine free, White, Jasmine Silver Needle tea to the bold, Royal Pu-erh aged 20 years. Not only does Art of Tea dedicate themselves to giving you the finest tea experience, but they are also dedicated to giving back to the world – donating a portion of their proceeds to charity. Bloom, expand and connect over a cup at 8950 West Olympic No. 154. Beverly Hills or learn more about their teas at www.Artoftea.com.
Eco Totables
Eco Totables helped carry things out in style with their fun bags made of recyclable materials. The company is indeed beginning to change the way people shop by providing paper and plastic alternatives through reusable shopping bags. By reducing paper and plastic we can eliminate a lot of unnecessary waste. What easier way to make a difference for our environment? www.ecototables.com
Better Botanicals
Better Botanicals provides a dose of "herbal yoga" for face, hair, body and babies. Harnessing plant powers to strengthen and rejuvenate, Better Botanicals leaves behind chemicals and works with the body to deliver long lasting, holistic herbal care. All products are vegetarian, rich in antioxidants, and free of synthetics, animal ingredients and alcohol. www.betterbotanicals.com.
Hybrid Roots
Hybrid Roots, a "Lifestyle Company" was there promoting their message of Eco-consciousness through the use of alternative and sustainable materials. From consulting to marketing, Hybrid Roots opens its doors to planning and creating custom green goods for today's eco-friendly lifestyle. Celebs like Wicked's Shoshana Bean signed Hybrid Roots' canvas for their Eco-architecture movement dubbed the Chi'bagoda Project. All proceeds from the sale will benefit Brad Pitt's organization, Make it Right 9, a charity for the rebuilding of New Orleans. www.hybridroots.com
Dr. Miller's Aruveydic Spa
Guests were pampered in Dr. Light Miller's Aruveydic whose book Aruveyda and Aroma Therapy is a collection of her 25 years of healing experience. Her book, co-authored by her husband Dr. Bryan Miller, helps readers figure out their Aruveydic profile and then guides you on a holistic path that balances ancient wisdom and modern healing.
Lotus Blossom Style
Lotus Blossom Style is transforming culture through clothing with their bamboo, organic cotton, and sweatshop-free apparel. They have something for everybody with their stylish, organic inspirational tees, effortless sweat-shop free yoga wraps, and even cozy organic baby love onesies and tees for little ones! See the whole collection at www.lotusblossomstyle.com.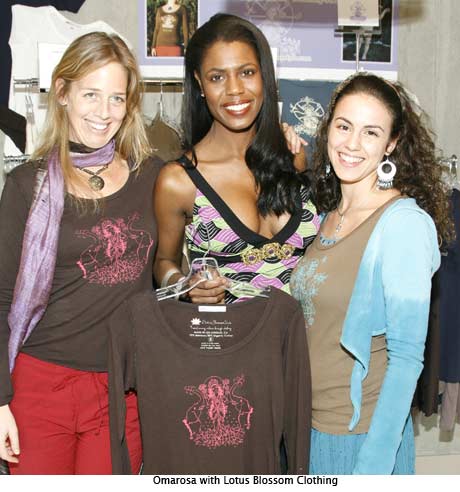 AGL Grass

One of the most relaxing parts of the Aruveydic spa was the natural ambiance created by plentiful eco-grass, courtesy of AGL Grass & LandscapingOne. AGL Grass is the perfect way to keep up your lawn without contributing to the decline of the environment. Using eco-friendly, recycled materials that are exclusive to AGL, eco-grass actually stimulates the earth's natural soil. Safe for both kids and pets, the artificial grass won't attract insects, fungus or bacteria and has a soft, realistic feel making it safe to play on. As AGL provides UV protected 100% polyethylene fiber, your lawn won't fade, discolor or stain. It's quick-draining, non-stretch, reinforced backing also ensures protection against rippling in the sun. www.AGLgrass.com
Shaklee
One of the Conscious Benefactor sponsors of the retreat was Shakelee, the planet's first company to obtain climate-neutral certification. We forget that the vast majority of poisons we are exposed to in our daily lives are in household cleaning products. But luckily for us, Shaklee has a complete line of safe, natural, home cleaning products to help keep our homes safe. All are nontoxic, natural, biodegradable, hypoallergenic, and contain no phosphates or chlorine bleach. To learn more about keeping your home eco-friendly and poison-free, go to www.ShakleeGetClean.com.
Make it Right
A portion of all Green With Music proceeds will benefit Make it Right, the organization founded by Brad Pitt and dedicated to creating affordable green housing in the Lower 9th Ward of New Orleans. The Lower 9th Ward is the area most affected by Hurricane Katrina and a deeply important part of our American heritage. www.makeitrightnola.org