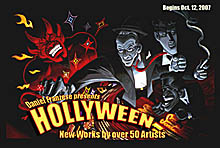 Actor Daniel Franzese ("Mean Girls") has chosen an inventive way to celebrate Halloween, presenting a morbid yet tongue-in-cheek art show, "Hollyween: Hollywood vs. Halloween," at the World of Wonder gallery in Hollywood.
Taking place from 8p.m. until midnight on October 12, the evening will kick off with a cocktail party featuring fre.ne.tik, Hollywood musical indie staples, and Tokio Bar's DJ Sklyer.
The art exhibit will tie together Hollywood and Halloween themes; with pieces that spoof various personalities- including Paris Hilton and Tom Cruise- which tend to dominate the media. Featuring work by 45 artists, the pieces will range in price from $40 up to $10,000.
Participating artists include Glen Hanson, Eric Jungmann ("Not Another Teen Movie"), Aaron Kraten, Sam Wooley, Tyler Shields, Plastic God, award winning writer Bert V Royal ("Dog Sees God: Confessions of a Teenage Blockhead"), Manny Castro, Cobrasnake and Adele Mildred.
Though best known for his role in "Mean Girls," Daniel's first lead role in a film was in "Bully," the popular Lions Gate film. Other credits include "Party Monster," "War of the Worlds," and "Bristol Boys." Upcoming films include the horror comedy "Killer Pad," another Lions Gate feature "Killers" and "Bar Starz."
The World of Wonder Art Gallery is located at 6650 Hollywood Blvd in Hollywood and owned by award winning T.V directors/producers Randy Barbato and Fenton Bailey.
Also having founded World of Wonder Productions, the two have produced series and documentaries for HBO, VH1, MTV, Showtime, Bravo, PBS, Court TV, AMC, Cinemax, BBC, Channel 4/UK, Channel 5/UK, Sky and Tech TV. Producing credits include "Inside Deep Throat," "Party Monster," "The Eyes of Tammy Faye," "Perez Sez" and "Tori and Dean: Inn Love."