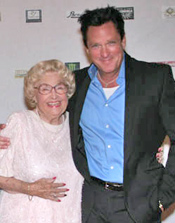 The six hundred attendees cannot fit into one theater so they are now seated in two, waiting for the screening of a festival entry to begin. The film's cast and crew, VIPs, and various official dignitaries are all in attendance. In one theater a projector lens malfunctions. In the other, no audio is heard. Festival organizers rush to fix the problems to keep the film rolling and people happy. The show must go on.
Welcome to opening night.
"Technical difficulties? Inevitable," Jo Moulton, the festival's executive director, laughed upon exiting the screening. Technical hiccups are fewer and further between each year since the festival's inception in 1995.
Originally an oddball idea conceived 13 years ago by arts-minded individuals in the Temecula Valley, the festival has grown to encompass more than 160 full-length, documentary, short and animated films from around the world, a two-day music festival featuring up-and-coming artists, location scouting tours and a selection of industry workshops.
The Temecula Valley International Film and Music Festival is close enough to garner attention and participation from Hollywood. Only an hours' drive from Los Angeles, the festival has previously hosted and paid tribute to guests such as Ray Charles, Ted Danson, Hector Elizondo, Louis Gossett, Jr., Etta James, Shirley Jones, Karl Malden, Leonard Maltin, Adrian Paul, Billy Preston, Carl Reiner, Rick Schroeder, William Shatner, Martin Sheen, Mary Steenburgen, Diane Warwick and Robert Wise.
Presented over five days in mid-September, the festival included a mix of both mainstream and independent films including the world premiere of "A Modern Mark Twain Story: The Prince and the Pauper," starring Cole and Dylan Sprouse, a special features presentation of "National Lampoon's Bag Boy," starring Brooke Shields and Dennis Farina, "Dalai Lama Renaissance," narrated by Harrison Ford, and "The Journey to Palomar," chronicling the struggles of solar astronomer George Ellery Hale.
The festival culminated September 16, 2007, at the Pechanga Resort & Casino in Temecula with a black tie gala hosted by Schae Harrison ("The Bold and the Beautiful"). The Jury and Audience Award Winners were announced and icons in film and music honored. This year's awards included lifetime achievement in music to soul and R&B legend Smokey Robinson, rising star recognition to Kay Panabaker, outstanding achievement in acting to film actor Michael Madsen, and significant contributions in film education to UCLA School of Film and Television Dean Robert Rosen.
Acclaimed singer-songwriter Robinson's career covers nearly five decades of hits including "I Second that Emotion," "Tears of a Clown," and "Shop Around." Debuting with the Miracles, Robinson has also written, co-written, and produced some of Motown's biggest hits, including chart toppers for the Four Tops, the Supremes and the Temptations.
Robinson, dressed in a classy pinstriped suit, listened as Ali Woodson (former vocalist for the Temptations) and Howard Hewett (former lead singer of Shalimar) performed a selection of Robinson's hits prior to the presentation of his award.
Forever cool, actor Madsen accepted an award for his contributions to the field of acting. Spanning 25 years, Madsen's career includes creating memorable and unique characters in films as diverse as "Reservoir Dogs," "Donnie Brasco," "Kill Bill: Volumes 1 and 2," "Sin City," and "Muholland Falls."
Madsen, also a producer and the author of "Signs of Life," and "The Complete Poetic Works of Michael Madsen," is a believer in film festivals. "Everyone has to start somewhere," said Madsen. "These young filmmakers are the eyes and ears of tomorrow. That's why it is so important to support them."
Jimmy Chunga, an actor in festival entry "Heber Holiday," echos that sentiment. "Temecula is definitely part of the circuit…we're thrilled to be debuting our film here."
For more information on the films screened, winners and film festival details, please visit www.tviff.com
JURY PRIZE WINNERS:
Best Picture: Billo, Le Grand Dakhaar
Best Documentary Film: Unsettled
Best Short Film: A Little Light
Best Animated Film: One Rat Short
AUDIENCE AWARD WINNERS:
Best Feature Film: Heber Holiday
Best Documentary: The Journey to Palomar
Best Short: Itsy-Bitsy
Best Animation: Exact Change Only