Mom has always been there for you when you needed her. Show your favorite support-system how much she means to you with great gifts to pamper and indulge.
Pashmina
No fashion-forward woman's wardrobe would be complete without owning a Pashmina luxurious shawl, wrap, or scarf. Such as a designer handbag or sunglasses, it is the perfect fashion accessory.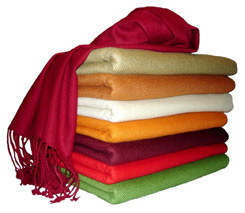 Pashmina is made using the finest cashmere in the world. And now you can get one for yourself or buy one for you favorite lady with their holiday specials 20-50% off.
A fashionable pashmina scarf, wrap or shawl is the perfect finishing touch for any outfit. Just a few pashminas will breathe new life into your entire wardrobe. For pure luxury and warmth, wrap yourself in 100% pashmina. For a dramatic accent, simply throw on an elegant pashmina/silk blend. Either way, you're Pashmina will make you feel and look like a million.
Since they specialize in only cashmere and Pashmina products, by ordering direct from the company you can get the best values on these quality luxury items.
They offer free standard shipping and guaranteed satisfaction with their 30-day return policy, which is now extended until January 15th for your holiday gifts. Most orders ship same day if received by 5:00 PM central time.
Order conveniently and securely online or call toll-free 1-888-874-2957. They will provide you with superior customer service.
http://www.thepashminastore.com/
Selective Eyewear Elements
Mom's are always the one's putting everyone else's needs before their own, especially when their children are young. She would never splurge on herself when there are children to think of and make happy. There is a way, though, that you can make your wife or mom feel special on a daily basis. She probably won't go out and spend a fortune on designer eyeglasses or sunglasses for herself. But with SEE, she can have that gorgeous designer look and feel like the special lady that she is on a daily basis.. All of the designs are inspired by the hottest European designers with the exception that SEE is a price that she won't scoff at. At Selective Eyewear Elements she can have million dollar looks without the price tag. Show her how special you think she is.
In Los Angeles, you can find SEE Eyewear in the Beverly Center or order online at
The Sumo Lounge
Mom is going to need some R an R after the holidays! With a Sumo Lounge, she'll be able to just sink into the cool relaxing comfort that will cradle her with support and allow her to relax for once! Sumos are family friendly — even the dog will want his turn to relax on a Sumo chair. But no worry, Sumos are stain resistant and easy to clean, and lightweight enough to be moved from room to room to suit your activity schedule. Just be prepared for the fights over who gets to sit on the Sumo during family movie night.
Read our article on Sumo Lounge here.
Three Sheets Bedding's Flagship Pillow
Lavish mom with the most luxurious and comfortable pillow available. Made of the finest Hungarian goose down, the oversized pillow is covered by a 340 thread-count Egyptian cotton pillowcase for the ultimate in luxury.
For more on the Flagship pillow, click here.
Elizabeth Grant Skin Care
Elizabeth Grant is an exquisite line of skin care product that is a favorite of celebrities all around the world. The line has endured and evolved since being created in London in 1948 by it's namesake.
With products like Torricelumn, which is 300% more concentrated than any other product on the market today and is so effective and efficient that, with regular use, one will see a 50% reduction of deep set wrinkles and 72% diminishment of fine lines, she'll have the same radiant skin as all of the most beautiful stars that use it. With it's gorgeous gold packaging, she'll feel like a golden girl every time she uses it.
Biocollasis™ is the latest greatest highly advanced anti-aging skin treatment that restores skin on the cellular level and protects skin from the onset of future lines and wrinkles caused by environmental factors. Biocollasis™ also contains Elizabeth Grant's exclusive hydrating compound Torricelumn™ which is a blend of vitamins, proteins, botanicals, and anti-oxidants that penetrate deep into the skin making it appear firm, smooth, and younger looking. Used and loved by celebrities, Biocollasis™ is luxury skincare at its finest.
http://www.elizabethgrant.com/
Adobe Elements 5.0
Mom has always been the keeper of the photo albums. Help her get up to speed with the greatest newest technology for photos, that allows her to do amazing things with photos: Adobe Elements 5.0.
For more years than most people can remember, Adobe Photoshop has ruled the land as the top image editing program on the market, but its hefty price tag – and its steep learning curve – has kept it almost exclusively in the realm of professionals. Fortunately, Adobe offers a simpler version of the app. Adobe Photoshop Elements 5.0 retains the most essential features of the marquee title, but with a kinder price tag and more guidance for the average consumer.
With Adobe Photoshop Elements 5.0, you can organize, edit, and share your photos, and you won't even need an advanced degree to figure out the commands.
You've taken the pictures, and you've even loaded them to your computer, but now what? If you thought you'd never master Photoshop or image editing on your own, think again. Adobe Photoshop Elements 5 will take you beyond red-eye removal and into the realm of slide shows, photo albums, and flipbooks. Your vacation photos will never be the same again. In a nutshell, the top new features in Adobe Photoshop Elements 5.0 are as follows:
· Color curves adjustment
· Black-and-white conversion
· Lens distortion correction
· Flexible themed layouts
· Multi-page creations
· Flash-based photo galleries
· Map View
· Web upload service
Read more about Adobe Elements 5 in our article here…
'On The Move' Leather Tote by Daytimer
Just because she's now a mom does not mean her life should be relegated to bags with cartoon characters. In fact, she's probably looking to stay as trendy and chic as ever. The On The Move Leather Tote is not an ordinary diaper bag. While it's full of the necessary compartments to organize all of baby's needs while offering open side pockets to hold water bottles, umbrella or newspaper for mom. This tote provides mom with a stylish way of stepping out—with or without baby in tow.
http://www.daytimer.com/
Frankie & Johnny by Sleepyheads.com
Looking to treat mom with the utmost comfort? Look no further than Sleepyheads.com. The specialty pajama retailer has their own line of ultra-comfy pj's mom will never want to take off. The Frankie & Johnny fall/winter collection features a collection of whimsical patterns on cotton flannel pajamas. Each style is available in a sleep shirt, lounger pj or hipster pj and comes with a matching drawstring bag making them easy to tote on vacation, to a girls night sleepover or for a peaceful night's sleep in the comfort of your own home. Get a pair for yourself and have a slumber party with mom!
BasketHeaven.com
At Basket Heaven, you'll find a gift for everyone on your list. Their vast selection is only rivaled by the superb quality of their products. From salty to sweet, there is a basket to satisfy anyone's taste buds. You can choose from a selection of pre-designed baskets, or you can let your imagination run free, as you can choose to customize your own basket.
All baskets include unique gourmet products, including such goodies as Beverly Hills Cashew Clusters (large pieces covered in dark, milk and white chocolate), California Orange Slices Half Dipped in Chocolate, Uncle Eddies Chocolate Chip Cookies, and Sybil's Outrageous Brownies. With Basket Heaven, spreading holiday cheer was never easier.
They also offer beautiful floral arrangements. They are the gift basket company to the stars. Find out who has received their fabulous baskets.
Based in Beverly Hills, call 1.888.2 Pamper ~ 888.272.6737
Numi Tea
Let mom relax with a hot pot of organic Numi Tea. A special gift for the holidays is
Numi's Dancing Leaves Flowering Teapot. The set includes the finest handsewn Flowering Tea leaves and flowers offered together in a glass teapot for a unique and distinguished gift. The Flowering Teas are their specialty, and Numi has just lanched a gorgeaous new exoctic line of these specialty teas. New designs and new packaging include the first ever Flowering Oolong tea. Also a great idea for mom are Numi's innovative spa blends. Numi offers a full-line of herbal and white tea blends to enhance the spa experience. Featuring an array of enticing ingredients from luxurious lavender and licorice, to exotic catuba bark and shizandra. These blends will please the palate as they nourish the body.
CocoaBella Chocolates
Hand-select a custom box of chocolates for mom. CocoaBella Chocolates will let you select from their decadent assortment of chocolates to build a gift that's as individual as she is.
Introduce mom to the "chocolate lifestyle" for a holiday filled with hot chocolate, fondue, bonbons, truffles and more from CocoaBella. The quality is unmatched; founder Michael Freeman has located the world's best chocolate makers and returned with delicious goods from 16 international artisans.
CocoaBella's assortments are enough to make you skip straight to dessert. Wine lovers will find a special collection that complements the full flavors of their favorite vintage. The truffle selection features only the most luscious, soft-centered bites available, while the exotic collection combines flavors you'd never associate with chocolate: strawberry, thyme, tangerine, and red chili, for starters. But don't worry–those with more traditional tastes can opt for the old standbys. Buy a pre-sorted box or make your own!
To read our article on CocoaBella, click here.