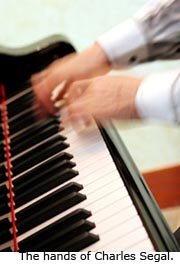 Despite the supposed MySpace revolution, the musical landscape still, for the most part, looks the same. A large number of radio stations across the nation are controlled by a few big corporations, the major labels continue to merge and tighten their hold on the record industry, and up-and-coming bands are still caught in the crash-and-burn cycle. Those who are truly passionate about their craft, however, have learned how to not only nurture their careers and make a name for themselves, but also retain control over their music and their voice. Charles Segal is one such artist who can boast all of the above in his notable professional life.
Forget that today's performers have a hard enough time releasing their second song–much less their second album. But by anyone's standards, Charles Segal has amassed a formidable catalog, composing more than 2,000 songs and performing on more than 200 albums. His talents as a jazz and commercial pianist and composer have lent themselves to a wide variety of tunes, from beloved children's musicals to spirited jazz to soothing compositions to loving melodies.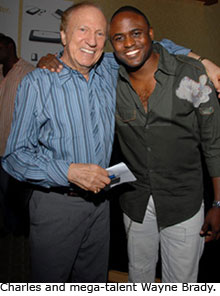 I first learned about Charles when I walked into Melanie Segal?s 2006 Platinum Luxury Suites in Celebration of the Emmys & MTV VMA?s. I smiled immediately when I heard the most enchanting music being played on a grand piano by this charming man. I soon discovered his was Melanie?s father. I sensed something very special about him and discovered his compelling story, which I wanted to share with LATP readers.
Born in Lithuania but raised in South Africa, Charles Segal has enjoyed a mutually enriching history with his adopted country. As both a composer and a publisher, he helped found the South Africa Music Rights Organization, and he frequently performed on the SABC networks. Carrying on the musical tradition, students of the arts could pick up one of the Music Tutor Books issued by Segal's Publications or enroll in the Charles Segal Music School, the largest of its kind in South Africa. In turn, it was in South Africa where he became a celebrity pianist, garnered numerous awards (including the country's equivalent of the Grammys), and saw his songs wave their way into the country's very fabric and consciousness.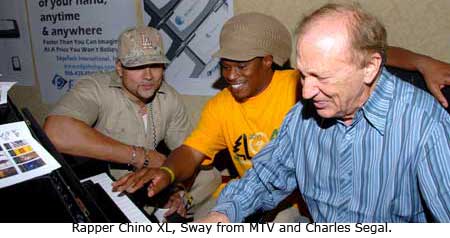 In 1986, Charles Segal emigrated to the United States, where he has become a member of BMI and remains a prolific composer and recording artist. He also maintains the separate components of his musical empire, which includes a publishing company that encompasses Charles's 2,000-song catalog; a CD production company that presses discs in a range of genres; a song library available to film, TV, and stage producers looking for background or incidental music for their projects; and a musical theater company that producers or teachers could find useful. In addition to the two dozen CDs available from Segal's website, businesses can create customized CDs, picking and choosing from the original compositions to find a mix that best suits their needs.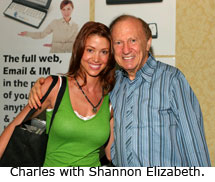 You hear the story again and again: a promising young band or performer is discovered, catapults to fame, comes tumbling down, and is doomed to live the rest of their life in obscurity or as a punch line. It's a classic yarn, but another tale does it one better. Imagine that performer building a long, rewarding career and fulfilling their artistic desires. Charles Segal has been able to do exactly that, making his dream come true, and he shows no signs of stopping any time soon.
www.charlessegal.com