Add a little heat and sizzle to your culinary adventures.  What a fun date night out or out with a group of friends.  The Gastro Garage Blowtorch Culinary Concept is lighting up Hollywood with their welding masks, blowtorches and brioche for a 12-night only pop-up on Sunset Blvd., Thursdays-Saturdays From Jan. 19 to Feb. 11, 2017.
The pop-up space has been designed to look like a drive-through auto service bay, complete with oil drums, hub cabs, vintage motorcycles and of course, Rock 'N' Roll music and videos playing in the background.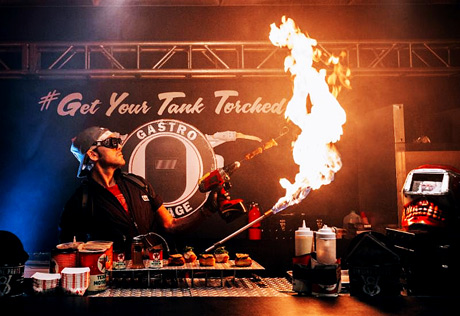 Gastro Garage is a one-of-a-kind, fully immersive dining experience with a unique chef meets mechanic concept. Guests are greeted by "Gastro Mechanics" clad in welding masks that guide them through the process, all while wielding giant blowtorches with flames flying high.
The "Gastro Mechanics" takes place behind an auto bay-inspired bar, creating their fiery culinary creations made with savory brioche donuts and a variety of toppings and fillings.
From the cultured Cubano Tank to the Americana Campfire Tank, guests will enjoy a fully immersive dining experience with a unique chef-meets-mechanic concept.
Offering guests an interactive gastro experience, the Gastro Garage deconstructs classic dishes and reconstructs them into signature "Tanks," made from savory brioche donuts that are filled with nitrous foam in a variety of flavors and then torched with gourmet toppings, finishing oils, purees and spices.
Gastro Garage has been lighting up Los Angeles with their one-of-a-kind, fiery culinary creations and signature "Gastro Tanks" since launching three years ago.
Diners can choose from a spot at the seated Gastro Bar and enjoy a front row view of the show with the chef's choice, four-course "Torch Me" menu starting at $50 that exhibits a variety of the red-hot selections and unique specials. Guests can also order any three tanks for $12 at the grab-and-go Gastro Counter and lounge in the garage in a more casual setting.
The pop-up menu will feature a selection of signature tanks, such as the savory Filly Tank with Aged Sharp White Cheddar Foam, Torched New York Strip, Onion Puree and Truffle Salt and the Cubano Tank with Gruyere Foam, Torched 12-Hour Slow Roasted Pork, Applewood Smoked Ham, Mustard Caviar and Dill Plank, or sweeter options like the Campfire Tank, which is a fun take on traditional S'Mores. The mechanics will be rolling out a brand new "drill bit" menu, where huge skewers of marinated specials like Korean Short Ribs, Teriyaki Salmon and Butter Poached Scallops will be torched on giant industrial drills. In addition, the new sides menu includes choices like Truffled Corn with Sweet Cream Corn Foam and torched Maple Glazed Carrot Pops with Maple Gravy Foam.
"We have created something original that no one has seen or tasted before," said Adam Manacker, co-founder of Gastro Garage. "It's all about an experience and experimentation with different flavors, toppings and oils to create the perfect tank. Our guests are so excited they often scream and use profanity! Our garage is mobile, but plans are in place for our first permanent location in the Downtown LA Arts District this summer."
Represented by CAA, Gastro Garage has been featured on BravoTV.com's digital series, Going Off the Menu, LA Magazine, LA Weekly , E! News, Urban Daddy, Biz Bash and more. Since launching in 2014, the mechanics have traveled the country creating pop-up garages for clients such as Ron Howard, Ryan Seacrest, Seth MacFarlane, Kate Hudson, Sylvester Stallone, Nick Lachey and companies like Google, Hulu, Microsoft, HBO, Paramount, Warner Bros, Sony, Disney, Insomniac and FOX's American Idol to name a few. Other celbrities who'se tanks they've torched include Sean Penn, Charlize Theron, Sarah Silverman, Jon Favreau, Jennifer Grey, Tim Allen, Craig Robinson, Jeff Ross, William Hurt and James Corden.
LA hospitality veterans, Stewart Levine, Adam Manacker and James Campbell, who together have more than 60 years of experience in the industry, created the Gastro Garage concept three years ago. Levine, an actor by trade, has been honing his skills in the restaurant and event world for the past 25 years, working with innovators such as José Andrés and Wolfgang Puck. Manacker has lead operations at iconic Hollywood venues, The House of Blues Sunset Strip and The Highlands Hollywood. Later starting the boutique event company, Deep Lifestyle Group, Adam brings his extensive experience to lead Gastro Garage to new levels. Born and raised in Eastern Canada, Campbell has held numerous hospitality-focused positions in his 15 years of experience, including founder of a Nova Scotia-based catering company, senior management at notable hotel brands, such as Fairmont and W Hotels, director of food and beverage at the Le Meridian Delfina and Banquets Director with SBE at the SLS Hotel in Beverly Hills.
With the founders' combined experience and passion for food and service, Gastro Garage is consistently growing and breaking boundaries, and is available for private events and pop-ups around the Southern California area. To book Gastro Garage for an upcoming event, visit www.thegastrogarage.com.
Gastro Garage pop-up is a joint venture with Boulevard Nightlife, best known for TCL Chinese Theater, Yamashiro, LURE, Hemingways, Adults Only and The Venice Beach Bar, and is proudly sponsored by Bernzomatic blowtorches.
The eatery is located in the strip mall next to the Adults Only Bar at 7065 1/2 Sunset Blvd. Los Angeles, CA 90028 (Northeast corner of Sunset and La Brea). Free parking available in the parking lot.
Walk-ups are available, but reservations are strongly recommended as there is limited seating. Please call 310-993-3979 to make a reservation or visit www.thegastrogarage.com for more information.
ABOUT GASTRO GARAGE:
Gastro Garage is an LA-based catering company that deconstructs classic sandwiches and dishes and reconstructs them into signature "Gastro Tanks." A Tank is a savory unsweetened brioche style donut that has been blowtorched to bring the butter and oil to the surface to create a crust. The Tank is then injected with nitrous foam, and the mechanics then blow torch the toppings, add finishing oils, purees, and spices. Gastro Garage is a visually entertaining culinary concept perfect for any type of private party or event. For more information, visit www.thegastrogarage.com.