The Artisan Group (TheArtisanGroup.org) has provided hundred of talented artisans the opportunity to brand and market their creations to the world, via Hollywood. Not only do they get a chance to attend extraordinary gift lounges to meet celebrities and gift them personally, but their wares have been seen on 40 different TV shows and films because of the opportunity Valerie Guerrero has provided them.
Lucky media that attended the GBK Gifting Lounge in honor of the 2017 Golden Globes got a sampling of the amazing handcrafted jewelry, art and bath products curated by The Artisan Group:
CY Design Studio
CYDesign.Studio gifted an oxidized sterling silver Labradorite necklace. This gorgeous wire-wrapped blue flash labradorite gemstone 'briolette' is the star in this piece. It hangs from a 'rosary chain segment of wire-wrappedlabradorite beads. Candice's work is seen in TV shows such as The Vampire Diaries and Jane the Virgin. Go here to order this gorgeous creation.
Starletta Designs
Tara Reid loves working with metal and gemstones and bright, bold colours. She gifted media a gorgeous silver bracelet with beautiful aqua druzy as the centerpiece. Most of her pieces are one of a kind or limited edition. Her work has been featured on Days of Our Lives, Young & the Restless, Cedar Cove, Chicago PD, Quantico, The Vampire Diaries and Supernatural. Go here to be dazzled by her designs: Starletta.ca
Boy Cherie
Caitlin Reyna is the owner and designer of Boy Cherie. Caitlin's approach to her jewelry line is that her pieces embody delicate and elegant style so as to enhance a woman's natural beauty–not distract from it. She gifted her exquisite Meghan Earrings; 3 inch dangling earring made from 8mm fresh water pearls and gold-filled findings. To see her beautiful pieces, go to BoyCherie.com
Calista Rose Designs
Elizabeth Heng, owner and designer of Calista Rose Designs, gifted this beautiful marble-look from white howlite gemstones and rose gold.  She is inspired by two of her favorite things: beaches and colors. Each is designed and hand crafted personally by her… "with the care, precision and love that comes with doing something you are passionate about." Her designs, colors and choice of beautiful gemstons are breathtaking. See for yourself:
calistarosedesigns.bigcartel.com
BeezKneez Designs
Designer paper goods – invitations, announcements, stationary. They also offer business cards, electronic accessories, customized gifts and t-shirts. Zazzle.com/beezkneez
Alyce Ross Designs
This ex-Wall Street Wall Foreign Exchange broker left her cool career to raise a family and pursue her passion for making jewelry. And boy are we glad she did! Alyce Ross Designs gifted a very cool tan suade rope choker with a blue pearl drop at the end of a silver piece. Her pieces are so desired that Egith Iggy (@egith) wore her earrings on the Red Carpet for the Golden Globes. See her cool designs at Alycerossdesigns.com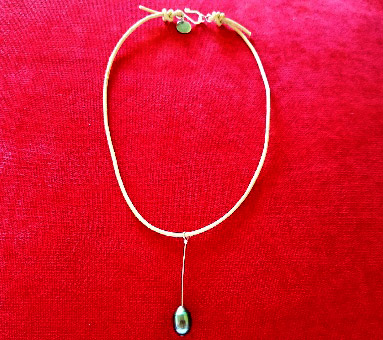 Miss Doyle's Soapery – Active Duty Soap
Cheryl Mitchell is on a beautiful mission! For every bar of Active Duty Soap purchased, she sends a mini-bar to an active-duty military member! Their names are on the soap labels! And the soaps are lovely. If you want to see your active duty family member or friend's name on their soap, message them at ActiveDutySoaps@Gmail.com. Go to missdoylessoapery.com for more information.
The Tin Owl – Photo Art
Marin Meisner has an eye for art and captures it with her camera. Sometimes she transforms it into jewelry. And she does it well. Nature lovers love pieces like the one here that frames a beautiful fern… To see her photography and jewelry, go to TheTinOwl.com
Gemspell Jewellery
Handmade by Gracie, she gifted these delightful mini silver rope earrings, which are a perfect touch when you don't want to make a big statement but just want want something simple. Gemspell specializes in the kind of jewelry you can wear every day. Carefully handcrafted with sterling silver, gemstones, and sometimes mixing metals such as brass and copper, Gracie's jewelry is "inspired in the beauty of stones and the natural energy that surround us." Check out here very cool designs here: Gemspell.com
If you're an artisan that has a line of jewelry, art, stationary, bath and body products, etc, you can find out how you can get involved with the Artisan Group by going to TheArtisanGroup.org