Winter is upon us, and you want make sure your roof stands the test of this season's weather. A leaky roof can cause extreme damage to the interior or your home, and be a great expense. You want to make certain that your roof can stand up to the ravages of the rainy season. Best Value Roofing's RESCUE ROOFER can provide you with a full roof inspection or repair, and can save you time and expense by offering cost effective and convenient roofing services.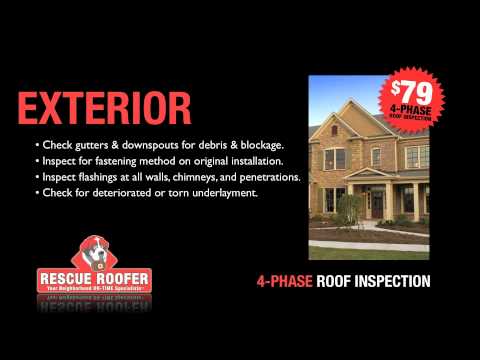 Serving the Orange County and Los Angeles metro areas, Best Value Roofing's RESCUE ROOFER takes the time to understand the homeowner's roofing needs and educates the consumer on the most effective solution. Their technicians are trained to thoroughly inspect the home's interior, attic, surroundings and roof. They proactively identify what is, or could be a problem during the life of the new installation or repair being performed.
Best Value Roofing's RESCUE ROOFER takes pride in setting themselves apart from their competition through their commitment of maintaining a 24-hour emergency hotline, staying until the job is complete, offering up-front pricing and guaranteeing 100 percent satisfaction each time.
Roof Inspection
One of the most important forms of roof maintenance is regular inspection. Best Value Roofing's RESCUE ROOFER offers a four-phase roof inspection, which includes comprehensive checks on your roof's interior, attic, exterior and general safety. Save yourself the time and expense by letting their trained technicians spot any water or moisture damage, failing attic insulation, roof cracks or deterioration, gutter damage, cracked tiles, or wind-damaged shingles that your roof may be experiencing.
Roof Repairs & Replacement
Getting a roof repaired or replaced is something that most homeowners dread, so let Best Value Roofing's RESCUE ROOFER make it a convenient and enjoyable experience for you. After a thorough inspection, your personal technician will offer the most cost-effective and convenient repair and replacement options based on your budget and then will manage and oversee the entire process through to completion.
Roof Cleaning
The roof is the most vital part of the house. Nature has a daily affect on your roof, which can cause eventual damage.  Shade, dew in the morning and rain can form mold and algae, which will continue to multiply until the entire roof is slowly taken over. Best Value Roofing's RESCUE ROOFER provides new life to your roof by providing a fungus-fighting cleaning process to proactively protect your roof for years to come.
To schedule your roof inspection, call Best Value Roofing's RESCUE ROOFER at 1-800-647-7663 or visit www.bestvalueroofing.com.
LA's The Place:  What sets you apart from your competitors?
Eric Enriques, Best Value Roofing: Guaranteed arrival times, up-front pricing, 100% satisfaction guarantee, answer live with 24HR emergency hotline, full service – inspections, repairs, and re-roofs.
LATP:  If there was one thing you wanted consumers to know about your company/product, what would it be?
EE:  Fast, reliable response rate followed by up-front (no-nonsense) pricing.
LATP: What are the different types of roofs and installation methods that you offer?
EE: Residential concrete/clay tile, composition shingles, stone coated metal, flat, slate, wood shake, and integrated roof solar panels.
LATP: Why is it so important for homeowners to regularly maintain and inspect their roofs?
EE: Homes are constantly being struck by high winds, rainstorms, foot traffic, wildlife, and such. It's recommended to have the roof inspected & maintained to prevent leak during the rainy seasons.
LATP: Besides total roof repair, what other services do you offer?
EE: Inspections, roof certification, roof and gutter cleaning, attic ventilation and insulation, emergency service, complete re-roofs, and photovoltaic solar systems.
LATP: What roofing manufacturers do you all work with and prefer?
EE: GAF-Elk, CertainTeed, Owens Corning, Boral Monier Lifetile, Eagle Tile, and Gerard Metal
LATP: What is the biggest mistake people tend to make when it comes to their home's roofs?
EE: Neglecting inspections and maintenance because it's taken for granted because it's visibly invisible until homeowners discover an interior leak.
LATP: What's the process in getting one of your representatives out for an inspection?
EE: Fill out our online estimate form or call our 24HR hotline to schedule a thorough Four Phase Roof Inspection, which includes a written report with pictures.
LATP: In this day in age everyone is looking for a fast solution, but why is it so important for your company to educate the consumer in order to make an informed decision as opposed to just going for the fast sale?
EE: There are many solutions to solving roof-related problems, but Rescue Roofer always has the latest most innovative products & solutions to solve these problems permanently. Most roofing companies only offer short-term inexpensive solutions that become more costly over time because of resulting on-going problems, such as interior damage, time, and emotional distress.
LATP: What is the future of Best Value Roofing?
EE: Best Value Roofing has evolved from a predominant re-roof contractor to a full-service roofing contractor under the name of Rescue Roofer and will continue to expand into other larger metro areas throughout the US.
Best Value Roofing RESCUE ROOFER
1.800.647.7663
www.bestvalueroofing.com

Orange County Neighborhood Locations:
Mission Viejo: 23052 Alicia Pkwy., Suite H236, (949) 770-7663
San Clemente: 555 N. El Camino Real, (949) 369-7663
Laguna Beach: 1278 Glenneyre Street #261, (949) 497-7663
Costa Mesa: 1835 Newport Blvd., (949) 646-3211
Irvine: 14271 Jeffrey Road, (949) 261-6551
Orange: 393 N. Cypress St., (714) 639-7663
Santa Ana: 3760 W. McFadden Ave., (714) 542-5222
Huntington Beach: 5942 Edinger Avenue #113, (714) 969-7663
Garden Grove: 9877 Chapman Avenue, (714) 898-6988
Anaheim: 2034 E. Lincoln Avenue, (714) 750-8300
Fullerton: 3224 Yorba Linda Blvd, (714) 525-9975
Placentia: 650 N. Rose Drive, (714) 223-7663
Yorba Linda: 10832 Lemon Drive, (714) 778-5573
La Habra: 116 E. Electric Avenue, (562) 697-6422
Los Angeles County Neighborhood Locations:
Long Beach: 3553 Atlantic Avenue #176, (562) 497-1818
Whittier: 10820 Beverly Blvd., (562) 945-9945
San Pedro: 1536 W. 25th Street, (310) 832-7663
Wait! Don´t forget to Subscribe for Free!
Main Feed | What is RSS?
Enter your E-mail below to Subscribe

*
No spam
|
Privacy Policy
We will not sell or distribute your e-mail address to anyone else.
Written by Elise Cranston