For centuries, potters in China's Zhejiang province have labored to produce a fine porcelain, pale green in hue, meant to mimic the color of jade. The name that this porcelain came to be known by is celadon – but the origin of the name remains a mystery. Some say that the European traders who came to deal in such wares named the pottery after a character in Ovid's Metamorphoses. Others claim that the term derives from Saladin, a Muslim sultan who famously sent forty pieces of the precious clay to a fellow sultan as an opulent gift. Another theory states that the word derives from the Sanskrit words sila dhara, or "stone of green."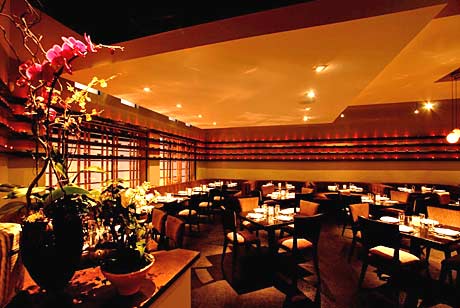 It is this sense of multi-cultural influence and exotic intrigue that pervades every element of Celadon, Executive Chef Danny Elmaleh's new Euro-Asian restaurant and lounge. Stepping into this softly-lit oasis off of Third Street – just one block west of the bustling Farmer's Market and Grove complex – one can easily forget the commotion outside and slip effortlessly into the soothing modern design. The dining room is spacious and airy, with artifacts perched on small shelves gently illuminated by scarlet candles. The calming sound of trickling water from a hidden waterfall can be faintly heard as the dull murmur of casual conversation emanates from the handsome, well-apportioned bar and fireplace in the adjacent room.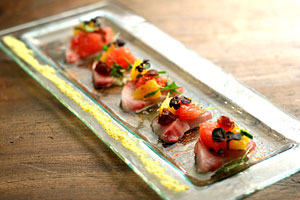 Tonight the bar is where the action is, and with good reason – there are several cocktails on the Celadon drink menu that one is unlikely to find anywhere else. At the top of the list is the Tangerine Caipirinha, a delightfully fresh libation made from the Brazilian spirit cachacha, (a kissing cousin to rum,) sugar, and finished with fresh pressed lime and tangerine juices. Another popular drink is the Chi-Devil, a blend of Ketel One Citron, Cointreau, fresh lime and pomegranate juices, and "chi-devil elixir," which gives the completed cocktail its rumored aphrodisiac qualities. There's even a twist on the now-omnipresent Mojito; Celadon's bartenders abandon the mint leaves in favor of Thai basil and lemongrass in order to spruce up even the most tired of Cuban clichés. There is also an extensive sake menu for the knowledgeable as well as an ample wine list with the requisite Pinot Noir.
The cuisine is light, but not to be taken lightly. The menu is designed to foster experimentation, with many delectable choices served at tapa-esque portions. The iconoclastic Grilled Ahi Pizza is a treat, coupling ahi tuna with basil pesto, herbs, and shaved parmesan, and the Kumamoto Oysters, expertly seasoned with ponzu sauce, scallions, and just a hint of jalapeno, are not to be missed. But the favorite of the night is the Tuna Tartar "Lollipop" – a crunchy combination of tuna tartar, tempura crispy rice, and sesame seaweed salad perched atop a user-friendly stick.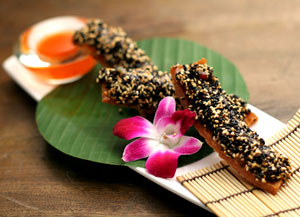 Chef Elmaleh is himself a product of many cultures – his heritage is Japanese, Israeli, and Moroccan – and his menu reflects his desire to blend distinct international flavors without, as he puts it, "making the combinations too extreme." There are entrees that walk a more traditional line – such as the Grilled Ribeye Steak topped with a poached egg and parmigiana dressing, as well as the Maple Leaf Roast Duck with couscous, chestnuts, and pomegranate sauce. In addition to staples like Shrimp Pad Thai and Spicy Szechuan Noodles, there is also the dramatic Saraudon Sizzling Crispy Noodles and Rice, served in a sizzling clay pot and combined at the table with a sumptuous mixture of scallops, shrimp, and bok choy. There are also several innovative desserts, most notably the Black Sesame, featuring black sesame custard, brulee of baby bananas, Shiratama (chilled rice dumplings,) and Kuromitsu (brown sugar syrup.)
As with the bluish-green porcelain that bares its name, Celadon is the finely polished result of many years of artistic effort, and as a result of that dedication, the comprehensive dining experience at Celadon is as complex and inspiring as its namesake.
Celadon Euro-Asian Cuisine and Lounge
7910 W. Third Street, Los Angeles, CA 90048
(323) 658-8028
Wait! Don´t forget to Subscribe for Free!
Main Feed | What is RSS?
Enter your E-mail below to Subscribe

*
No spam
|
Privacy Policy
We will not sell or distribute your e-mail address to anyone else.
Written by T.L. Lopez