Though it's the least tangible of the senses, smell is oddly powerful. You can't touch or taste it, but your nose knows, and a wafting scent can bring you back to a treasured memory and of a certain place or time. Such is the inspiration for elizabethW, the perfumery started by Albert Nichols and Michael Lindsay. Building on his childhood memories of the violets, lilacs, roses, magnolias, lavender, rosemary, and sage filling up his great grandmother Elizabeth Wightman's ranch in the Sierra Nevadas, Albert brings these lovely notes to the masses with a line of perfumes, creams, candles, bath products, and drawer liners named after the matriarch of his family.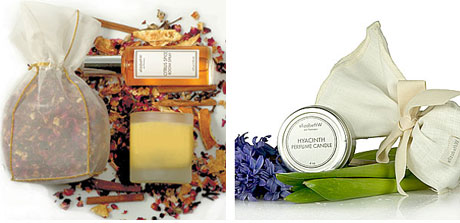 Based in San Francisco, elizabethW has spread far and wide, winning praise from Oprah Winfrey, Naomi Watts, and Christina Aguilera; lining the shelves of chic Los Angeles boutiques such as Fred Segal and Daily Planet; and shipping out to fashionable stores on five continents. But this small perfumery has stayed independent and thriving, even in the face of competition from huge corporate conglomerates.
It certainly helps that elizabethW has found such a passionate following, among celebrities and discerning consumers alike. Oprah Winfrey likes to tuck away elizabethW's drawer liners into her pillowcases so that she can drift off amid lavender-scented thoughts. Danielle Steele's holiday home is filled with the company's soaps, lotions, and drawer liners. Sharon Stone also picks up her favorite products right in San Francisco, the home of elizabethW's workshop, where the products are still designed and made.

Everyday customers have raved about elizabethW's candles, creams, and customer service, but what brings users of all persuasions back to the company are the scents themselves. Albert is the "nose" of the
company, creating the perfumes and odors (the good kind) that made elizabethW's reputation. Albert strives to assemble scents that are simultaneously clean, sophisticated, simple, elegant, classic, memorable, and unique. As long as his great grandmother's name is on the label, elizabethW will emphasize quality, beauty, and the values taught by the family matriarch.
Though Albert does not claim any formal training in perfumery, he draws on his experience as an architect to create fragrances. Whether you're building a scent or a building, you start with a strong foundation, and from there, you can add embellishments, such as the scent's heart and top notes. Rounding out the elizabethW team is Michael Lindsay, who brings to the team a long family history in textile and fashion design. While Albert
concentrates on the products, Michael applies his skills to making elizabethW into a worldwide brand, without sacrificing Albert's visions for the company.
The worst scents have a way of hitting you over the head and overstaying its welcome for hours, much to your dismay. The best scents, however, work their way into your brain, sometimes without your realization, until a memory is triggered, and the enticing smell comes back to you all over again. Even if you didn't spend your formative years taking in the sights and smells of a fragrant ranch in the Sierra Nevadas, you can enjoy the fruits of one who has. With elizabethW's bath, home, and body products, you can partake of Albert Nichols' sweet memories as if they were your own. elizabethW
Wait! Don´t forget to Subscribe for Free!
Main Feed | What is RSS?
Enter your E-mail below to Subscribe

*
No spam
|
Privacy Policy
We will not sell or distribute your e-mail address to anyone else.
Written by Gianna Brighton