As children many of us have dreams and passions that fuel our imaginations, be it art, or dolls, or coins, or a variety of popular youth fixations. But very few hold onto those early passions into adulthood. Even fewer turn them into a career and successful business known around the globe.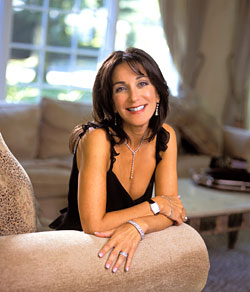 Meet Penny Preville, whose creative childhood imagination and tinkering launched a life of jewelry design that has blossomed from very early pieces crafted of seashells and beads to 18-carat gold and platinum dazzlers sought by millionaires and celebrities.
Since those early years, Penny has built a name for herself that is now synonymous with taste and style. She has generated a nearly cult following for knowing what women want today, and constantly staying ahead to know what they'll want tomorrow. Wherever you find people wearing the most stunning jewelry, such as at Hollywood awards ceremonies, you're sure to spot one of Preville's beautiful designs.
Recently Penny was seen at the 2007 Golden Globes In Style Suites at The Four Seasons Beverly Hills, presenting her latest conflict-free diamonds. Golden Globe nominees and presenters fawned over her gorgeous jewels and were able to take them home to year to the wards show the following night.
To say Preville is a multi-award winner in her industry is an understatement. Starting with the 1978 Jewelers of America New Designer of the Year Award, Preville embarked on a string of consistent excellence that would make even the most lauded actress in Hollywood envious.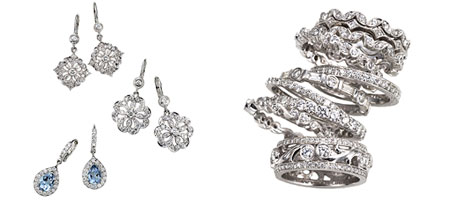 In little time she built an impressive roster of accounts, including Saks Fifth Avenue and Neiman Marcus, all the while developing a signature style that respected the past while trendsetting for the future. By 1990 Preville was profiled as one of the ten best designers setting the trends in the jewelry industry, by American Jewelry Manufacturer magazine.
By 1995 she was honored again with the Blenheim Award for Continued Excellence in Design by the Jewelers of America; a year later she was honored as one of the leading American jewelry designers by the World Gold Council.
Preville was selected in 1996 to contribute to the World Gold Council's International Gold Trends Book, which defined what would be vogue for following years and beyond.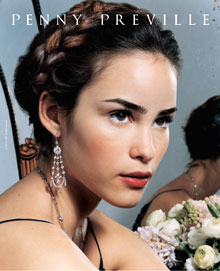 The accolades continued. In 1997 she received the Award for Excellence in Design from Women's Jewelers Association; and was awarded with the Outstanding Achievement in Advertising and Marketing Award for superior achievement in creativity and business strategy in 2004 by Town & Country. She was also interviewed on CNN's Entrepreneurs Show.
Awards aside, jewelry connoisseurs and experts alike continued, and persist to this day, to praise Preville's knack for defining style.
Preville's is a technique that frames femininity and luxury. She uses her eye for intricate detail along with her natural-born skills to mix and match materials and items that others would not dare to pair.
The key? Constantly pondering what the customer wants, and will want next. "I am influenced by fashion and culture" she says in her bio. "But it's a process. I am constantly refining the collection and reevaluating the customer's needs."
"Jewelry is very personal and individual to the wearer," she continued. "My goal is to keep designing pieces that will make a woman look and feel fabulous about herself."
Penny Preville