This past weekend Aussies and Americans alike gathered in LA for the VIP G'Day USA X Tastemade event, 'Bringing a Taste of Australia to the US'  Tastemade Studios in Santa Monica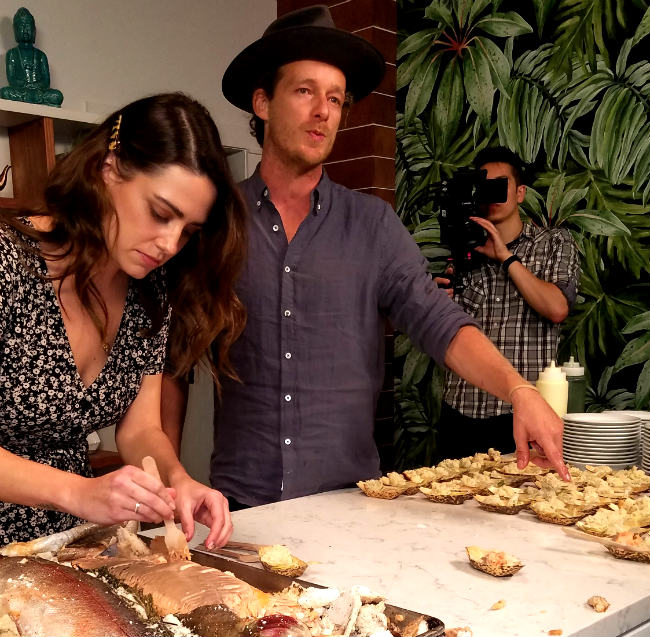 G'Day USA is Australia's premier public & economic diplomacy program in the United States (www.gdayusa.org). This evening featured their sponsors, notable Australians in LA and key US creatives, media representatives and influencers.
The event took on a special twist, partnering with Tastemade and Bondi Harvest to capture content for Tastemade and to showcase Australian food, wine and produce with Celeb Aussie chef Guy Turland. 
Food was catered by Guy Turland and the Bondi Harvest team, and mixing up libations were Wine Australia and Four Pillers Gin.
G'Day USA partners included:
Bondi Harvest, Four Pillars small Australian Distillery, Wine Australia, Thomas Foods International USA, Glacier 51, Skull Island, Austral Fisheries, petunia, Lee fish, Bondi Sands the Australian tan, Davroe, Swisse, dinosaur designs American Airlines, Elyptol
Gift bags featured an array of premium Australian products:

Davros Hair Wellness is Australian-made and vegan-friendly range of salon professional luxury hair care products.
Swisse Wellness is a leading wellness brand, including Vitamins & Supplements, Superfoods and Skincare. They provided
Swisse Women's and Men's Ultivite Swisse – swisse.com/en-us/home
Bondi Sands, the Australian tan. Self-tanning foam, enriched with aloe vera with a heavenly coconut scent, and tanning mitt. BondiSands.com.au

Elyptol antimicrobial hand sanitizers – natural ingredients with eucalyptus oil provided a Elyptol travel set with eucalyptus sanitizing wipes spray and gel.
Four Pillars Gin cocktail book
American Airlines insulated wine bag lip balm and mints.
American Airlines connects you on a daily service from LA to Sydney and their state-of-the-art Boeing 787 Dreamliner featuring Flagship business and premium economy.
gdayusa.org