Shure-Step Step Stool Bridges the Gap!
Shure-Step is a lightweight, durable, stable, portable step stool that can be used by tour companies, chauffeurs, private airline transport, as well as your everyday family who wants to accommodate the beloved senior citizens in their family.
How Personal Chauffeurs Elegantly Assist Their Passengers
Your taking your wife out for a special night on the town. She is dressed to the nines in very high heels and formed-fitted dress. Your driver pulls up in a Lincoln SUV and as you both walk to the door, you realize the only way she can get into back seat is to hike her dress and remove her shoes. If only your driver had thought to bring a step stool that was safe for high-heeled shoes. The simple solution is to have Shure-Step safety step stool to provide your passengers. This step stool will elevate your passenger 6 inches, which makes getting in or out of any vehicle in style much easier. This 10-pound step measures 24 in. x 14 in. x 6 in. high and is easy to store in your vehicle for easy access.
For Private Air Transportation
If you're traveling out-of-town in a personal jet, that first step up on the air stairs can be a difficult one especially if you're a lady wearing high heeled shoes. High heels are no problem for the black or yellow Shure-Step which are load rated for 500 pounds.S
Senior citizens coming to visit?
Perhaps you have some guests coming to visit and you would like to show them around town. If your parents or Grams happen to come visit, your adventures in the area could take you on a local wine tour or perhaps a group tour of Tinsel Town.
On these tours there is always a lot of stopping, getting off the bus, go inside with your tour and then get back on the tour bus. Your Grams may find it difficult to get on and off the transportation bus or van. If the step up to get on the tour bus is too difficult, your Grams may decide to stay put and not get off the tour bus. What a waste!
Tour companies
Some of your more conscientious tour companies will provide a step to help physically challenged guests get on the transportation vehicle, be sure to ask about these amenities when booking your tour.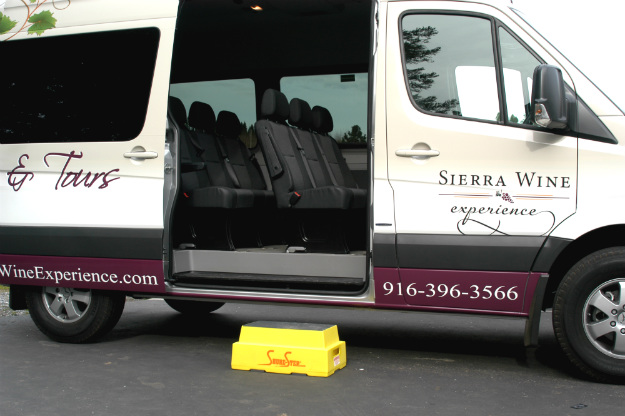 The truth is, finding a safe and sturdy step stool is not as easy as it might seem. Your private passengers may have some physical challenges and you can't buy one at a chain store that will be the safe for physically-challenged passengers to use.
Here are some points of interest when buying a step stool:
Load Rating – Look for the maximum load the step stool will hold, specifically a 500-pound rating. Remember, the load equals the person's weight plus whatever the person is carrying.
Non-Slip – Top and bottom. Look for large rubber pads on the bottom and a rough grip on top.
Folding steps – DO NOT BUY! Folding step stools will wear out at the hinge points and break at the most inopportune moment, like when your passenger is standing on it.
Legs – Just Don't. If your passenger is visually impaired, he or she might get her foot caught under the step stool, and take a fall. Legs are a fall hazard!
Color – Pick a step stool that has bright contrasting colors so your private passenger can easily see it.
Go to Shure-Step.com to purchase and for more information.