The first awards show of the season, the 76th Annual Golden Globes, will take place on January 6th. A fun, diminutive version of the official champagne of the Golden Globes, Moet Minis will be a major part of the festivities.
Once again the stars will participate in the philanthropic Toast for a Cause. This is the 10th anniversary of the red carpet event which features Golden Globes nominees, presenters, and celebrity guests toasting their favorite charities with Moet Minis. Viewers can sip along as they enjoy the glamour of the evening along with friends and family.
The 187 ml bottles of Moet's classic Imperial Brut will be the featured libation at many Golden Globes home viewing parties. Moet Minis are ideal welcome drinks or party favors. They also make great selfie accessories. Moet recommends adding some flair to your Mini with its signature golden flute toppers, a favorite of the stars.
The Moeht Mini is the original personal serving size champagne. It was first introduced in 1893 but didn't gain wide popularity until the 1930s. The elegance and adventure embodied by the Minis were perfectly suited to the rise of aviation. In recent years, they have enjoyed a longstanding association with Hollywood and red carpet events. For more than 20 years, the Moet Mini has been the drink of choice at the Golden Globes, as celebrity attendees let their hair down and celebrate their peers.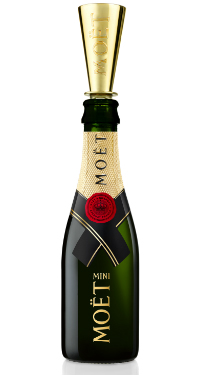 Moet Minis are available nationwide.