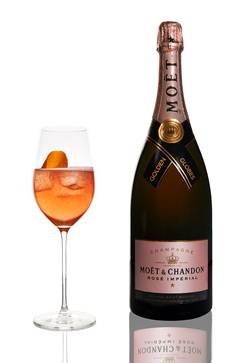 To kick off 2015 in grand style, The 72nd Annual Golden Globes Awards have arrived.  Sunday night, Hollywood's brightest will gather at the Beverly Hilton for film and television's most festive celebration of awards season.
And to celebrate the annual stellar occasion, Moet & Chandon, the official Champagne of the ceremony, will once again animate celebrities' spirited speeches.
This year, the Champagne house has enlisted the stunning model and culinary enthusiast Elettra Wiedemann to create the official cocktail, the Moet Sunset Starlet, to be served at the Golden Globes.
Hollywood royalty herself, Elettra is the daughter of the timeless, award-winning Isabella Rossellini, as well as a bona fide culinary expert who has written for Vogue.com and Food & Wine Magazine.
She also recently launched The Impatient Foodie, a website that shares her own journey in making healthy, delicious and inventive food and drink recipes while balancing a busy life, all with an angle of boiling things down to the simplest process (for the impatient home cook, like herself).
Her Moet-infused cocktail merges her dedication to simplicity with her impeccable good taste, making it perfect for Hollywood's most fun and glamorous awards night.
Elettra's Moet Sunset Starlet uses Moet & Chandon Imperial, the official Champagne of the awards, and will be served throughout the celebration at the Beverly Hilton on Sunday evening.
The recipe Elettra crafted using favorite ingredients that are easy to find, yet also effortlessly elegant – the ideal elixirsfor a golden Hollywood celebration, whether you're a nominee or following along at home.
MOËT SUNSET STARLET
·         3/4 ounce Lillet
·         1/2 ounce Dry Curacao
·         3/4 tsp honey
·         1/4 ounce lemon juice
·         2 dash orange bitters
·         Spritz of fresh clementine + twist
·         Moët & Chandon Rosé Impérial
Directions:
Combine Lillet, Dry Curacao, honey, lemon juice and orange bitters in a cocktail shaker. Shake vigorously.
Pour over ice into a white wine glass, and top with Moët & Chandon Rosé Impérial. Garnish with a Clementine twist.