Grammy winner Judith Hill, the star, writer and producer of the show, has spent her career mining hip-hop, funk, gospel and jazz to craft bold musical statements. Golden Child, is perhaps the most ambitious example of her eclectic approach to art. Ballet is normally an art form far removed from the rawness and emotional power of soul and funk. Golden Child blends the two worlds to create a hybrid that is musically and visually arresting. Hill's was joined onstage by her parents Robert "Pee Wee" Hill and Micheko Hill, who played bass and organ respectively.
The recent debut of the cirque ballet "Golden Child" at Exchange LA dazzled an audience of entertainment insiders, Los Angeles area students, and supporters of the GO Campaign. The GO Campaign is dedicated to bettering the lives of orphans and underserved children around the globe through grassroots organizations that meet the critical needs of vulnerable people across the globe while allowing them to dream of a brighter tomorrow.
Attendees included ESPN host Victoria Arlen, recording artist Carmit Bachar of the Pussycat Dolls, "American Idol" alums Elliot Yamin and Blake Lewis, actor Chloe East, and choreographers and dancers Anna Trebunskaya ("Dancing with the Stars"), Brian Freeman ( "The X Factor" and "So You Think You Can Dance"), and Robert Roldan ("So You Think You Can Dance").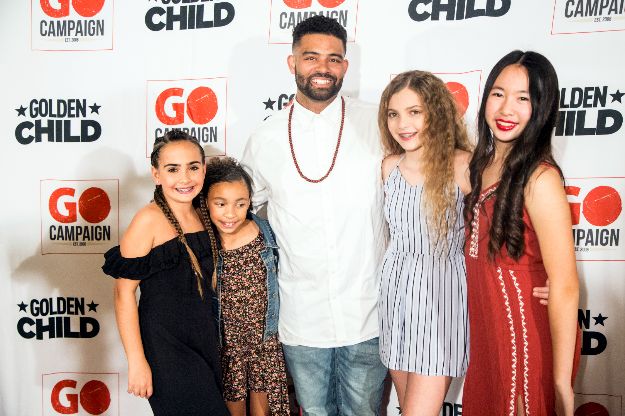 Golden Child is directed by Pete Escovedo and features an inclusive cast in keeping with the story's themes of diversity and acceptance. The tale centers on a young child who takes a journey to a make-believe land where she meets a lively band of characters including a grown-up version of herself. Together they triumph over the dark forces arrayed against them to preserve a community based on love, kindness, and tolerance.
There was an abundance of edibles to keep attendees energized. In additions to BBQ and sea salt and cheddar & sour cream pop chips, guests snacked on Love Swirls' tasty cotton candy, delectable gourmet donuts from D.R.E.A.M. Donut Truck and Purity Organic's refreshing lemonade and sparkling water in grapefruit, lemon, orange, and watermelon flavors. AQUAhydrate supplied delicious, high-performance water. DJ Kid Fish kept the party jumping with soul and funk classics from Michael Jackson, Stevie Wonder, Prince, and Chaka Kahn.
Guests further demonstrated their support by stocking up on SOL ANGELES "Good to GO" T-shirts and Judith Hill CDs and T-shirts with all of the proceeds supporting the GO Campaign.
For more information on the GO Campaign visit: https://home.gocampaign.org