The Organic Spas Magazine's 5th Annual Wellness, Beauty & Travel Event was an unforgettable night, devoted to exciting trends and innovative brands. Held atop the Viceroy L'Ermitage, Beverly Hills, the event attracted VIPs and experts from a wide range of industries. Attendees enjoyed wellness cocktails, exclusive giveaways and cutting-edge offerings from the hottest wellness and travel lines in a fun, relaxed environment.
The night also featured a panel discussion, moderated by Organic Spa Magazine Editor-in-Chief Rona Bergoffering, which delved into the latest trends in beauty, wellness, and eco-friendly travel. Guests had the opportunity to learn about and experience firsthand brands that put wellness first, such as:
Plushbeds
The leading online luxury mattress manufacturer specializes in organic and natural latex mattresses that are handcrafted in California, free of chemicals and toxins found in all other commercial mattresses. Protect your health and the health of your children by going non-toxic. GOLS, GOTS, GreenGuard Gold Certified. Plushbeds.com
Nestled in the breathtaking Santa Ana River Canyon, Glen Ivy Hot Springs provides a spa experience that replenishes the body and the soul. The signature tranquility treatments made available to those in attendance banish stress and promote complete tranquility. Those seeking relaxation and revitalization regularly make the pilgrimage to this peaceful Southern California resort.
ARK Crystals products are designed to be both functional and therapeutic. Samples of their handcrafted energetic crystals were a fitting addition to the magical night. What are the benefits of these gorgeous crystals? According to devotees, they do everything from reducing anxiety and moodiness to promoting better hydration and confidence.
Mary's Nutritionals brings modern technology and Horticulture together to maximize the benefits of natural plant nutrients.
Mary also provides products for pets with her Whole Pet line… the most potent pet targeted activate of hemp oil products available.
Marysnutritionals.com
Barleans introduced their acclaimed Organic CBD Hemp Oil. The Pacific Northwest-based company has been leading the way in hemp oil and supplement industry for almost 30 years. State of the art extraction methods produce oils of exceptional quality. Every batch is third-party tested to ensure purity.
Designing for Wellness by Susie Frazier
Emmy award-winning producer and acclaimed artist Susie Frazier has spent the last 20 years designing calm-inducing art and accents for hospitals, hotels, corporations, and homes. Having lived with undiagnosed anxiety and ADHD since childhood, she developed her own methodology, rooted in biophilia, for enhancing spaces in ways that ease the overstimulated brain. Today, current research in wellness architecture has caught up with what Frazier has innately known – that decorative decisions made in our built environments have a direct impact on our minds.
ODE Natural Beauty, made with their early Harvest extra virgin olive oil from McEvoy Ranch.
Reserveage Nutrition for hair, skin, nails and body utilizing collagen peptides. Reserveage.com
Viceroy Spas was on hand to offer relaxing mini-facials and massages. With a full complement of services including massage, facials, thermal wraps, exfoliation, and detoxing therapies, guests can count on leaving Viceroy Spas rejuvenated. The international brand's approach to relaxation is eco-friendly, organic, and sustainable.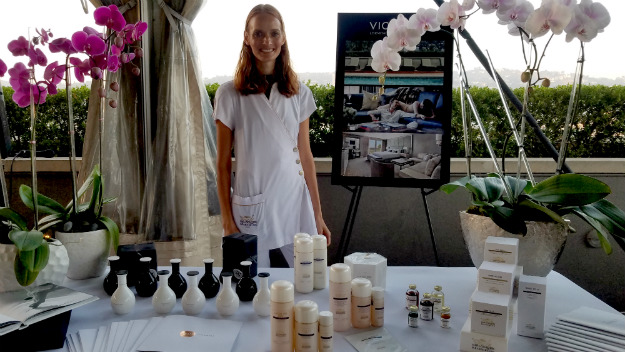 Tranquillity Hand cream is enriched with amaranth oil and a blend of essential oils to give hands a silky touch.
Love Sun Body
Natural mineral sunscreen formulated with safe and effective non-nano zinc oxide for Daily Sun defense and water-resistant protection. LoveSunBody.com
Tracie Martyn New York high performance Natural Skincare – Nature meets Science
Celebrity facialist Tracie Martyn teamed up with holistic nutritionist Marius Morariu to create a clean skin care line that produced powerful results. TracieMartyn.com
Combray antioxidant skin care featured their regenerating face oil who's formulation is designed to mimic and supplement your skin Zone protection method of sebum which is an antioxidant-rich oil Canberra contains only essential ingredients and nothing else. Combray-skincare.com
Nyakio Kenyan coffee face polish exfoliate for all skin types. Nayakio means "hard-working woman in the sunshine." Nyakio.com
The l'Ermitage spa by Pearl Wellness features a plethora of highly inspired treatments for the face and body. Pearl Wellness is the most trusted after care facility by surgeons in Beverly Hills. Located in Viceroy l'ermitage.
The Organic Spa's 5th Annual Wellness, Beauty & Travel Event showcased much that was new while also giving well-established brands a forum to share their expertise. Attendees came away feeling revived and better educated on brands that dedicated to helping consumers look and feel their best.