Rapper and entrepreneur Berner celebrated the grand opening of Cookies Melrose in West Hollywood to lots of fanfare. Berner is known in the cannabis industry for developing one of the most popular strains: "Girl Scout Cookies." Fans camped out the night before to be the first ones to enter the new dispensary. The timing of the opening made it extra special as it fell on Berner's birthday.
Recently, Grenco Science, the pioneer in engineering advanced cannabis vaporizers, teamed up with Berner to launch the Cookies G Pen Gio. A collaboration two years in the making, the G Pen Gio features concentrates of the most popular strain in the cannabis game: Cookies.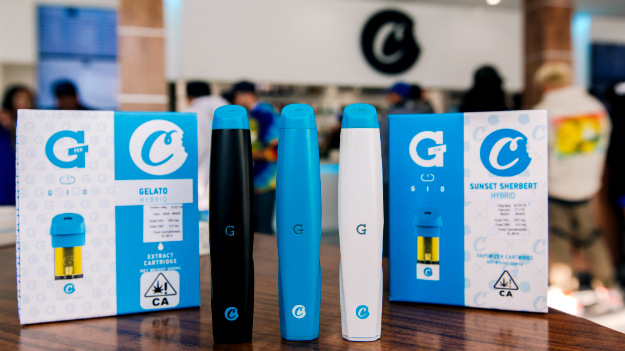 For the first time ever, Cookies family-certified concentrates have been developed exclusively for the G Pen Gio, including "London Poundcake," "Sherbert," and "Gelato," in addition to one natural terpene cartridge called "Sunset Sherbert."
Grenco Science is setting new standards in aesthetics, portability, functionality, and user experience. Through proprietary research and development, Grenco Science is disrupting the cannabis experience and leading the movement to bring cannabis traditions to the 21st century counterculture.
Berner is the latest collaboration with Grenco Science, who has teamed up with influencers in music, art, and fashion such as Snoop Dogg, 40oz Van, Skate Mental and many others. Founder Chris Folkerts was working in the music industry when he developed the concept for the first G Pen. With the first few thousand vaporizers sold out of the trunk of his car directly to dispensaries and smoke shops in the Los Angeles area, Folkerts quickly established himself in the early beginnings of the vaporizer space as a expert of ingenuity with an eye for making lifestyle connections.
Grenco Science now offers a range of vaporizers featuring cutting edge technology and superior craftsmanship including the G Pen Elite, Pro, Slim, and most recently the G Pen Gio, cartridge based vaporizer. gpen.com/collections/gio
Cookies Melrose
8360 Melrose Ave, Los Angeles, CA 90069
(323)433-4743
Twitter: @CookiesMelrose