Most people spend their teenage years trying to figure out who they are and their place in the world. In 1996, at the age of 16, Scott Whipple and John Gordon already knew what they wanted to do; develop and sell pet food that did a better job of meeting the nutritional needs of animals. Those early efforts were the genesis of CANIDAE®, a recognized leader in the pet food industry. From small beginnings, they have taken their product nationwide to over 10,000 stores while maintaining the same focus on pet health that has always informed everything CANIDAE® does.
In 1996, Gordon and Whipple started CANIDAE® out of a Southern California feed store with 3 employees. They delivered bags of food to local stores in a pickup truck. Over time, the two partners grew their operation to keep up with the increased demand for their product.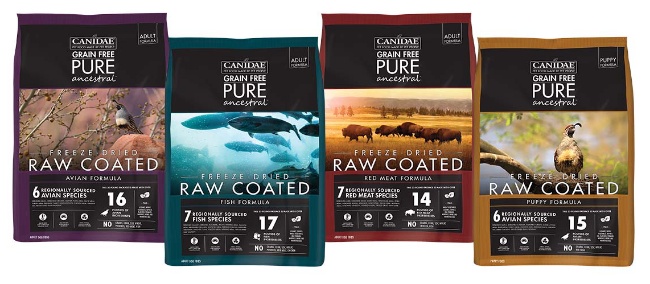 Today, CANIDAE® is one of the most trusted names in pet food with a state-of-the-art research and development facility in Texas. The company employs over 100 people and their pet food can be found in over 10,000 stores in the United States. That includes one of the biggest pet supply retailers in the world, Petco.
What makes CANIDAE® different from other pet food companies? It comes to down to the ingredients. CANIDAE® is committed to offering pet food made from the freshest available meat, fish, vegetables, and grains.
CANIDAE® Pet Food has stood the test of time. They have been able to accomplish producing their products from the ground on up. Literally. The best way to ensure a high level of quality is by taking a direct role in supplying those products. With that in mind, the company launched Kansas-based CANIDAE® Farms in 2017. In a short amount of time, CANIDAE® Farms has supplied over 500,000 pounds of fresh ingredients for use in its flavorful pet foods.
CANIDAE® is proud to support independent, family-owned businesses like theirs, as much as possible.
The proof is in the pudding. To try CANIDAE for yourself, go to canidae.com