If you are searching for golf courses near Austin TX when traveling, Teravista Golf Club is not one to miss. This beautiful golf course has a championship 18-hole course. Along with its challenging course, which features 7,200 yards of varied terrain, Teravista Golf Club welcomes players of all abilities with multiple sets of tees designed for golfers of all ages and levels. Private lessons can also be arranged. With its peaceful and tranquil setting, this renowned Texas golf club offers stunning views of the Texas skyline to golfers, which makes for a memorable and relaxing vacation. Teravista stands out among golfers for its fantastic golf conditions and an all-around unrivaled golfing experience.
The Course
There are many golf courses near Austin TX, but Teravista Golf Club stands out above the rest. The golf course at Teravista is a lush, meticulously landscaped course with water hazards, sand traps, and shade trees. There are five separate tees on the course that give golfers a chance to challenge themselves. The course is suited for golfers ranging in level from beginner to advanced.
Listed as a top "Beginner Friendly Course" in the Austin area by the National Golf Course Owners Association, Teravista can proudly say that it accommodates a wide range of golfing needs, and its instructors are eager to share tips and tricks with novices. With panoramic views of Hill Country and up to a 30-mile visibility range on a clear day, the award-winning course is considered to be one of the most attractive in this part of the state.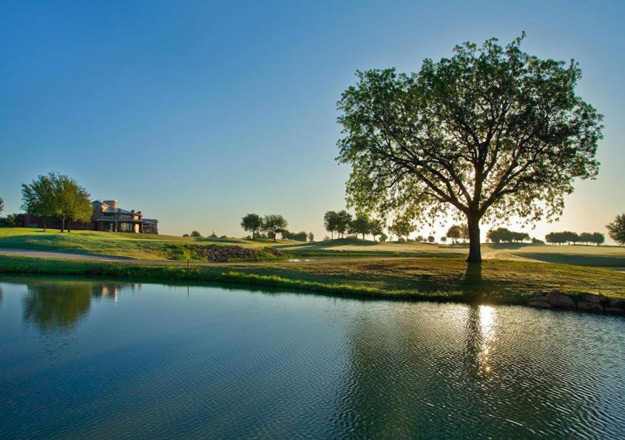 Club Amenities
Along with the professional golf course, Teravista Golf Club has a large practice area with multiple resources. A highlight of the club is a 22,000 square feet practice green, which is the largest one in the Austin area. The club's other practice facilities are a two-sided range, two bunkers, and a chipping green. There is also a golf academy onsite, called the J.L. Lewis Academy, where everyone from beginner to advanced can arrange a lesson. Teravista Golf Club also has a large pro shop that is stocked with brand-name apparel and accessories like golf balls, clubs, and gloves.
After a long day of golfing, or to fuel up for a day out on the course, the club has a restaurant called the Caldwell Cafe on hand to provide meals. Food and drinks are created daily for breakfast and lunch at the cafe, which is open for dine-in and takeout meals seven days a week. The cafe's menu changes throughout the year, but it always has plenty of freshly-made, golf-themed items to choose from.
Weddings and Events
With a stunning ranch house that exudes southwestern spirit and rustic charm, Teravista Golf Club is also a popular place for weddings. In fact, weddings are scheduled regularly at this golf club, and a special events and catering staff is on hand to meet each wedding party's custom needs. The club also offers several different wedding packages that offer full-service specials for wedding parties. With multiple ceremony sites to choose from, each wedding can be a personalized event.
Along with weddings, Teravista is a destination for corporate outings and events. Happy hours, team building exercises, corporate retreats, strategic meetings, luncheons, and holiday parties are some commonly requested corporate events that the club accommodates. Like weddings, corporate events are facilitated by the events and catering staff. Corporate events take place at the Ranch House, which can also be reserved in advance for private events such as birthdays, family reunions, bridal showers, and more.
With its exceptional course, stunning views, and elegant facilities, Teravista Golf Club is truly a Texas gem. The club is located right in Hill Country, which means that a day of golfing can be followed with hiking, winery tours, rock climbing, mountain biking, and other fun events. There are also many great restaurants and lodging facilities conveniently close to Teravista.