Secret Room Events kicked off Oscar week with their Luxury Celebrity Gift Suite that took place at the InterContinental Century City. Celebs, VIPs and media gathered at the indoor-outdoor setting , enjoying beautiful weather as they traversed the gifting lounge full of exciting brands and products, wine tastings, luxury travel gift certificates to Bali and the Bahamas, and more. Sponsors at the event included:
Lil 'O' Blossom, the Luxury Baby Bath & Body Care, the first luxury brand used by hospitals. When founder Lori Collins became a mother, she was painfully aware of the toxic products that were marketed for babies and children and became inspired to create products that nourished and protected even the most sensitive skins from newborns through childhood. She uses Moringa oil, from the Tree of Life which is actually an ancient skin remedy known in Africa as mother's best friend, which includes 46 protective antioxidants and is rich in vitamins and omega-3 fatty acids. This precious oil penetrates to hydrate soften and silken all skin types from the most sensitive baby skin. You can feel good about using this on your children. Lori Collins and Company were named Health Wellness Ambassador for Global glow which operates programs around the world to empower Girls 2 become a potent Force for change in the world. Check out her incredible products at LiloBlossom.com
SABRE presented their red pepper spray line of non-lethal personal protection. As an advocate for women's empowerment, SABRE is a strong supporter of the #MeToo Movement. SABRE presented five of their key products at the Oscar event: Kuros! Key Case Pepper Spray, Drink Test Kit which allows you to test your drink for any foreign additives, Personal Alarm Clip & LED Light, Pepper Gel Kit and Pink Personal Alarm. A portion of the proceeds from every sale goes to support the National Breast Cancer Foundation.  Sabre is a mission-driven brand  that supports a global initiative of empowering women, by providing life-saving, personal safety products, training, and education for women and children around the world. sabrered.com
Beso del Sol Sangria imported from Spain is the fastest growing sangria brand in America. Produced in Valdepeñas, Castile-La Mancha, located in the heart of Spain, a region known for producing the finest sangria in the world.You might be familiar with this delicious sangria, as it is sold at all Disney properties and large venues across the U.S. Beso Del Sol is the first super premium Sangria made from 100% all-natural ingredients. Beso White is made from 100% Spanish Airén grapes blended with lemon, peach, and mango. BESO PINK is made from 100% Spanish Tempranillo grapes, blended with orange, lemon, peach, and mango and a touch of cinnamon. And BESO RED is made from 100% Spanish Tempranillo grapes blended with lemon, orange, and a touch of cinnamon. It is available in boxes, bottles and go-anywhere tetra packs. BesoDelSolSangria.com
Adventuretown Toy Emporium delights the kid in all of us with handcrafted toys from countries all over the world. Founder Annamarie von Firley left a career in Furniture Design and Fashion after 24 years to follow her passion. With her 4-year study of Child Development and degree in Wooden Toy Design and Construction, she curated an amazing selection of educational toys that support, nurture and inspire all children at all stages of development and all their diverse interests with unique old-school toys that kids aren't normally exposed to. Up till now, she has only been online, but this year Annamarie will open Adventuretown Toy Emporium's bricks and mortar store  in downtown L.A., with 8,000 to 10,000 sq. ft. of wondrous items. adventuretowntoys.com
Kailo organic chakra therapy products that are infused with five elements of powerful and effective energy work, including color therapy, sound healing, bija mantras that are one syllable sounds that activate and balance the energy of the chakras, crystals and affirmations. This conscientious one-of-a-kind company has combined every aspect of physio-spiritual balance. Excellent effort. Kailo-wellness.com Social: @kailo.organic.chakra.therapy
Senovie is created around natural sustainable elements. At the suite, they featured a detoxifying mask with age-defying properties, that changes colors when it's time to remove from the face.They donate back to the planet via local communities that changes colors when it's ready to remove.
Ageless Shaving designed a line for men on the go, who don't have time to apply skin care products. The system combines three steps: the pre-shave oil, shaving cream and shaving balm contain age-defying properties (peptides) that that calm the skin and keep the skin hydrated.
Raffaele Ruberto Skin Care – Raffaele Ruberto, known as 'The Beauty Biologist' created this amazing anti-aging and organic line of products that instantly & cumulatively address signs of aging such as loss of elasticity, textural issues such as fine lines and large pores, even hyper pigmentation and puffy eyes. The results are seen within minutes and continue to improve.  For more info, go to raffaeleruberto.com
Waerator presented products to make a wine lovers' experience even better. They gifted their wonderful 3-in-1 Wine Opener that includes a foil cutter, wine opener and vacuum sealer, as well as the Instant Wine Aerator, which enhances the flavor of wines and allow for the full flavor profile of both fresh and aged wines in seconds. A must-have accessory for the wine aficiando. It is also effective for boosting the aroma and taste of whiskey, scotch, dark or bitter beers and select IPAs. Waerator.com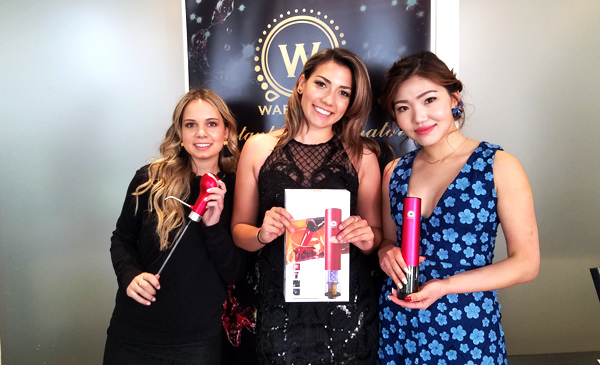 Lilou et Loic – London "Signatures in Scent presented their Home Fragrance Collection, including room diffusers and scented candles, in gorgeous presentations. Some of their creative scents include Black Amber & Saffron, Saffron & Ginger, Moroccan Wood & Fine Leather. They also offer hand wash and lotion sets, bath and body collections. A very elevated brand made from the finest oils and wax creating the perfect balance of fragrance. Made in the UK. Lilouetloic.com
Rock Wall Wine Company produces "Premium Wines Without Pretense" and represents a new chapter in the East Bay (California) winemaking scene. Rock Wall Wine is "founded on the philosophy of the right grape in the right place" which results in many long-term relationships with acclaimed vineyards. Grapes are sourced from all over California. Because of this, it creates a diverse winemaking environment, which enables them to complete with different grape varieties, styles and regional flavor profiles. Guests sampled rockwallwines.com
Earthwater is 100% natural alkaline water with 70+ trace minerals and fulvic/humic complexes that boost and help rebuild the immune system, maintain nutrient levels in our cells, improves circulation and lowers blood pressure and so much more. Read more at earthwater.com
Whole Harmony utilizes natural medicinals from plants that are organically-grown on their own herb farm to create teas and tonics that are healing for the body. Some of the wonderful concoctions they gifted included their Elderberry Syrup, and Folk Fyre Raw Apple Cider Vinegar. To find out more, go to Wholeharmony.com
Wine Veil
When you're trying to enjoy your wine Outdoors, even on a sidewalk cafe, bugs maybe trying to enjoy your wine too. Wine VEIL is a stylish way to keep insects from bugging you out. These sheer and elegant covers will keep the bugs out of your wine WineVEIL.com
Behmor -Passion for all things coffee! Behmor was on-site presenting their Brazen Plus customizable temperature-control Brew System, which works with Amazon Alexa. You can control from your smartphone create custom Brew profiles, has a pulse water delivery an adjustable pre-soak. Unleash Your coffee geek! This takes coffee brewing to a whole new level. Founder Joe Behm has brought coffee technology and philanthropy together and travels the world to support and make available the best coffee from cultures worldwide. Behmor.com Social: #BehmorInspired
Folium Medica is all-natural skincare products that utilize native European botanicals that promote powerful healing benefits, based on research and studies done by some of the world's renowned doctors and herbalists on healing and beneficial botanical ingredients. Items such as their 'Corset' breast toning treatments, and Balancing Face Oil for acne-prone skin are just a couple of the wide range of products that capture the essence and vitality of plants that extend beyond the skin's surface. foliummedica.com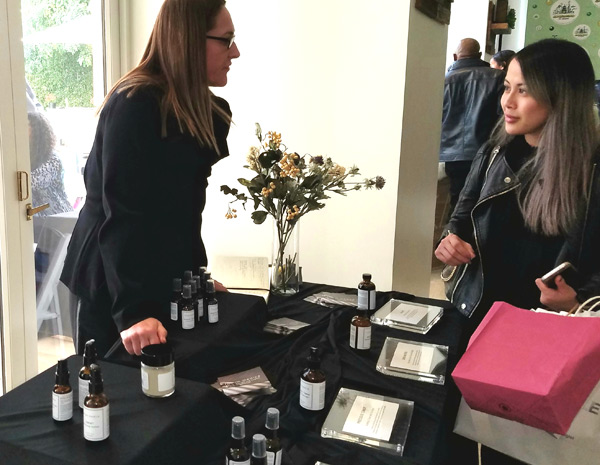 Cherry Blooms Beauty and Style Rebels presented their Matte Volumizer for lips which includes textured fillers – it's texturized powders that fill in the micro wrinkles and hides the imperfections so that lips will be perfectly smooth with a flawless result. Brilliant! Their charity is SOS Children's Villages: #KissPovertyGoodbye campaign – .80 of every dollar goes straight to the children other emergency relates in times of crisis. Amazing. Cherryblooms.com
But that's not all! As celebrities and VIPs departed, they were given an enormous Body Glove takeaway duffle bag chock full of swag. Stay tuned for the reveal of all the cool contents in the bag from Secret Room Events!
To find out how you can get your brand included in the next Secret Room award show gift lounge, go to secretroomevents.com/sponsorship