2018 Toyota C-HR XLE Car Review
No one would blame you for doing a double-take on first sight of the 2018 Toyota C-HR XLE. Though the CUV (compact utility vehicle) form has become more familiar over the last few years, you probably haven't seen anything like the 2018 Toyota C-HR XLE's mix of race car-inspired curves, rises, and swoops before. As they say, beauty is in the eye of the beholder.
What's not up for debate: Toyota's intended customer for this crossover. The 2018 Toyota C-HR (short for "Compact, High-Riding") XLE is aimed at millennials with active lifestyles. That explains the $22,500 base price and the ample phone connectivity via Bluetooth and AUX port, as well as the features to let you take calls and read texts. The touchscreen is bright and placed conveniently in front for driver and passenger access.
Of course, you don't have to be a millennial driver to appreciate these or the C-HR XLE's other features. For example, despite its unusual profile, the CUV is quite spacious inside, and passengers in both the front and the back will enjoy plenty of headroom, as well as width. The vehicle itself has five doors, including one to the hatchback, so no one will have to squeeze in and pull up their knees behind the driver seat. Passengers can also tuck away their drinks and goods in a generous number of pockets, compartments, and cup holders all around the vehicle.
Let's say you're not a millennial but are instead a parent who wants a modern, sporty ride. In that case, don't shy away from the 2018 Toyota C-HR XLE. NHTSA has awarded the Toyota C-HR with a five-star overall safety rating, and the car comes with 10 airbags, along with pedestrian detection, lane departure alert, with steering assist systems. Options include blind spot monitor and rear cross traffic alert for even more driving help. You can turn these features on and off via the touchscreen.
The 2018 Toyota C-HR comes in at an EPA-rated 27 mpg city, 31 mpg highway, and 29 mpg combined. The numbers are definitely respectable. The Toyota C-HR has great handling, in line with what you'd expect from such a streamlined profile.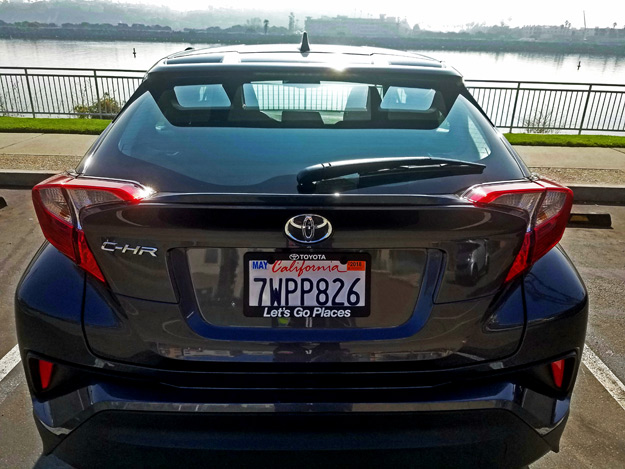 The 2018 Toyota C-HR XLE is no cookie-cutter car, which may or may not be a deal breaker for you. But if you want to stand out from the crowd, this comfortable, affordable, and highly wired crossover could be the vehicle for you. Bring your friends, your family, and your phone – there's plenty of room for all of them in Toyota's striking CUV.