On Saturday, July 29th and Sunday, July 30th, Politicon, (www.politicon.com) the "Unconventional Political Convention" will bring Republicans, Democrats, and others of all political leanings for banter and sparring over the most topical and heated issues of our day…and there's no shortage of that!
Handler will bring her unique blend of comedy and political savviness to the third annual convention, dubbed by the Huffington Post the "Coachella of Politics." She will participate in two of the convention's most anticipated programs: In Conversation with Tomi Lahren & CNN's Politics on Tap with Jake Tapper.
Conservative commentator Tomi Lahren, dubbed the right's "hottest new media star" will be nothing short of an impassioned discussion between the two on opposite sides of the spectrum.
Comedian, author and talk show host Chelsea Handler, the host of Netflix's first ever talk show, "Chelsea," became an outspoken political critic over the past year, as an unapologetic supporter of Hillary Clinton in the 2016 election, a leading celebrity in the promotion of voter registration and an active leader in the Women's March.
On Saturday she will sit down with CNN's Jake Tapper for a special edition of the network's "Politics on Tap", a program that pairs the two before an intimate crowd for an interview over cocktails.
Handler will be joined by an array of interesting and opinionated personas:
Adam Carolla (The Adam Carolla Show podcast & No Safe Spaces documentary); Anthony Atamanuik (Trump impersonator & star of Comedy Central's The President Show); Greg Proops (The Smartest Man in the World podcast & Whose Line Is It Anyway?); and from The Daily Show, Roy Wood Jr., Michelle Wolf, Lizz Winstead, Jena Friedman and Al Madrigal; among others.
In addition to comedians, Politicon has announced well-known participants from across the political spectrum and media, including:
Roger Stone, James Carville, Ann Coulter, Pod Save America, Congressman Ted Lieu, Symone Sanders, Michael Steele, Bill Kristol, David Frum, Robert Davi, Krystal Ball, Guy Benson, Jen Psaki, Dr. Alveda King, Bob Shrum, Touré, Amy Holmes, Scottie Nell Hughes, Sally Kohn, Elisha Krauss, Malcolm Nance, Anthony Scaramucci and from CNN, Jake Tapper, Chris Cillizza, Brianna Keilar, Dylan Byers, Hunter Schwarz and Kate Bennett.
Last year, more than 8,000 fans flocked to the 2nd annual Politicon. Politicon attendees will have the opportunity to enjoy a full weekend of debates & panels, radio & TV broadcasts, podcasts, Q&A's, comedy shows, book signings, interviews, and meet & greets.
With rooms ranging from 50-seaters to large-scale auditoriums, attendees will be up close and personal with political heavyweights, revel in the endless humor, dissect documentaries and parodies with filmmakers, and possibly even interact with a few of history's greatest leaders.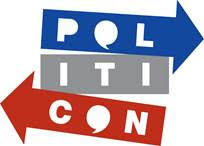 More on Politicon:
Politicon is the annual, bi-partisan "Unconventional Political Convention" that brings Republicans, Democrats, and people of all political stripes together to banter and spar over the most topical issues in smart and entertaining ways that often poke fun at both sides of the aisle.
Launched in 2015, Politicon's highly anticipated convention will take place this year on Saturday, July 29 and Sunday, July 30 at the Pasadena Convention Center near Los Angeles, California.