Burke Williams Day Spa now offers a revolutionary Steam Pedicure. Think of it as a facial for your feet.
Goodbye traditional pedicures, hello steam pedicure. The traditional pedicure has been elevated with a state-of-the-art steam basin versus water tub. The steam pedicure incorporates a relaxing leg and foot massage into the service and use top of the line products that will extend the life of your pedicure and have your feet looking sandal-ready for the summer.
Pipe-less steam basins hydrate your skin for a more hygienic approach, opening pores, which enables your skin to absorb more moisture and nourishing products from the FarmHouse Fresh vegan line.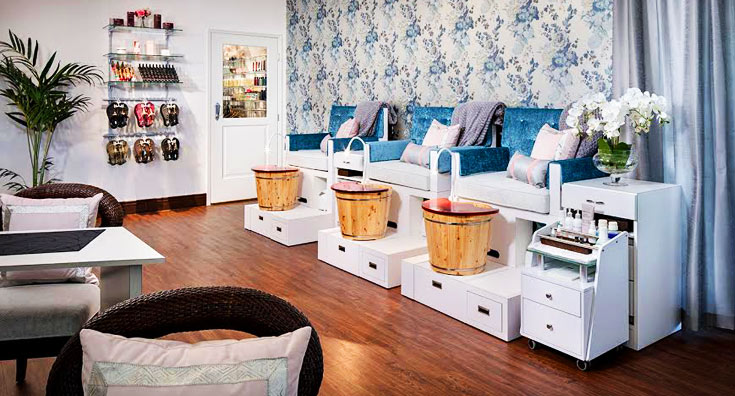 Eco-Friendly
Steam Pedicures are also eco-friendly. They use only one gallon of water per every four services versus traditional pedicures that use 25 gallons of water per service! You can choose to add on enhancements which include seasonal scrubs and masques for the ultimate pedicure experience.
Burke Williams has become a go-to haven for renewal and relaxation. Now you can enjoy a Steam Pedicure while you snuggle in oversized chairs designed to hug your body and enhance your comfort. Their treatments come with many enhancements: sip a cup of herbal tea or lemon-infused water. Unwind with a lavender-scented blanket and oatmeal pillow to support your neck and relax your mind and body. This is pampering from head to toe during your Burke Williams Steam Pedicure.
Burke Williams Day Spa
For over 30 years Burke Williams Day Spa has been committed to creating an environment of refinement that inspires and provides its guest with a luxurious sanctuary to unwind. Family owned and dedicated to rejuvenation and renewal, Burke Williams exists to transform each guest's day. With ten locations across Northern and Southern California, relaxation awaits with each of our European-inspired treatments including massage therapy, body wraps, facials, manicures, pedicures, baths, and an array of signature spa services.