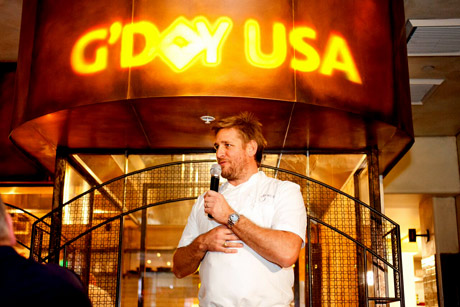 G'Day USA, the premier brand for Australian engagement in the US, "where the "U.S. and Australia meet", were here in Los Angeles for a week of events and a gala to celebrate National Australia Day and share all that makes Australia great.
Celebrity Chef Curtis Stone partnered with G'Day USA for "The Best of Australia", a night of beautiful Australian wine and food, at his new Hollywood restaurant, Gwen (LA Eater most beautiful restaurants of 2016)
The "Best of Australia' featured an evening of divine Australian cuisine that Chef Stone himself created and prepared. Each special course was paired with the perfect Australian wines.
After some fanciful Gwen specialty cocktails, invited restaurateurs and media influencers dined on a some beautifully-curated dishes.
Starters included Nduja, Coppa, Duck Speck, Fuet, Apricot & Sherry Salami, Finocchiona, Rillet and Pretzel bread, made onsite by Chef Stone at Gwen.
Fish and meat dishes from Australian companies such as Thomas Foods International USA, and Austral Fisheries were served as the following:
South Australian Angus Pure Beef prepared as a nice Beef Tartare with Cured Egg Yolk, Shiso, and Focaccia.
Next was beautifully-grilled Lamb Shoulder; Denver Ribs, cauliflower & bacon.
Thomas Foods International USA is a leading provider of high quality Australian lamb and grass fed beef products in the USA. You can obtain them at the Open Nature and "O" Organics beef and lamb brands in Albertsons, Vons/Pavilion and Safeway stores, Kirkland Signature lamb in Costco, organic lamb in Wegmans or the Nature's Reserve lamb and beef program in ShopRite.
Fished in one-mile deep Antarctic waters off Australia, the MSC-Certified (Marine Stewardship Council) sustainable Australian Glacier 51 Toothfish was featured. Chef Curtis Stone referred to this delectable fish as "the "Wagyu of fish". It was as close to perfection as it could be with a beautiful balance of texture and flavor. Chef Stone prepared it with Citrus, Sunchoke, Cervil. Read more: Austral Fisheries
Wine Australia – G'Day USA's Primary Wine Sponsor
With more than 150 years' of winemaking heritage, Australia is known as one of the world's renowned wine producing countries. With their unique combination of ancient soils, some of the oldest grapevines in the world and leading winemaking techniques, Australia crafts innovative, exciting and authentic fine wines. There was a wine-tasting questionnaire and a lucky guest won 16 bottles of Australia's finest!
Dessert included Passion Fruit Glace: sweet mango and cashew, Yuzu Pavlova: White chocolate, Thai basil, and Petit Fours and Thai basil.
Coffee was served with a2 Milk®; cow's milk without the A1 protein that causes people to be lactose-intolerant…contains only the A2 protein.
As guests left, we received Chef Curtis Stone's great cook book, "Good Food, Good Life", 130 simple recipes you'll love to make and eat!
G'Day USA's Best of Australia was also sponsored by Tourism Australia.
You can also buy beautiful cuts of meat at Gwen LA!
Gwen LA
6600 Sunset Blvd
Los Angeles, California 90028


___________________________________________________________________