Another reason to visit West Hollywood is the new full-service medical spa and treatment center which offers life-changing products and services to achieve a healthy, fulfilled lifestyle, CURE West Hollywood. They offer everything you need to restore the mind and body, feel completely healthy and whole and radiate beauty from the inside out.
Mayor Lauren Meister and West Hollywood Magazine recently welcomed CURE with a celebratory ribbon-cutting event. CURE treated patrons with an evening full of complementary spa treatments, massages, braid bars, cocktails and more.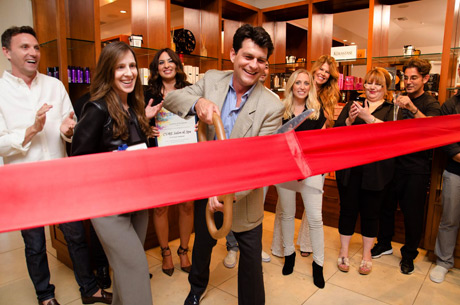 CURE by Benya is a lifestyle company devoted to offering products and services for their clients to look their best and achieve a healthy life. Founded by Dr. Lisa Benya, a Board Certified Physician, in 2007, CURE by Benya has continued to deliver unparalleled treatments for exceptional health, and the result of satisfied customers has tremendous growth.
CURE by Benya now has facilities in both Malibu and West Hollywood. Each CURE by Benya boutique facility offers a unique and sophisticated combination of services that integrate both classic medical and new world optimal health expertise for a pioneering approach to absolute health.
Health Services include everything from preventative yearly physicals, routine maintenance of chronic medical conditions and trauma emergency care and their Beauty Services include cosmetic surgery, facial treatment and skin rejuvenations, spray tans, hair care and massages.
At the center of CURE by Benya's mission is the belief that there is a cure for just about everything. CURE by Benya offers everything you need in life-changing products and services to achieve a healthy, fulfilled lifestyle. Without good health there is no quality of life. CURE by Benya is quality of life.
For more information on CURE by Benya, please visit http://curebybenya.com/