2016 Kia Optima SX – A Car Review
The 2016 Kia Optima is the Korean carmaker's answer to the Honda Accord and the Toyota Camry — a midsize sedan that would be ideal for seeking a comfortable, sensible, and affordable ride. Families, young professionals, and retirees would all feel right at home in the 2016 Kia Optima.
Even better, you could argue the Optima bears a slightly sexier profile than its popular but sedate counterparts. Best of all, the Optima delivers a strong, but pleasant drive, and it includes the Kia promise of value, with loads of features and the company's trademark 10-year, 100,000-mile warranty. Honda and Toyota may have the bestsellers, but the Kia can match them step for step — at a highly competitive price point. Keep it on your short list if you're shopping for a sedan.
On the outside, the 2016 Kia Optima passes the eye test with flying colors, cutting a much sportier profile than its opposition. But inside that sleek shell, you'll find all the features and comforts you'd expect of a top-notch sedan. Passengers in front will especially enjoy the ride, with a quieter cabin and more generous cushions and support.
You can also adjust the height, which helps both short and tall riders. In the back, passengers don't have it quite so good, but at least it's easy to get in and out. Wherever you're seated, you'll definitely want to touch the trim, buttons, and details — Kia has upgraded the finishes, perhaps with a nod to the higher-end models now in the carmaker's line.
kia made its mark by offering fantastic value for money, and the Optima continues this tradition. Even the lowest base model, clocking in at the low $20,000 range, includes a rear camera system, a six-way power seat, remote keyless entry, air conditioning, Bluetooth, a six-speaker audio system, cruise control, and a rear center armrest with built-in cupholder. As you work your way up the available packages, you can add the usual options such as bigger engines, leather wraps, heated mirrors, dual-zone climate control, LED lamps, USB ports, and more.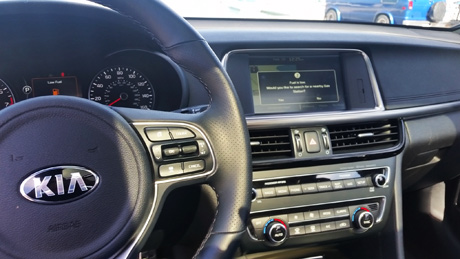 However, note that the top-model SXL will cost you $37,000 — a bargain compared to some brands, but probably not what you'd expect to pay for a Kia.
Then again, keep in mind that grand total nets you advanced cruise control, stitched soft upper door trim, Nappa leather upholstery, a 12-way driver-side and 10-way passenger-side power seat, ventilated front seats, active-safety features, and an Infinity audio system.
As befits Kia's reputation, the Optima offers great value for gas mileage as well. The figures will vary depending on which model you choose, but the middle 1.6-liter, four-cylinder engine posts the most enviable figures: 28 mpg city, 39 highway (32 Combined). If you prefer, wait for the Optima Hybrid, due to debut in mid-2016. In the meantime, you can futz with the Driver Mode Select system, which provides a choice between Eco, Normal, and Sport modes. You'll probably want to stick with Normal; Eco mode feels notably slower.
The Kia Optima has traditionally scored well in safety tests, garnering five stars from the federal government and top "good" ratings from the Insurance Institute for Highway Safety. In the 2016 model, Kia backs up these numbers with strong features, including a rear camera display, airbags, and electronic stability control as standard. For extra protection, Advanced Smart Cruise Control, Blind Spot Detection, Rear Cross Traffic Alert, and Autonomous Emergency Braking are available as options.
Kia has become a reliable and desirable brand-name automaker among U.S. drivers, and the 2016 Kia Optima builds on the reputation.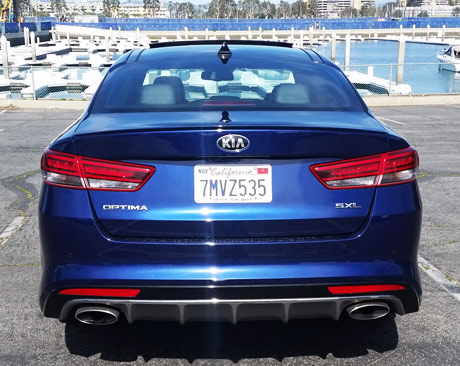 The Optima starts at $21,000 and tops out at $37,000, but all along the spectrum, you can expect to find a solid, accommodating vehicle that might even raise a few eyebrows. Factor in the 10-year, 100,000-mile warranty, and there's little to lose when you opt for the 2016 Kia Optima. With the Optima, you can have full confidence in your choice of car.