This week we stopped into Sofitel LA to check out Estérel, their upscale signature restaurant which has recently had a full revamp. Estérel offers impressive fresh and seasonal cuisine, capturing the culinary soul of the Mediterranean. They brought on the talent of rising culinary star Executive Chef Victor Boroda to create new flavors for the restaurant's wonderful menu of Mediterranean cuisine with a California twist.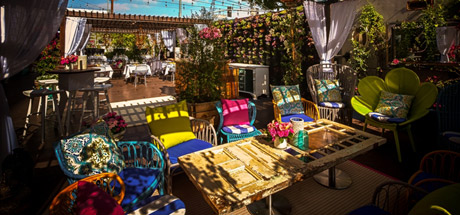 With its new color theme as well as its new design, the atmosphere gives you the feeling of dining in the beautiful Mediterranean countryside. Estérel is named after a coastal region of Var and Alpes-Maritimes in Provence, France, with its Provençal-inspired herb garden, colorful seating ideal for alfresco afternoon and evening dining, and an expansive driftwood bar permanently installed outside with a "living wall" of plants backdrop.
Using locally-sourced and organic ingredients sourced from Santa Monica Farmers Market, Hollywood Farmers Market, Petaluma Farms & K&M Grass-Fed Meats, Chef Boroda masterfully blends French and California cuisines into one that is uniquely his own at Estérel Restaurant.
Some of the from their many choices of wonderfully delicious are: Farro Macaroni, Lamb Meatballs, Octopus à la Plancha, Tuna Tartare, Chef's Selection Oysters, Zucchini Beignets, Pan Seared Scallops, Charcuterie.
Estérel Restaurant dining areas underwent a vibrant remodel designed by the Xperiment USA hospitality team that includes two unique and colorful new spaces: "Le Jardin" and "The Aviary", inside Estérel.
Rustic, wide plank, rich mahogany floors lead guests toward a semi-circle high-backed booths, that frame the restaurant. Deep blue walls are adorned with a collection of eye-catching portraits of women from past times. White linen curtains add a beautiful contrast to the lush greenery and decorate the spacious 2,732 square-foot dining room.
Breakfast 6:30 AM – 11:30 AM
Lunch: 11:30 AM – 5:00 PM
Dinner: 5:00 PM – 10:00 PM
Sunday Brunch: 11:30 AM – 3:00 PM
Estérel is officially certified by The City of Los Angeles as Green Businesses!
____________________________________________________________________