Great Christmas Gift Ideas
Technology and electronics have never been so personal or so powerful, allowing you to carry small computers in your pocket. Now,
littleBits
takes this trend to its next step with hands-on kits designed for creators and inventors of all ages and abilities. With littleBits, today's designers and tinkerers can exercise their natural curiosity to create solid, tangible devices they can share with fellow makers. If you can dream it, littleBits can make it into reality.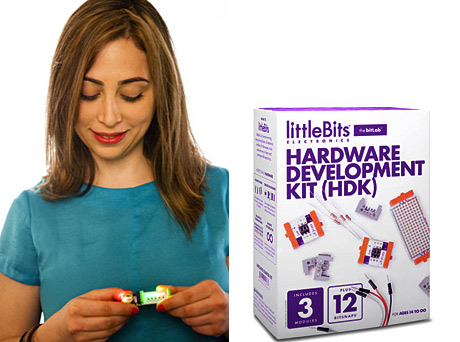 As kids, we all played with Lego, Lincoln Logs, train sets, and other assembly kits. With littleBits, you can turn these amusements into reality, with all the modern updates, including Internet connectivity and app store access. Millions, billions, and trillions of combinations are possible, and while there's no telling where your creative inspiration will take you, you can rest assured littleBits will help make it possible.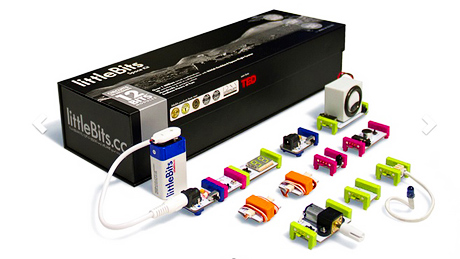 Maybe you want to create your own Internet-connected device; the cloudBit is for you. Musicians (aspiring or ingrained) can unleash their creativity with the Synth Kit, and explorers will reach for the stars with the Space Kit. Choose one, choose all — you may be surprised by what littleBits unleashes in you.The littleBits catalog includes two major collaborations:
The cloudBit
Among the packages, cloudBit pairs one of the biggest trends in technology — Internet connectivity — with whatever your mind can dream up. The cloudBit Starter Kit bundles all the necessary components to whip up an Internet-connected device, including six modules, wall power, and mounting boards. The kit includes five intro projects (such as doorbell and a lamp) to get your creativity going. Whether your cloudBit project comes out of the box or your own brain, it can take advantage of automation, Internet, remote-control, and feedback capabilities for the ultimate smart device or brand-new brainchild. If you can build it, you can connect it to the Internet, with all of its benefits.
[youtube]https://www.youtube.com/watch?v=wyruLKVrHk0[/youtube]
The Synth Kit
The Synth Kit
is made possible with Korg, maker of musical instruments used by major artists worldwide, and has won praise from legends such as
Hans Zimmer
and
Brian Eno
, as well as rising stars like Reggie Watts. With the Synth Kit, you can create your own sound machine, no previous engineering or musical knowledge required. The kit includes a booklet with instructions for customizing your synthesizer. From there, you can create your sounds, whether a whole song or fun effects. Sound like a rock star, and who knows? You may eventually be one too.
The Space Kit
LittleBits turns to a higher (almost literally) authority for the Space Kit. Working with NASA scientists and engineers, the Space Kit includes 12 modules, five NASA lesson plans, and 10 STEAM activities to teach newbies and dedicated hobbyists alike about scientific principles such as electromagnetic, kinetic, and potential energy.
Potential projects include a grappler, a satellite dish, a star chart, a space station, a two-way communication satellite, and even your own version of the Mars Rover. LittleBits gives you the building blocks — the sky is the limit with the Space Kit.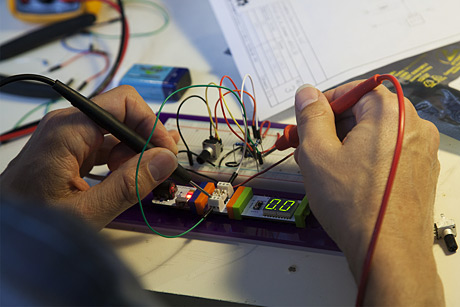 Electronics have come a long way since the mainframes from the last decade and even the home computers of a decade ago. Now, technology is more personal than ever, from our ubiquitous smartphones and tablets to the coding and construction capabilities available at the tips of our fingers. LittleBits opens the door to these possibilities with all-in-one kits that cover the basics, but can take you as far as you want.
With the bitLab and extensive littleBits library, littleBits is an open-source hardware platform that opens hardware innovation to anyone and everyone.
>Go here to see all everything that's available. Warning! You will become hooked! www.littlebits.cc
>

_____________________________________________________________________________________________________________