LA's The Place attended the annual WOW! Creations Lifestyle Emmy Gifting Suite, where celebrities kicked off Emmy week and got in the energy of the upcoming 66th Annual Primetime Emmy Awards. From the rooftop penthouse of the Luxe Rodeo in Beverly Hills, companies from all over the country came to Hollywood to promote their brands to Hollywood stars and VIP media.
WOW! Creations is the brainchild of twin brothers, Mark Harris and Matt Harris, better known as the Kings of Swag, and also seen on A&E's  "Storage Wars" as buyers, and can be heard Wednesdays at 12 noon on their weekly radio show on LATalkRadio.com. Other celebrities that attended included tv/film legend Elliott Gould, Wes Ramsey (Deliverance Creek), Brett Stimely (Transformers, NewDawn Diaries: Reboot, Watchmen), Gabriel Jarret (Hero of the Underworld, Reaper),  Miss Illinois Teen USA Miranda Fenzau, Lynne Curtain (Housewives of Orange Country) among others.
Some very cool and unique brands that attended included:
Sarah's Skinny Sweets: If you are a fan of coconut, as we are, you will love these. By harnessing the power of the coconut, Sarah has been able to create a Gluten-Free treat that is moist, with a velvety texture and full of flavor. These cookies are figure-friendly and taste so delicious, you'd never guess how healthy it is they are. They contain no sugar, are low-carb, and do not contain gluten, soy, or dairy…and they're paleo! These amazing treats come in Chocolate Chip, Orange Cranberry Almond Cookie, Chocolate Macadamia Nut Cookie. To obtain these delicious Sarah's Skinny Sweets treats, please visit glutenfreecookies.org.
Derwood Coutoure has created a tie with an "InstaKNOT", which eliminates the need to tie your tie. One Tie & an InstaKNOT does it all. Their innovative ties combine efficiency with superb style. These 100% silk ties are custom-made lengths that work perfect with their InstaKnot design. Mix and match the top of the tie with the long part. There is no wonder why these are in demand with celebrities. To see their excellent styles and combinations, visit www.derwoodcouture.com
Gary Red Brand Apparel gifted guests their stylish yet casual t-shirts. These are an everyday wear and can be worn for a casual or upscale setting. They emphasize diversity, culture, and self-reliance. Their motto "Touch the Heart Open Your Mind" summarizes their passion they put into their clothing. Check them out at www.garyred.com.
Beantown Bedding gifted their amazing biodegradable 'laundry-free' linens – "The convenience of disposability and the luxury of comfort". These no-wash sheeps, pillowcases and washcloths are perfect to use for trips to hotels, college students, businesses, caregivers, and campers. They are disposable and make your life efficient. Purchase their convenient quality linens at www.beantownbedding.com.
Neo Choice Professional Hair Tools has a variety of professional hair tools. They offer dryers, straighteners, curling irons, flatiron holders, combs, brushes and full sets. Neo also offers a one year limited warranty for their products. These hair tools are lightweight and even have a sleek look. Neo's mini hair straightener makes it easy for individuals who have an on-the-go lifestyle because of its ability to heat up in 30 seconds. For this extraordinary product visit www.theneochoice.com.
Rockin' Wellness provided guests with their delicious nutritional shake. It contains many minerals, high fiber, protein, omega three, six, and nine, and vitamins. It is also free of gluten, wheat, dairy, and is made with all non-gmo ingredients.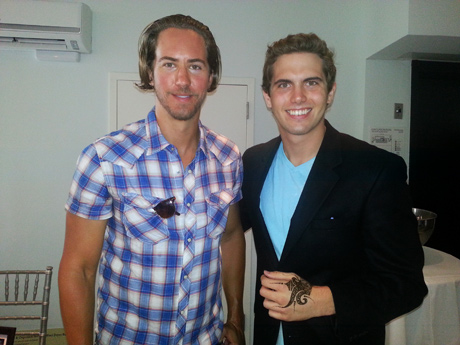 Radar Watches provided guests with stunning and stylish watches. The watch colors are interchangeable within the bands. Their colors seem to be endless! They also have recently come out with smaller versions of their watch to give consumers a more slender look and feel. Check them out at www.radarwatches.com.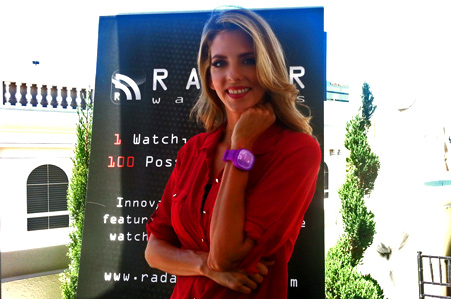 Koreball has revolutionized the world of fitness with their innovative combination of a kettle bell and a medicine ball. This allows for extreme variety of exercises and maximizes results. In order to adjust it all you have to do is fill the ball with water or sand. Increase as needed. Perfectly portable to take your workout with you wherever you go. Check them out at www.koreball.com.
The Indieexhibit is an officially registered non-profit organization that specializes in promoting the talent of creatives from around the globe. They showcased their independent artisans that they choose to sponsor or promote. Guests received their choice between several creative and beautiful pieces that their artists have created. Visit www.theindiexhibit.org.
Cottage Kitchen gifted guests their deliciously healthy crackers that have absolutely no hydrogenated oils, yeast, or sugar. They are delicious light rice crackers. The quality of the ingredients is very prevalent with these. Visit www.cottagekitchenfoods.com.
Heat Sweets are hand-crafted 100 percent natural condiments. With Heat Sweets' use of spicy peppers and sugary fruits and veggies they have found the perfect balance for their bold treats. Heat Sweets offered a variety of jellies, Jalapeno Ginger Jelly, Jalapeno Strawberry Jelly, and Habanero Strawberry. They also feature a Sweet Jalapeno Relish which included a subtle kick that is pleasing to the palette. To try these yummy must haves check out www.heatsweets.com.
Ranch Organic gave guests an assortment of mineral products such as body wash, lotion, and soaps made from goat milk and botanicals. Check out their products at www.ranch-organics.com
Pedi Princess created the ultimate post-pedicure sandal. The toe separators prevent your pedicure from getting ruined on the way out. Ordinary sandals would not be able to prevent these pedicure mishaps but with Pedi Princess your pedicure is guarded! Take your Pedi Princess with you to on your spa day. This is a must-have cool item and to purchase a pair, visit www.pediprincess.com.
Millstone Farm Organics gifted guests their Natural Wool Dryer Balls that dries your clothes over two times faster in the dryer! They absorb moisture and also provide space between your laundry items to circulate air more efficiently. They even come in essential oil scents that will make your clothes smell beautiful and fresh. Check them out at www.millstoneorganics.com.
The Maui Cookie Lady uses organic flour from San Francisco and incorporates a taste of the islands with the use of mango, guava, lilikoi, coconut, roasted macadamia nuts, Kona coffee, raw Maui sugar and Hawaiian sea salt.
WOW! Creations, the Los Angeles-based celebrity marketing / public relations marketing agency has been in business since 2004. They  host celebrity gift lounges and provide celebrity gift bags for celebrities surrounding the Sundance Film Festival, the Oscars, the Emmys, the Kentucky Derby, Miss America, Miss Universe, Miss USA, TV Land Awards, TBS Comedy Festival and many more events.
To find out how you can be involved in a future celebrity gifting suite, go to www.wowcreationsmedia.com.
Follow them on Twitter @wowhollywood
_______________________________________________________________________________________________________